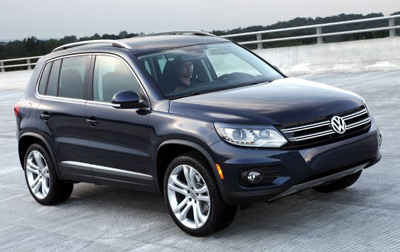 VW Tiguan a Fine Choice in a Crowded Market
By Jim Bray
December 9, 2011
VW's entry into the "Cute Ute" segment is a little more cute for 2012, while still being a good ute.
It isn't an all-new version, but you can definitely notice the evolution. It starts with handsome new front and rear ends that have more than a little Touareg in them – not a bad thing, since VW's bigger SUV is a handsome beast – and continues inside to an even nicer interior than before. Not that the previous interior was a bust; I think Volkswagen makes some of the best interiors on the market and, fortunately, they haven't messed with success here.
The Volkswagen folk apparently like to think of the Tiguan as "the GTI of compact sport utility vehicles." I think that may be a bit of an exaggeration, but that doesn't mean the Tiguan is a slug, either. In fact, other it having than gobs of turbo lag, its GTI-shared two liter TSI turbocharged four-cylinder engine is a delight. Featuring direct fuel injection, variable intake timing and an intercooler, it pumps out 200 horsepower and 207 lb-ft. – the power coming on with a delicious "whoosh" once everything catches up with your right foot.
The standard transmission on the base, front wheel drive model is a six speed manual transmission also swiped from the GTI, and it's a lovely transmission on VW's little rocket. The other choice is a slickly shifting six speed automatic with Tiptronic manual shifting, Sport mode, and Dynamic Shift Program (DSP). There are no paddles, unfortunately, nor is there a manual mode for the Sport mode, though it does give you a more spry-feeling drive anyway. I wish you could shift manually in the sport setting, though.
My sample also had the optional 4Motion all-wheel drive system, which is automatic and seamless. It acts normally as a front wheel drive system, sending 90 percent of the drive energy to the front axle under typical driving conditions, but it can also send nearly 100 percent of the drive energy to the rear wheels when required. What that means in the real world is that the Tiguan is basically a front-wheel drive vehicle, but with all-wheel drive capability that should come in handy in wintry situations. Tough to argue with that.
The 2102 Tiguan also claims gains in fuel economy, up two mpg (highway) to 27 for automatic transmission-equipped models.
Tiguan's suspension is typical: independent, with struts, long-travel coil springs and lower control arms up front and multiple links out back. It's no GTI, but it's pretty good, striking a nice comfort/fun balance that transmits enough road feeling to be compelling without knocking your teeth out of your mouth when you hit frost heaves.
The electro-mechanical, variable assist power steering feels good in the hands and works well.
A fine greenhouse greets passengers to the comfortable and well-equipped interior. There's room for five adults if you must, easy-to-get-in-and-out door openings and nice accoutrements.
The driver's seat of my sample had a power-operated back but the rest was manual, kind of a weird but not unheard-of combination. The rear seat splits and folds virtually flat in a 40/20/40 configuration that lets you carry some long stuff (skis, perhaps, or lumber?) while a pair of folks occupy the rest of the rear seat. With the rear seats up there isn't a lot of room in the rear storage compartment, considering the size of the typical SUV, even a small one such as this – though I daresay it'll be fine for most duties – groceries, supplies, whatever. If you need more, you can slide the rear seat forward six inches. The rear seatbacks can also be tilted, and the front passenger seatback folds flat forward for those times when you're being chauffeured in the back seat and want to put your feet up on an ottoman. Or is it "ottoperson?"
My sample Tiguan came with the panoramic glass tilt/slide sunroof that operates via a handy and intuitive knob mounted on the ceiling. You can twist the knob to open the sunroof to any position you want; the front panel slides (the rear one is fixed) and the road noise let in isn't as bad as I've experienced with some SUV's. There's an electrically-operated sunshade as well.
The instrument panel and controls are typical Volkswagen: easy to read and to reach and they've laid out intuitively. Between the big tach and speedometer is a multi-function screen on which you can display fuel consumption, trip distance, etc..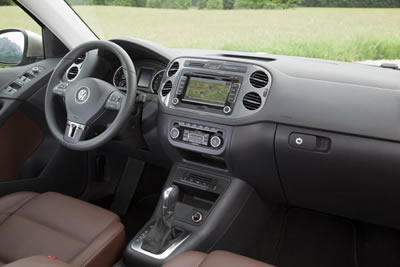 For 2012, Tiguans come with Bluetooth connectivity and an auxiliary jack for audio players. My mid range model featured an upgraded touchscreen-operated audio system that included a six disc CD changer, SD memory-card reader, and Media Device Interface (MDI) and iPod cable. Mine had SIRIUS Satellite radio, too, which is always a nice bonus – at least until the time comes when you actually have to pay for it. The interfaces are minimally confusing; you can control or configure lots of stuff via the touch screen, whose interface is child's play to master. I didn't even have to find a five year old to show me…
The interior materials look and feel good; my sample had "Perforated V-Tex leatherette" that was comfortable and is probably easy to keep clean.
I had no trouble finding a great driving position and the seats are nice and comfortable. There's plenty of storage space in the passenger compartment, too.
You can get Bi-Xenon headlights with the 2012 Tiguan, as well as 19-inch "Savannah" alloy wheels.
Safety equipment is as befits a modern vehicle. Front passengers are treated to front and side-thorax airbags, side curtain head protection airbags for those in both rows of seats, and the high tech nannies include Electronic Stability Control (ESC), Anti-Slip Regulation (ASR), Anti-lock Braking System (ABS) on the Tiguan's four wheel discs, and a Tire Pressure Monitoring system (TPS).
Tiguans also feature Volkswagen's "Intelligent Crash Response System" that shuts off the fuel pump, unlocks the doors, and switches on the hazard warning lights protection if the vehicle is involved in "Certain types of collision." I didn't actually smash my sample Tiguan into anything to see how it worked, so I'll have to take Volkswagen's word for it…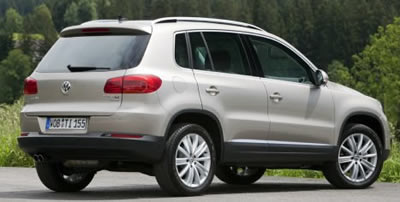 Higher end Tiguans can be ordered with navigation systems, leather, and stuff like that.
The Tiguan has to go down as my favorite of the vehicles I've driven in this segment, which would include the Toyota Rav4, Honda CR-V and Kia Sportage. Each of those other vehicles are fine choices, and excel in different areas, but for my overall taste, which leans more toward an interesting drive than a practical hauler, the Tiguan's blend of reasonably hot performance, comfort, trim and technology make it number one in my eyes - even with the darn turbo lag.
The base Tiguan starts at $22,840 U.S./$27,875 Canadian. My "mid-range" all-wheel drive Tiguan would come in at about $33,000 U.S./$35,000 Canadian.
Copyright 2011 Jim Bray
TechnoFile.com