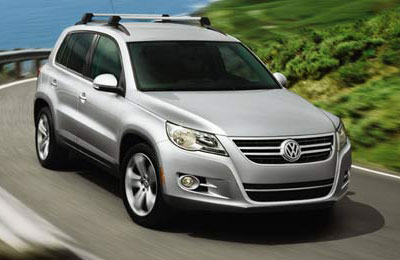 VW Jumps into "Cute Ute" segment with Tiguan
By Jim Bray
July 9, 2009
It's cute and it's a ute – and Volkswagen is hoping to score a share of the popular small SUV market with its new Tiguan.
Volkswagen says the Tiguan crossover SUV is an ideal companion for "city adventurers", a "rare species created to help you navigate your way through the urban jungle".
I don't know about the "ideal" part, but Volkswagen's kick at this segment of the marketplace – a niche populated by the likes of the Honda CR-V, Toyota RAV4, Nissan Rogue et al – is a good one, and one that brings some European flair to the segment.
The name Tiguan apparently means nothing specific, though it sounds a bit reptilian to me. The vehicle itself is the little brother to VW's popular Tourag, and offers VW fans a chance to haul people and stuff a little more easily than with a Golf or Jetta, and with better, higher sightlines from inside the cabin.
Tiguan's power comes from a two liter turbocharged, direct injection four cylinder engine that puts out 200 horsepower (and 207 lb. ft of torque) but which also displays quite a bit of turbo lag. Once the power comes on it comes on with a typical turbo "whoosh!", however, and there's more than enough on tap to propel the vehicle forward in pretty well whatever manner you could want. Tiguan is plenty fast, but I must admit the turbo lag bothered me.
Standard transmission is a six speed manual. A six speed Tiptronic automatic, with sport mode is also available, as is all wheel drive. My tester was fully equipped in this regard, and the Tiptronic worked well; the manual and sport modes did add some enjoyment and efficiency to the mix, too.
Looking much like the Tourag's little brother, which seems appropriate, Tiguan is a handsome vehicle featuring Volkswagen's distinctive look front and rear – though I was surprised to find a more conventional hatch latch than the cool "pull my logo" one on the GTI. No big deal, of course.
Tiguan is slung independently via McPherson struts with a stabilizer bar up front and a rear that features a four-link suspension with coil springs, telescopic shock absorbers and a stabilizer bar. The feel on the road is great, not to hard nor too soft – sporty yet not in your face. Other than its relatively wide turning circle, I found the Tiguan to be a very nice vehicle to drive.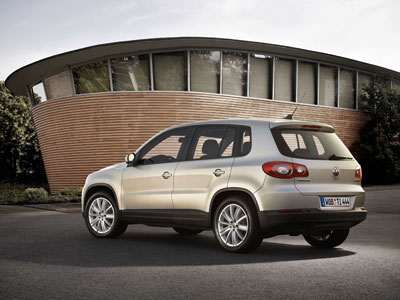 Tiguan's stopping power comes from power-assisted disc brakes all around, with ABS and EBD - Electronic Brake-pressure Distribution. I thought the pedal feel a bit strange – it wasn't as compliant as I had expected, kind of like stepping onto a brick, though that's a bit of an overstatement. They work just fine, though. Steering is electromechanical power assisted rack and pinion and it feels just right, with no hint of sloppiness.
As Murphy's Law would dictate, during my nearly one week behind the wheel we never had one of the Rocky Mountain spring snowfalls that have plagued many of my other reviews this year, so I didn't have a chance to see how the 4-Motion worked in the snow. I'm confident it would inspire confidence, though, from this well balanced and well thought out sport ute.
Visibility from the cabin is very good, with plenty of glass and no blind spots worthy of mention – including the view over the outside rearview mirrors, which are often mounted in some vehicles so they could obscure the view of pedestrians crossing in front. The seats are comfortable and supportive and I had no trouble finding the perfect driving position that suited my stubby little arms and legs. Tiguan seats five but, as usual, it seats five in a pinch and four comfortably.
My Tiguan was a fairly Spartan version of the beast, but by no means low rent. It didn't have satellite radio activated, for instance, and the seats adjusted manually, but that's hardly as serious a crime as if it didn't come with something like, oh I don't know, wheels. The ute boasts very good materials inside and out and the fit/finish is first rate.
Instruments and controls are large, legible, and placed logically. And VW also continues the trend I've noticed that German audio systems are generally very good even if they're the entry level versions. The Germans seem to understand the importance of amplifier power coupled with decent speakers and, while my test unit didn't have the top line system, I had no cause for complaint about the audio quality: it's actually better than some higher end systems I've heard.
There are plenty of storage bins and stuff spread around the cabin, too, though I thought the glove compartment was a tad small.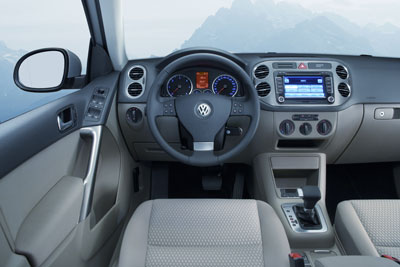 The base Tiguan comes with 16" alloy wheels, a tire pressure monitoring system, single disc in-dash CD player with 8 speakers, and a 60/40 split-folding/sliding and reclining rear seat. All four power windows have one touch up/down capability, which is always a nice touch. Naturally you also get such standard amenities as power door locks with remote entry, power mirrors, air conditioning and the like.
Safety equipment includes stability and traction control, front-seat side airbags and full-length head curtain airbags, all of which are standard. Side airbags for rear passengers are optional.
Other options include a panoramic sunroof, larger wheels, power driver's seat adjustment (and leather, of course), automatic, adaptive bi-xenon headlights, and dual-zone electronic climate control. You can also get a navigation system, rear view camera, rain sensing windshield wipers and integrated SIRIUS satellite radio.
As with most turbos I've driven, premium fuel is recommended for the Tiguan. This can cause a bit of pump angst, but on the other hand while researching this I read a buyer's comment claiming that using premium gas returns appreciably better mileage than if you go cheap on the fuel.
I liked the Tiguan a lot. I've only been reviewing Volkswagen products for the past year or so, and therefore don't have a lot of background or built in experience by which to judge how their current inventory stacks up against VW's of old, but stacking it up against the competition that I've driven (such as the Toyota RAV4, Honda CR-V and Suzuki Grand Vitara), the Tiguan – like every other Volkswagen I've driven so far – performs very well.  
The Volkswagen Tiguan starts at $23,200 U.S./$27,575 Canadian. That makes it a little more dear out of the box than the base RAV4 of CR-V, but you end up with a vehicle that feels a little tougher, a little sportier and a little more refined for the money.
Copyright 2009 Jim Bray
TechnoFile.com