VW "Dodges" Minivan Market
By Jim Bray
January 14, 2009
From the company whose microbus became legendary among travelers and hippies comes the 2009 Routan, Volkswagen's first honest-to-goodness "garden variety" minivan.
It isn't all honest-to-goodness Volkswagen, though; at heart, the Routan is a re-badged Chrysler (hence the Dodge pun in my headline) built, apparently, on a Chrysler platform and assembled in a Chrysler plant. But just as The Who's version of "Summertime Blues" takes a rock and roll standard and turns it into a "Who-ized" classic, there's more to the Routan than just a Chrysler with different logos.
Or so it would seem. I haven't driven the latest Dodge Grand Caravan or Chrysler Town & Country, and so can't really compare them with the Routan, but I have to admit I liked the Routan about as much as I've liked any minivan – which is to say it's a good vehicle if you're looking for such a people-and-stuff-hauling beast. Not something I'd buy for myself, but I can certainly understand why they're popular.
And, heck, if you're going to get into bed with a company to exploit its minvan experience, there's no one with more experience than Chrysler.
The Routan features VW-specific grilles and "exterior treatments", and an interior whose controls and audio system seemed to me as if lifted right from the Chrysler Corporation counterparts. Not that that's a bad thing, since Chrysler does such things well.
Powering the Routan is a four liter single overhead cam V6 that puts out 251 horses and 259 lb-ft of torque, which in my week of urban and rural driving provided plenty of pickup. The power goes to the front wheels via a six speed automatic transmission with a (Chrysler-ish) side-to-side manual mode that helps to get you up and running on freeway entries and exits just fine.
All of this combines to help the Routan move and handle almost as if it weren't a minivan.
You never quite forget that it is a minivan, of course. But, perhaps due to what VW claims is a "unique European-tuned suspension" (McPherson front and twist beam rear axle) and "steering matched for handling and improved driving dynamics in the tradition of Volkswagen's German engineering heritage", it's a pretty decent driving experience.
We had a bout of freezing rain during my time with the Routan and the van handled it beautifully, never freaking me – or my passengers – out in the slightest. The electronic nannies such as traction control helped keep the vehicle stable and friendly even though the roads were anything but. It's no sports car, of course, but nor does it claim to be.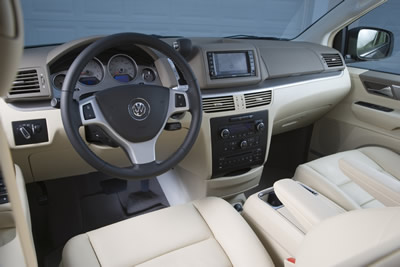 The interior is quite "rich", in that it doesn't scream "cheap plastic" at you, instead offering good quality materials that help make you feel quite at home. As mentioned, the switches, buttons and audio system all appear to be from Chrysler, but in my experience that means they're well thought out and efficient, though different – for example, there are radio controls on the rear of the steering wheel where you might find paddle shifters on other vehicles.
The gear lever is mounted very close to the steering wheel – too close for comfort, I thought until I put it into manual mode, at which point it became perfect for fingertip operation. And that's about the only complaint I had about the driving situation.
The driver's seat of my test unit was power operated and that helped me find a comfy driving position easily, despite the steering wheel not telescoping (it tilts, though).
The two front rows of my test unit featured captain's chairs that are quite comfortable and supportive – almost sporty by minivan standards. The second row folds flat. The third row seat is about as comfortable as most, and folds into the floor for enhanced hauling.
The pair of people up front have access to at least six cup holders, for those times when you really, really want to stop for a pee every five minutes!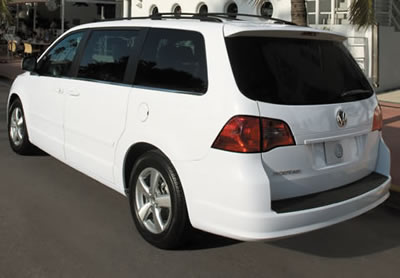 Instrumentation is mostly analog and straightforward. I had trouble reading the stereo head unit's display with my polarized sunglasses on, though. Likewise for the HVAC controls which, other than the sunglasses problem, feature pretty blue illumination. Routans come with three zone HVAC, by the way.
The Routan's stereo is kick-butt, with good power matched well to good speakers (a little more oomph would have been appreciated, though). SIRIUS Satellite radio was active in my test unit, which is always a nice treat. It appears to be a Chrysler corporation audio system, and that's also a good thing. The logo said the system plays DVD Audio, but I couldn't get my Doobie Brothers DVD-A disc to play.  I think it got stuck on the title page display with which such discs are afflicted, and my test unit didn't come with an owner's manual to help me figure it out.
But the DVD-A logo's there!
The front windows feature auto up and down. The middle row windows go up and down as they would in a regular car, sliding down into the doors. This is really nice. The rear windows tilt outward, controlled from the driver's armrest.
The windshield wipers do very nice job of cleaning the glass, except for about a 2 inch strip by the driver's side A pillar that gets missed.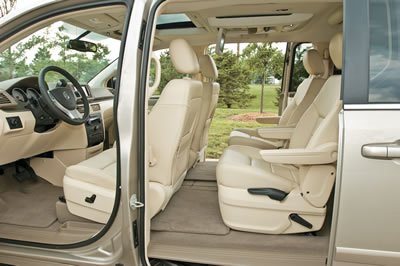 If you need to carry a bunch of little things, the Routan may be for you. Besides its quartet of cup holders, the center console features a little container in its top and the entire top section slides open to reveal a bigger cavern inside suitable for smuggling all sort of contraband. There are storage bins all over the place, two glove compartments, auxiliary power outlets and the like.
The middle, sliding doors of my test unit were power operated, which means you don't have to risk separating your shoulder by grabbing the handle and slamming the door into position.
As you might expect, the Routan also features the kind of safety equipment you'd expect from a modern vehicle. Volkswagen says the National Highway Traffic Safety Administration (NHTSA) awarded the vehicle with a best-in-class safety rating (the maximum five star ratings for frontal collisions and for front and rear passengers in side impacts). The company also says the Routan earned a "best-in-class 4-star rating for resistance to rollover."
And of course, you get stability control, anti-lock brakes and the usual collection of belts and bags.
While VW doesn't appear to have done too much heavy lifting in the creation of its first minivan, the Routan does deliver the goods. It's roomy, comfortable, handles better than you might think, and is all around a good example of the breed.
The 2009 Volksawagen Routan starts at  $24,700 U.S./$27,975 Canadian.
Copyright 2009 Jim Bray
TechnoFile.com