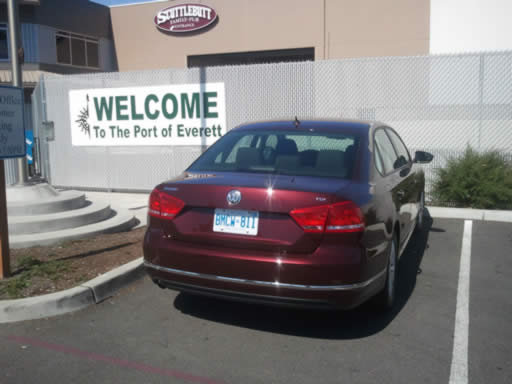 On the road with Volkswagen's new Passat diesel
By Jim Bray
October 4, 2012
Want to go on a road trip and not spend a lot on fuel? The Volkswagen Passat TDI may be just the ticket.
VW was kind enough to lend me such a car, in the fairly low end Trendline+ trim level, for a recent trip from Vancouver, B.C. to the Seattle, WA, area, and it turned out to be very nearly the perfect vehicle for such a jaunt. Any quibbles I had could be corrected easily by optioning it up.
My wife, son and daughter-in-law and I flew into Vancouver and cabbed it to VW's local headquarters, where the handsome, Opera Red Metallic Passat diesel was waiting for us, rarin' to go. I noticed right away that this particular example didn't have a sunroof – which under normal circumstances might be a good thing considering the rain for which Seattle is known, but we hit King County in something like day 44 of continuously good, sunny and hot weather, so the sunroof would have been nice.
That's one of those options things to which I alluded.
The trip to Seattle was mostly via freeway, the Washington state Interstate we used having posted speed limits of either 60 or 70 miles per hour, depending on where we were.
Traffic didn't seem to care what the posted limit was, so we merely kept up with other drivers and hit Everett in excellent time. We were booked for an afternoon tour of the Boeing plant, and we made such good time that we got into an earlier tour than the one for which we'd registered.
The Passat fit the four of us beautifully; in fact, there was so much room in the back seat that my kids almost felt as if they were in a limo. That was good, because once we got to Seattle we'd need room for five, and when that time came the folks back in steerage told me it was one of, if not the, roomiest back seats they'd been in. A very nice touch.
And all that room doesn't impact the storage space. Heck, the Passat's trunk could be used by hit men to transport their, er, handiwork. So we had no trouble stuffing all of our travel bags and stuff in it, with plenty of room left over to threaten noisy passengers with confinement there.
I'd never driven a Passat before this current generation came along, so I can't really say how it compares with older ones, but this one is a definite winner. It's handsome, well appointed even in the lower trim level of our test car, and drives very nicely. My only quibble about the ride is that it's a tad soft for my liking, so if I were to purchase a Passat I'd probably get some sport shocks put into it to tighten it up a bit.
But even as it sits, it's a very nice vehicle to drive.
Passats are available with either a 2.5 liter five cylinder or a 3.6 liter  V6 gas engine, or the two liter turbo diesel of our test sample. I haven't driven the V6, but between the 2.5 liter gas engine and the diesel, I'd take the diesel any time. Its claimed 140 horsepower sounds pretty boring in such a full sized car, but the 236 lb.-ft. of torque, which is available from 1,750 to 2,500 rpm, is delicious. We never had any trouble keeping up with, or passing, traffic when we needed to.
The engine is quiet and we had no trouble finding diesel fuel in the Seattle area. It's supposedly a very clean burning engine, too, which is good for Gaia and undoubtedly very popular among Seattle's liberals, though I didn't see too many other diesels there – it was mostly evil conventional gas engines or wonderful, earth-saving hybrids – and there was even a surprising number of Nissan Leaf electric cars, proving P.T. Barnum was right.
The front drive Passat can be had with a five speed manual or a six speed Tiptronic automatic transmission, but our diesel had VW's lovely DSG twin clutch automatic, which is a real peach. Shifts are nearly imperceptible and quite intuitive. My only quibble here is that you can't shift it manually when in sport mode, which seems like a strange choice for VW to make.
You can also choose a six speed manual transmission with the diesel, which would be interesting.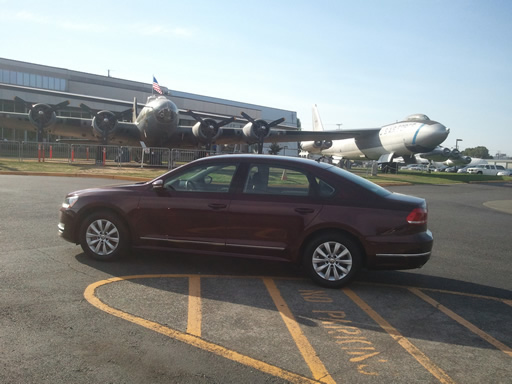 (Courtesy of VW - our Passat wasn't this loaded!)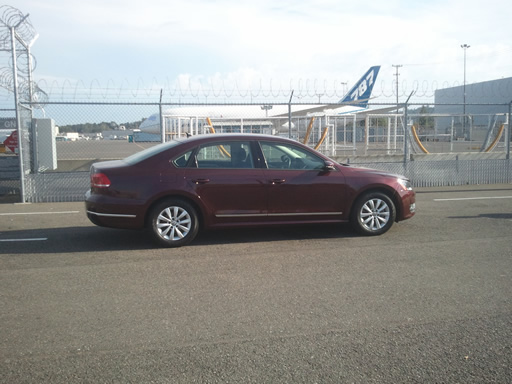 This generation of Passat has been stretched in nearly every direction but, while the car does look big, it doesn't feel unwieldy and, perhaps due to the (albeit soft) independent suspension (MacPherson struts up front and a multilink rear, with coil springs, telescopic gas-pressurized shock absorbers and stabilizer bars at both ends), parking was never a problem.
The steering and brake feel is also very good, and of course you get power assist on both, as well as ABS and the usual braking aids.
Don't be concerned by the diesel's cold weather performance, either. While it was very hot during this road trip, I drove the Passat diesel first during a typical Calgary winter, when temperatures reached – 35C during my test period. I never plugged it in and the car started each time I wanted it to. It didn't grumble about being forced to work in the cold any more than I did, either.
The Passat's interior is typical Volkswagen, which means it's one of the best. Though my sample this time didn't have a lot of toys on it, everything that's there is right where it should be and everything works very well. And a really handy feature this time around was the ability of the digital display on the instrument panel to display our speed in miles per hour, while the big analog speedometer continued to track kilometres per hour. This gave us great information for when we were on both sides of the Canada/U.S. border.
The instrument panel is a model of clarity, with large, analog gauges surrounding the digital info screen. The audio system sounded very good and was simple to use. Ditto for the HVAC controls.
The basic seats are comfortable, and the manually operated driver's seat got me into the driving mode well. It wasn't as perfect as you can get from power (which is optional), but it was close enough for argument's sake and never bothered me as the miles and kilometres piled up.
Switches and buttons all work well, and have a nice, solid feel. And even though our sample didn't have a sunroof, the very generous greenhouse still gave us a great view outside.
Naturally, you get Bluetooth capability for phone and streaming audio, and there's even a cute little analog clock in the center of the dashboard to add a sense of elegance to an already classy interior.
I wish the car had had a USB interface so I could charge my phone while we drove, but that's hardly a deal breaker. It did have an auxiliary interface, and it also came with one of my priorities in a modern car: automatic head/tail lights that take the thought out of remembering if you've turned them on at night. They also came in handy in the long tunnels we found on Seattle's freeways.
It turned out that the big Passat was the nearly perfect vehicle for the trip. While I like luxury and high performance as much as the next guy (and maybe more), for a real world car for real world people, you'd be hard pressed to find better. It's roomy and comfortable, performs beautifully – and in the approximately 1000 kilometres we put on the big beast we only burned about $60 worth of diesel fuel.
I call that a real winner.
Volkswagen listed our sample Passat TDI at $28,875, which seems pretty much like a bargain considering the car you get.
Copyright 2012 Jim Bray
TechnoFile.com