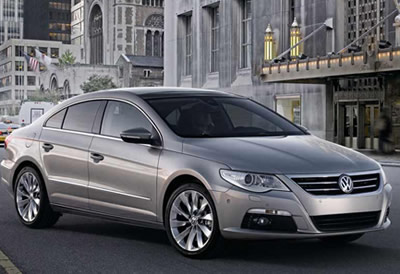 A "Non-Coupe" is Volkswagen's Latest Scoop
By Jim Bray
April 18, 2009
Who'd have thought a Volkswagen sedan could be sexy, an object of automotive lust?
Yet automotive lust is the feeling I got during my week with the new Passat CC, a wonderful 2+2 sedan that got me thinking about keeping a VW in my garage for the first time in my life.
I haven't driven many VW's over the years, but they're considered generally to be fine vehicles. For inspiring fantasy, however, the other VW family members – Audi and, especially, Porsche – come more readily to my mind.
The CC is part of that new breed of "four door coupes," which means it's a sedan that looks superficially like a coupe because it has a more swoopy roofline and sporty flavor than the average sedan. And though there's nothing wrong with the way the garden variety Passat sedan looks, the CC is head and shoulders more, well, sexy.
Volkswagen describes it as "designed and engineered to blend sports car dynamics and dimensions with sedan comfort in a sophisticated package." VW says the CC's  "masculine" shoulder line connects the front wheel wells to the taillights visually, providing the emotional and expressive stance of a sports coupe with all the convenience of a sedan."
Of course there are plenty of fine sports sedans out there that don't feel they have to pretend to be coupes. BMW is known for a few pretty decent ones and the Lexus IS-F is certainly no slouch. Heck, the Mazda 6 is a peach, too.
I've never understood why a sedan would want to be something else, and the first such vehicle I can remember (the Mercedes-Benz CLS) is butt ugly or, to be more accurate, flank ugly.
But this Passat CC, well, it's just sweet. Its weakest part is the grille, but even that's better than the big, round pie hole of the GTI. And from there back, it's gorgeous.
Giving it the "coupe-compatible" look is a wide, well-planted stance and a rear-swept roofline that's lower than you'd expect from a sedan. The CC also features frameless doors, a flowing side profile, and a large panoramic "power vent" sunroof (more about that later!).
I found myself walking around the CC a couple of times, just looking at it. This is the first time I've done that with a Volkswagen except for when the new Beetle came out and I walked around it, just looking at it, but scratching my head trying to figure out why they'd bothered.
Judging by the number of new Beetles on the road, however, VW obviously knows more than me…
Anyway, the CC is available with a choice of two engines: a two liter turbo four and a 3.6 liter V6. My test unit had the four, a four valve per cylinder unit with variable valve timing, direct fuel injection, turbocharger and intercooler. It puts out a reasonable 200 horses at 5100 rpm and 207 lb.- ft. of torque between 1800 and 5000 rpm.
There's turbo lag, as usual, and some torque steer, but once you get past that this base model Passat CC moves along very nicely. I think I'd have preferred the 24-valve 3.6 liter DOHC V6, though. It delivers 280 horsepower at 6200 rpm and 265 lb.-ft of torque at 2750 revs and is probably a tad smoother than the turbo. Besides, I like ponies!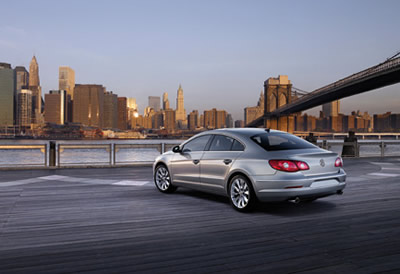 You can equip the four banger (if you get the Sport model) with either a six speed manual or a six speed Tiptronic automatic. Mine came with the automatic, much to my chagrin, but it's a pretty good one. The manual mode works well and it also features a "sport" setting for those times you want to make the car a little more interesting.
The transmission's manual mode sure came in handy when we had about a huge snowfall snow overnight. Once I'd dug the CC out and sallied forth, I slapped her into manual mode (and shut off the traction control) and the sedan, er coupe, er sedan handled like it'd been born for snowy roads.
Handling is  helped by its "specifically tuned sport suspension" and dual-pinion electromechanical power steering. Up front, CC has a sophisticated "McPherson concept" suspension with triangular wishbone configuration, coil springs, telescopic self-leveling shocks and stabilizer bar. Its tuchus features a fully independent four-link suspension with coil springs, telescopic shocks and stabilizer bar.
This all translates into a very sporty ride with precise handling and steering. The steering feels great and the suspension is cat-like but never harsh. I loved driving this car! I'd probably have loved it more if it were summer and the roads were good.
The brakes are power assisted vented discs up front, with solid discs on the rear wheels. They work well, though I thought the brake pedal felt a little mushy.
The interior is lovely. My test unit featured an attractive black and beige motif that's great on the eyes but which my wife commented would probably show every speck of dust and dirt and even small scratches. Fortunately, I didn't have to worry about that.
The seats are very comfortable and supportive and the driving position is practically perfect. I'd have liked to lower the thigh support of the power-operated driver's seat just a tad, but that's really a nit.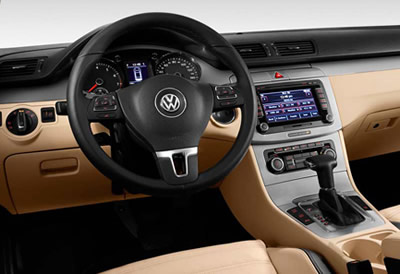 The instrument and control layout is just about perfect. The instrument panel's big analog speedo and tacho (the latter of which has nothing to do with measuring your intake of Mexican food) are separated by a typically VW/Audi/Porsche digital info center and it's all very easy to read.
The center stack is even better. Below the central vents are two sliding storage thingys surrounding the four way flashers and below that is the audio system and/or LCD screen.
Next down is one of the most attractive and elegant HVAC systems I've seen, with nifty temperature controls in which the temperature indicator lights up and zips around the knob as you turn it. Inside that is a button that controls the three-position seat heaters (which also heat the seat backs).
I only had one issue with the controls: the ignition key. The CC features push button start/stop operation, but the button you push is the key fob, which must be shoved into a hole in the dash and then pushed. Why not just opt for a smart key you can leave in your pocket?
The pair of rear seats are separated by a small storage console/cup holder unit; there's also a fold-down armrest and the entire shebang splits and folds down for easy access to a huge trunk with a nice, flat floor.
There's plenty of storage and the holders on the center console held my big thermos bottle nicely – something that seems to be happening less and less these days. 
Here are some other things about this car that impressed me during my note taking:
Driver's seat memory
Excellent greenhouse despite the swoopy roofline
Very impressive stereo, good speakers, lots of power. My car came with SIRIUS satellite radio activated.
all four windows one touch up/down
rear seat buckets are quite comfortable. Plenty of foot room and knee room in the back seat
automatic headlight operation
My wife also commented that the seat/shoulder belts are very comfortable – almost feeling as if you aren't wearing them.
Of course not all is perfect, and there was one thing about the CC I hated: the sunroof. I love a nice, big sunroof and the CC's is huge – and if it hadn't been so damn cold when I had the CC I would've looked forward to sliding it back and driving open aired for miles and miles. BUT THE DARN THING ONLY TILTS!
What's with that?
That would be close to a deal breaker for me. Otherwise, this is a terrific car.
I use a digital voice recorder to make notes while driving and ogling cars and my notes for the Volkswagen Passat CC were peppered with repeated comments of "I really  like this car!"
I guess I really liked it.
The Volkswagen Passat CC starts at $27,100 U.S./$31,975 Canadian.
Copyright 2009 Jim Bray
TechnoFile.com