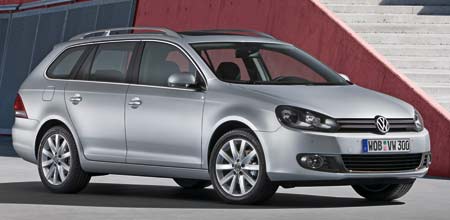 Car Wars, Episode Diesel: Return of the Jetta
By Jim Bray
April 28, 2010
My love affair with Volkswagen's current product line continues with the 2010 Jetta sedan and wagon. Heck, if I were French, I'd simply look at the car's flanks, say "Jetta door!" and be done with it.
Of course that doesn't make for much of a column, let alone a decent pun.
Anyway, hot on the heels of some seat time in the sixth generation Golf came a week with what in the U.S. is called the Jetta SportWagen but which everywhere else is called the Golf Wagon, in diesel form this time, followed by another week with the diesel Jetta sedan.
VW has really knocked it out of the park when it comes to these cars. They're attractive, appear to be built very well, are comfortable, fun to drive and feature classy interiors that are laid out and work extremely well.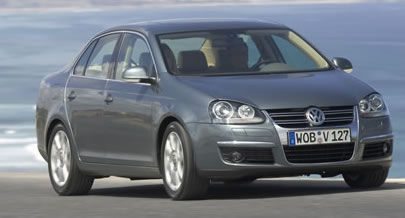 For what more could anyone ask?
Heck, the clean diesel TDI even gets you great gas mileage without stinking up the neighborhood.
To illustrate that point, during my week with the Jetta sedan diesel, I put on just shy of 200 miles and burned just over 4.8 gallons of diesel. That gave me a combined city/highway total of 41.5 mpg, achieved basically by driving the pants off the car and having a blast of a time doing it. Tough to argue with mileage and performance like that.
The turbocharged diesel engines displace two liters and, while there's definitely a bit of turbo lag (though only a bit), they offer delightful torque. The power plants run on ultra-low sulfur diesel VW says has 97 percent less sulfur content to reduce emissions. They also use a "common rail" direct injection system to "Decrease up to 95 percent of all sooty emissions", according to Volkswagen.
It's an exaggeration to say that when you step on the gas – er, diesel – pedal you have time to eat a sandwich and pick your teeth before the car starts pressing you back into your seat, and once you do start moving it's like I would imagine being shot out of a cannon would be like. These diesels will put a smile on your face if you like torque.
The power output is rated at a disappointing-appearing 140 @ 4,000 rpm but, as mentioned, the real story is the 236 lb.-ft. of torque, available from 1,750-2,500 rpm. The diesel goes like the dickens, and with very little torque steer.  
Jettas' suspension up front is independent McPherson struts, with coil springs, telescopic shock absorbers and an integrated stabilizer bar. The rear end gets a multilink suspension, with coil springs, telescopic gas pressurized shock absorbers and a stabilizer bar. The car tiptoes around potholes beautifully and enjoys playing around in twisties as well.
Brakes are discs with ABS all around, and come with the usual braking aides you find on most cars these days. Pedal feel is perfect, not grabby nor mushy at all.
You can choose your Jetta diesel with either a six speed stick or VW's six speed DSG direct shifting dual clutch automatic transmission, with Tiptronic manual mode. A conventional six speed automatic with Tiptronic is available on non-diesel models.
I had the DSG in both of my test cars,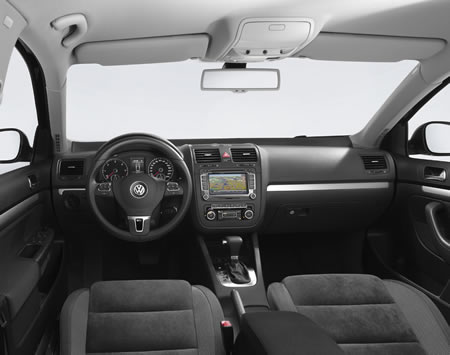 and it's a really sweet transmission. Shifts are not only as quick as lightning but they'd be nigh on imperceptible if it weren't for the revs dropping as the gears get higher. The thing even blips the throttle a bit on downshifts.
You know, I'm finding myself missing that clutch pedal less and less as the new generations of automatics improve. I never thought I'd say that.
Steering is electro-mechanical, power assisted rack and pinion, and not only does the leather-wrapped multi-function steering wheel feel great in the hands, the car's steering effort and response are both top notch. Just one more reason to enjoy driving the Jetta.
How much fun is the Jetta TDI? I was lucky enough to take an advanced driving course last fall that used Jetta TDI's as our rolling classrooms. I figured that, being diesels, we'd have a leisurely day on the track but I was wrong – very wrong. Once these things get going you forget they're diesels (except for their sound) and the inner boy racer takes over quickly.
Inside is a roomy and comfortable cabin that's a very nice place to do the business of driving. It's also a pretty good place to "passenge", too, though as usual in this size of car that third person in the back seat won't be happy for long.
With the rear seat folded down the extra room – especially in the wagon – becomes positively cavernous. Not that the sedan's trunk is any slouch at all; it isn't: it's huge!
But of course the wagon offers the most space, including storage height.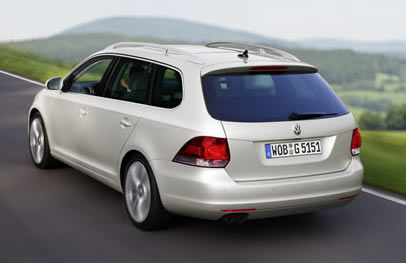 I hauled a large tower audio speaker from my home theater in the back of the wagon and it fit beautifully without even needing to lower the rear seat.  
The greenhouse is excellent, offering very good visibility all around.
Audio system offers good power and very good sound quality. I also liked the iPod adapter that sticks out of the center console like an impudent tongue (with the multimedia package): plug in the iPod and its controls and the LCD screen on the center stack mimics its controls, giving you easier access to your tunes while driving.
I was impressed with the audio system, which offers good power and very, very good sound. I also liked the iPod adapter that sticks out of the center console like an impudent tongue (if you order the multimedia package): plug in the iPod and the LCD screen on the center stack mimics its controls and displays the track info, giving you easier access to your tunes while driving.
The Bluetooth pairing for cell phones is so easy I had to visit the manual to figure it out because I was giving the process too much thought! Well done, Volkswagen.
Safety features includes an abundance of belts and bags as well as traction control with ASR (Anti-Slip Regulation), EDL (Electronic Differential Lock), EBA (Engine Braking Assist) and an Electronic Stabilization Program.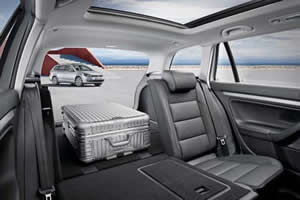 My favorite of the two Jettas was the wagon. Nothing against the four door sedan, which is very  nice, indeed, but for my lifestyle I appreciated the extra flexibility of the wagon.
According to VW's websites, the Jetta TDI sedan starts at $ 22,830 U.S./$24,475 Canadian. The Jetta SportWagen (U.S.) starts at $24,615 U.S./$26,875 (Golf Wagon TDI) Canadian.
Copyright 2010 Jim Bray
TechnoFile.com