VW Jetta Diesel – Cheap on Fuel, Big on Torque
By Jim Bray
June 11, 2011
Pump pain. It's the ache you feel at the sight of your bank account being depleted of vital resources by the vital resources your vehicle burns if it's to be of any use to you.
The quest to minimize pump pain is one of the great pastimes these days. How do you stretch that fuel dollar so you can afford other necessities of life, like groceries?
Fortunately carmakers are falling all over themselves in attempts to help offer consumers new and/or improved ways to prevent pump pain. Through such advances as hybrid or electric power plants, and even via conventional gas engines, we're getting mileages now that were unheard of only a few years ago.
I haven't driven an electric-only car yet, but I've driven an abundance of hybrids and find most of them underwhelming. There are a few that don't suck all the joy out of the driving experience, such as the Honda CR-Z and Lexus GS 450h – as well as Porsche's outrageous new 918 sports car, though I definitely haven't driven it  – but it seems to me that hybrids seem aimed mostly at people who want to wear their enviro-superiorness on their sleeves, not people who merely want to save some fuel without having the fun of the drive elimimated.
There's another alternative to the conventional gas engine that can still offer a good fun-to-drive factor: the diesel, the once smelly power plant that has been a staple in heavy trucks, buses and other commercial modes of transportation for decades. Diesels have been available in cars for many years as well but the pump pain phenomenon is making them more attractive all the time. Not only that but, as with their gasoline-powered brethren, advances in technology have led to diesels being better, cleaner and more efficient than ever before. And they can be a very compelling choice.
Which brings me to the 2011 Volkswagen Jetta TDI, the turbo diesel version of the popular Jetta sedan. The Jetta has offered a diesel for years, but there's a new generation of Jetta now that looks just as clean as its diesel power plant promises to be. And it's a heckuva car.
Powering the Jetta TDI is a two liter, inline four cylinder direct injection, common rail diesel engine rated at 140 horses @ 4400 rpm and with a healthy 236 lb.-ft. of torque available from 1,750 rpm. Ignore the horsepower figure; it's the torque that tells the tale here. It's delicious.
There's a bit of a hesitation when you step on the accelerator, so you need to plan your moves into traffic accordingly, but once that turbo-enhanced torque comes on you're pressed back into your seat in a smile-inducing manner. Naturally, you won't confuse the Jetta TDI with a Porsche 911 Turbo S, but this is still heady stuff for a small, family sedan!
The Jetta's new styling is sleeker and cleaner than the previous model's and when I first saw it I loved it. Now, after having seen it around for a few months, I'm finding it a tad bland, but it's still nicer to these eyes than the previous generation's more boxy styling.
You don't see the exterior styling from inside the car (which, with some less-than-attractive cars, is a really good thing!), so it's how the vehicle drives and what the interior is like that are actually more important. And in these areas, the Jetta is a winner hands down.
Speaking of how it drives, if you take a spin in a Prius and then jump into a Jetta and carve a few apices you'll see what I mean. Most hybrids require you to drive like a wuss to take advantage of their strong suit – gas mileage (well, emissions too, they say, though today's gas engines are really clean anyway) and, while they can handle okay, the Jetta TDI offers a much better driving experience. It's simply a regular car that also just happens to get great fuel mileage.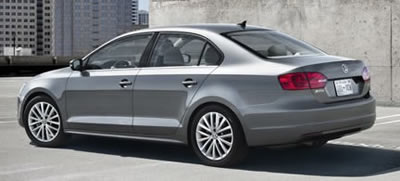 The Jetta TDI's diesel sips its "eco-friendly ultra low sulfur fuel" at a rate that extracts a healthy 30/42 city/highway by way of its EPA fuel rating. I've given up trying to get the rated mileage from any car, hybrids included. The last time I tried was when I reviewed a Toyota Highlander hybrid a couple of years ago. I took the task as seriously as I could, easing on the gas slowly and driving as gently and "gas friendly" as I could – while watching pedestrians do a faster quarter mile than me – and I still couldn't reach its rating.
And driving like that was awful! I thought I was going to die of boredom.
Of course, you may want to drive gently and if that's the case, more power (well, less power, actually) to you. You can do that with a Jetta, too, and save even more money at the pump.
But I want to enjoy the drive itself and that's why I like the Jetta diesel. Part of its fun comes from its transmissions, either a six speed manual or the terrific six speed, dual clutch auto/manual called the DSG that my test car had. It's a great transmission that seems almost psychic, with shifts that are nearly instantaneous. It reminds me of the excellent PDK seven speed you can get on Porsches, a high tech tranny I've come to know and love.
The only drawback is that, while there's a sport mode that does what it should, you can't shift manually in that mode, only in normal mode. What's with that?  I'd also like to see paddle shifters added, but VW never asked my opinon. What's with that?
How good is the Jetta to drive? The last advanced driving course in which I was lucky enough to participate used the previous generation Jetta TDI with the DSG as its platform and even though the front wheel drive sedan may not be the kind of wheels you'd associate with track day, it was a blast.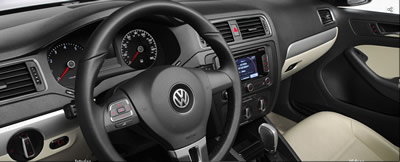 It doesn't hurt that the power-assisted rack and pinion steering feels just about perfect, and the suspension is about as cat-like as I've experience in a small sedan. The power-assisted four wheel discs (with the usual nannies such as ABS) also work and feel great. VW  has dialed the car in very nicely, and it feels terrific even if you prefer driving it more gently.
Volkswagen has given the Jetta the company's typical interior and that's a definite plus. Volkswagens have some of the best interiors I've seen and the Jetta's is not only comfortable and roomy for four, it's a model of efficiency, with clear and legible analog gauges and a center stack that eschews acres of buttons and knobs in favor of a clean and easy to fathom touch screen interface mounted above a few straightforward and efficient HVAC controls.
I have a bit of angst over the red illumination of some of the stuff, because I find red hard to read, but it isn't overpowering and I could live with it easily.
That touch screen should be an example to other manufacturers. It uses large "virtual buttons" that are easy to read, and with menus that are laid out logically and simply. A chimpanzee could set up the audio system and the various other settings you can control from the screen (I know; I did it myself!). And the screen itself is placed just where it should be, in easy reach for even those like me, whose arms barely reach the steering wheel.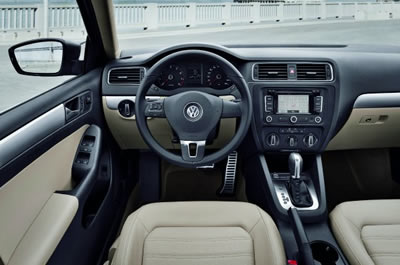 My test unit was about mid-line as far as its trim level is concerned, so it wasn't as fully featured as it could be, but I didn't notice anything missing that I really needed. It had Bluetooth for phone and audio streaming, comfortable seats, power nearly everything, a nice sunroof that opens and closes with the twist of a big knob, and a very large trunk. 
All of which means the new Jetta TDI is terrific, a car I'd definitely have on my short list if I were in the market today. Its combination of features, comfort, performance and, yes, even efficiency, make it a very persuasive pick.  
The Jetta TDI with the DSG starts at $24,095 U.S./$28,055 Canadian, and if you don't like the base trim, which is pretty good, you can option it up nicely from there.
The base Jetta starts at $16,495 U.S./ $15,875 Canadian. I drove it briefly last year and though I liked the car overall, its gutless engine (a mere 115 horsepower) was a big disappointment. Fortunately, there's also a 170HP 2.5 liter four banger on tap, as well as the diesel. And for 2012 there's a GLI model with a 2.0 liter TSI turbocharged four that delivers 200 horsepower, with 207 lb-ft of torque delivered at a mere 1,700 rpm and lots of other neat stuff – including paddles for the DSG.
I can't wait to try it!
Copyright 2011 Jim Bray
TechnoFile.com