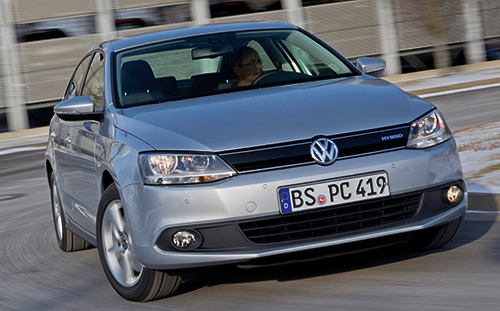 Volkwagen Jetta Turbo hybrid – buying the wrong car?
By Jim Bray
May 16, 2013
Sometimes a TV commercial is just too precious to be true.
Remember the humorous commercial for Volkswagen's new Jetta hybrid, where a guy brings his newly-purchased Jetta back to the dealership, accusing the salesman of having sold him the wrong one?
The guy proceeds to take the salesdude on a test drive, zipping around as if the Jetta's a sports car to prove that it isn't really a hybrid and therefore he couldn't possibly have been sold the correct unit.
It's a funny and pretty compelling ad, especially if you're interested in buying a hybrid that doesn't suck to drive. Most "mainstream" hybrids slant toward saving gasoline and biosphere-blessing rather than upping the entertainment ante (though there are exceptions), so if it's true that the Jetta hybrid is still a blast to drive even though it's Gaia-friendly, it could be pretty compelling choice for green-minded folk who still enjoy a bit of "joie de conduire."
So is it that fun? Well, if you compare it with other hybrids in this class, yes. The turbo hybrid isn't fast, but it's pretty quick and its handling is pretty much like a Jetta's, which is a good place to start. Perhaps the tires could be a tad more aggressive, but this Jetta is still quite enjoyable to drive. If you want more hotness, the Jetta GLI may be more your cup of tea, and it's well worth a look. It's kind of like a GTI with buttocks.
Volkswagen's hybrid Jetta uses a 1.4 liter gas engine, with direct injection, a turbocharger and intercooler. Power is rated at 150 horses, which is okay considering the mandate – though it's hardly like some of today's turbocharged fours (including the GLI's) that put out like V6's of old. Add the electric motor to the mix and you end up with an apparent 170 hp @ 5,000 and 184 lb.-ft. @ 1,600 rpm. That's reasonable grunt in this class no matter how you slice it.
One thing you should know, however, is that this gas engine burns premium fuel. So if you're looking to save gas money, you may not save quite as much as you wanted because of the, well, premium charged for premium gasoline.
Power gets to the front wheels via a seven speed version of VW's great DSG dual clutch automatic. Most DSG's only have six gears, the idea here undoubtedly being to keep the revs down to save gas. It wasn't as interesting as the garden variety DSG, however; here, at times, you'd almost think it's a CVT – and that's a horribly damning thing to say. And there are no paddle shifters.
Okay, it isn't that bad, but despite the turbo hybrid's sporty pretensions (compared with other hybrids of this class), this really isn't a car you'll be taking back to the dealer because you think you bought the wrong one. On the other hand, here may just be a Jetta that can accomplish the same kind of fuel saving, for less money and with more oomph. More about that later.
The hybrid has badging to that effect, and a different grille from other Jettas, but it looks pretty much like a Jetta, which means it's handsome in an understated way, with modern touches on VW Canada's "Highline" trim level sample such as, Bi-Xenon headlights, a six way power driver's seat, LED running lights and taillights, navigation, rear view camera and a reasonable Fender 400 watt audio system.
Strangely enough, despite the audio system's brand name, the speakers are nowhere near the fenders. Instead, they're all mounted inside the cabin, where they'll do a lot more good for occupants and be a lot less annoying for passersby.
You also get the kind of whiz-bang electronic display one expects in a hybrid, and you can enjoy its programming to your heart's content, though that might border on distracted driving. The center stack's LCD also offers views of the power coursing through the Jetta's veins, while the screen between the speedometer and tachometer can show you stuff like how much fuel you're burning at any particular time – and it was quite entertaining to see it reading "0" at times while zipping along at highway speed.
Brakes are discs all around, regenerating energy back into the system, and they're a tad grabby. They work well, though, and of course are equipped with all the usual acronyms such as ABS, etc..
Inside the Jetta hybrid is a typical Volkswagen, other than the whiz-bang displays, and that's great. VW makes some of the nicest, easiest to use interiors, with interfaces and gauges that work really well. There has been one ominous development, however, in that the center stack LCD screen's interface has been tweaked slightly to use small circular icons rather than big rectangular bars, and the changes aren't an improvement. Let's hope we aren't seeing some "change for the sake of change," because they didn't need to play around with an already fantastic interface.
Take a lesson from Porsche, VW, and don't mess with success.
Speaking of interfaces, the Jetta turbo hybrid also has easy-pairing Bluetooth for phone and tunes. There's also a Multi-Device Interface with iPod connectivity for Appleholics.
Seats are comfortable; the sample came with leather and the driving position was great. The steering wheel tilts and telescopes and the steering feel is marred only by the slippery tires.
You lose perhaps a quarter of the trunk space thanks to the batteries made necessary by going gaga over Gaia, and are faced with a big shelf-like protrusion on the floor. That said, it's still pretty cavernous.
Overall, as it sat, VW Canada's sample Jetta hybrid tipped the fiscal scales at $34,025 Canadian, sans fees, taxes and the like. A loaded Toyota Prius is about the same, if you want the other type of hybrid driving experience.
So the Jetta hybrid stacks up really well compared to Prius and its ilk, but how does it stack up against other Jettas? More specifically, is there another Jetta that can offer you terrific fuel mileage and still be a real, well, gas to drive?
Indeed. The diesel Jetta is only rated at 140 hp from its two liter, four cylinder, turbocharged direct injection, common rail power plant. But it also cranks out 236 lb.-ft. of torque, which makes it a lot more fun than the horsepower figure lets on. VW says the diesel gets 6.7 l/100 km city and 4.7 highway, as compared with the hybrid's supposed 4.5/4.2 city/highway.
Of course, your mileage will probably vary. A week in the Jetta hybrid cost $40 of premium fuel burned over 429 kilometers, including a trip from Calgary, Alberta, to Banff and back– and with plenty of tank left at the end. That worked out to about 7.6 l/100 km, combined city/highway. Considering that the car was rarely driven specifically "to save fuel" and instead was driven more as if it were a GLI, that was pretty good.
So while the hybrid may get you better gas – premium gas – mileage when compared to the Jetta diesel, you can get into a loaded diesel for just over $30,000, and you can buy a lot of diesel fuel with the four grand you saved, while maintaining at least as much of the fun-to-drive quotient as the hybrid. Plus, you won't lose trunk space or have to worry about lithium-ion batteries.
An interesting dilemma. Regardless of how you decide between them – and the other gas-powered Jettas (well, maybe not the really entry level one) – you'll be getting a fine car that's enjoyable to drive.
Copyright 2013 Jim Bray
TechnoFile.com