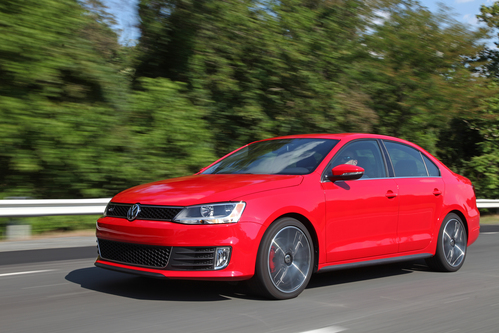 VW crafts a hot hatch with no hatch
By Jim Bray
TechnoFile.com
You could call it the hot Jetta. And you'd be right.
The VW Jetta GLI is basically a GTI with buttocks, in that it isn't a hatchback like the Golf-based GTI, but rather is a sedan – like, er, the Jetta. It's the most entertaining Jetta you can buy off the shelf. And needless to say, it's a blast.
And, all things considered, it's also priced well.
VW's are pretty great to drive anyway, but one thing the current generation of Jetta needed was a little more oomph, and by dropping the two liter turbocharged four cylinder engine shared already by the GTI and the Tiguan small SUV, they've upped the oomph ante adequately. It's a wonderful engine, peppy and torquey and a nice match for the Jetta's size and weight.
The GLI has been given exterior cues to differentiate it from the garden variety Jettas, including a different front fascia with a honeycomb grille and integrated fog lights. The side view benefits from aero-ish sill extensions, while VW has also seen to give the abovementioned butt a GLI-unique valance. And since the latter tweak frees the car's butt from looking like the mainstream sedans' you might want to call it a liberty valance.
Or maybe not.  Can't drive by a chance to make a bad pun, though…
Inside, there are some very nice GLI touches, including a flat-bottomed sport steering wheel (with controls for stereo, trip computer and Bluetooth mobile phone connectivity). You also get automatic dual zone climate control, keyless entry and starting, and cool-looking red stitching and aluminum trim. You can also avail yourself of a fine eight speaker, 400 watt "Fender" sound system with its trunk-mounted subwoofer (you'd think they'd mount it in the fenders!). It's a very good system, as are all the VW stereos I've auditioned, including the entry more entry one VW Canada's test sample wore.
Okay, while all that stuff's nice, it doesn't necessarily translate to sporty performance. Fortunately, there's more.
For example, let's look at the entirety of the power train, the heart of which is VW's award-winning 2.0 liter TSI turbocharged four-cylinder gasoline engine. It cranks out a very nice 200 horsepower and 207 lb-ft of torque which, while not in the league of some turbo fours you can get, still manages to move the GLI along with alacrity. It wants premium fuel, not surprisingly, but it also emits a most wonderful noise when you press the gas pedal. You can mate the engine to either a six-speed manual transmission with an nice, light clutch, or you can opt for VW's terrific DSG dual-clutch automatic transmission coupled with steering-wheel-mounted paddle shifters.
VW's sample car had the manual transmission, and it's a peach. I did find the clutch a long stretch for my left leg, however, while the footrest is too close; my left leg got so much stretching and flexing over my week with the GLI that it's now three inches more in circumference than my right.
If I were buying the car I'd probably opt for the DSG with paddles, because of the ultrafast shifting and the fact that not only do I love paddles but an automatic is more convenient for driving around town, and that's most of what I do. The fact that you can switch from automatic to a very nearly (at least!) strictly manually shifting transmissions, for those times when you get out of the city and hit the back roads, makes the argument even stronger.
Anyway, the GLI also benefits from what VW claims is a track-tuned independent performance suspension that includes a multilink setup in the rear, re-tuned spring and damper settings and slightly lower ride height than the generic Jetta. Up front, there are MacPherson struts, coil springs, telescopic shock absorbers and an integrated stabilizer bar. Volkswagen says the car also wears the GTI's XDS cross differential system to help keep the inside wheel from spinning when the cornering gets interesting.
It's a nice suspension, on the sporty side of comfortable, but hardly a kidney killer. I've read that it may not be quite as tight as the GTI's – I haven't driven one of them for a while, alas – but it's very good however you slice your apices. Make no mistake: the GLI is a very enjoyable car to drive.
GLIs come standard with handsome 10 spoke, 17 inch alloy wheels like the test car had, but you can 18 inchers if you prefer. Disc brakes with red calipers, ABS and the like stop those handsome wheels from spinning when you don't want them to, with fine pedal feel and brake performance. The power-assisted steering is quick and direct, very nice for a little sedan such as this.
The attractive interior features nicely bolstered, eight way adjustable (manually) sport bucket seats with that aforementioned nifty red stitching theme that's also shared by the steering wheel.  Alas, the fabric is a real pet hair magnet, and since the stuff comes in on your clothes it's very difficult to avoid the annoying practice of periodic pet pelt plucking. Maybe opt for the leather if you have cats and/or dogs, or are married to Bigfoot.
The aluminum trim, including on the pedals, dash and doors, looks very cool.
The instruments and controls are typically VW great – efficient, legible, well laid out and easy to operate. The center stack's touch screen is a model of operating ease and the auto HVAC is easy to use and works well.
All the windows feature one touch up/down, the standard audio system includes a neat Apple iThingy connector that lets you operate your iThingy directly from the car's LCD screen. There's also Bluetooth connectivity and an auxiliary connection for those who may or may not have one of those iThingies. Keyless entry with push button start/stop is gravy.
Naturally, you get the Jetta's huge trunk and a split/fold rear bench seat. And as with most cars these days, the GLI is so full of airbags you'd think it would float, as well as boasting all the usual safety belts and the like found in a modern mainstream car. Even better, the GLI is nimble enough to avoid many collisions.
I love Volkswagens, and the GLI is easily my favorite Jetta so far. Sure, it isn't as economical as the diesel (my second choice) but it's a lot of fun to drive and Volkswagen is betting there are many people willing to pay extra for that "joie de drivre." They're probably right. I'd have a tough time deciding between the TDI and the GLI; my head might opt for the diesel, but my heart definitely sings the GLI tune.
The base VW Jetta GLI starts at $27,475 Canadian ($27,795 U.S.), which seems like a pretty decent price for what you get. You can option it up from there, but it's very nice right out of the box.
Copyright 2012 Jim Bray
TechnoFile.com