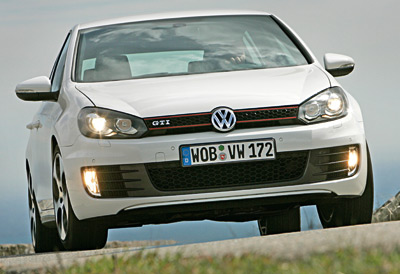 Golf GTI a little Rocket
By Jim Bray
August 13, 2010
If you're looking for a small, economical car that's also a real blast to drive, you can't go far wrong with the Volkswagen Golf GTI.
When the Automobile Journalists Association of Canada named the GTI as its 2010 Canadian Car of the year, I didn't agree. I thought it should have gone to the Porsche Panamera, because it was a completely new car – as opposed to the GTI's being merely another generation of a long-running vehicle – and it had represented a bigger risk for its company.
Obviously, my opinion means little in the grand scheme of things and once I had stopped blubbering in frustration I waited impatiently for my turn with the GTI to come so I could get some quality seat time in it.
Well it has and, while I still think the Panamera is a bolder and more deserving choice, I can definitely see why the GTI copped the Canuck challenge: it's a delightful car, fast and wonderful to drive and with all the great things – such as a first class interior – that I've come to expect from Volkswagen.
My test GTI was of the "five door" variety, which means it was a four door hatchback, and that endeared it to me even more. I don't mind two doors if a car's a two seater, but four doors are far more convenient, not only for passengers but for chucking stuff into the back seat – and nowadays you don't have to sacrifice any sportiness to get the extra two doors (except, arguably, for looks sometimes).
The sample GTI was a bright white color, not the easiest thing to keep clean but not a big deal in summer, wearing those funny-looking wheels that look like they were taken out of a gigantic food processor. I could really do without those wheels, which I think are the weakest link in an otherwise attractive car, but at least they set the GTI apart from the more pedestrian Golfs.
The GTI is powered by a two liter, turbocharged  four cylinder engine, with intercooler and direct fuel injection, that puts out a healthy 200 horsepower and 207 lb.-ft. of torque. In a small car like this, that's plenty. Step on the gas and, once the turbocharger deigns to kick in, you're propelled forward with smile-inducing élan.
The turbo lag is noticeable and annoying, but short-lived. On the upside, VW has managed to pretty well eliminate torque steer, that horrid phenomenon that makes the car want to head for the ditch (or, worse, the oncoming lanes) when you spur it.
My test GTI also had VW's six speed DSG dual clutch transmission, and it's great. It has a sport mode and, even better, little paddles mounted behind the steering wheel that let you take control yourself and which put nearly 100 per cent of the fun back into the driving experience that the lack of a manual transmission takes out. Shifts are lightning quick and very smooth – up and down.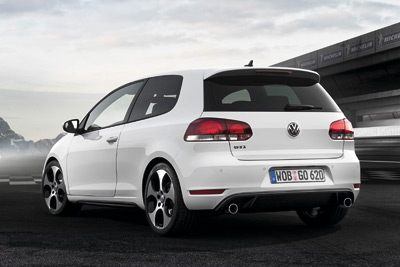 The standard transmission is a six speed manual and is undoubtedly a lot of fun, too – but you know, I'm really starting to embrace these high tech auto/manuals; these are not the "slushboxes" of generations past.
Perhaps it was karma, but I got the GTI the week after I'd driven the Porsche Panamera S, so I took it over some of the identical routes I'd driven in the big Porsche to see how it stacked up.
Not surprisingly, if all things were equal, I'd opt for the Panamera. But the little GTI – at about a hundred grand cheaper than my optioned up Panamera – gave an amazingly great driving experience that belied its relatively low price. I was gob smacked.
There are differences, of course. The Porsche had no turbo lag (not surprising, since it wasn't a turbo; the Panamera Turbo does exhibit lag) and I prefer rear wheel drive to front wheel drive. And of course the cars are completely different inside and out. But the actual driving feel, the "fun factor" was amazingly similar in both cars.
Part of the reason is the GTI's great handling. Its sport suspension might be a little hard for some (in which case buy a different Golf!) but it balances fun and comfort well and is set up beautifully for those times when you may want to carve a few apices.
Brakes are power-assisted and vented disc up front; the rear discs are solid discs. And of course all four brakes come standard with ABS and an Electronic Stabilization Program (ESP). Brake pedal feel is nigh on perfect, as is the steering feel.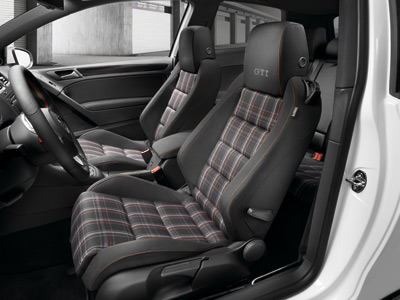 Besides those darn 17 inch "food processor blade" wheels with anti-theft locks, my test GTI also featured adaptive Bi-Xenon headlights, dual zone electronic climate control, front fog lights, a multi-function steering wheel (with not only those great little paddles but with controls for the audio system and more).
The seats are comfortable, and my test car's wore a nifty tartan motif, but in their effort to hold you in properly in the twisty bits, they've created a bucket seat that cradled my ample buttocks with a deep position that made me feel as if I were perched on a real bucket. The fabric is also a cat hair magnet.
I could never find a perfect driving position, though it was close. I'd like to have tried power adjustment for its finer tuning, but only the seat back is power-operated.
This wouldn't be a deal breaker for me, though.
The instrument panel is laid out well and is easy to read. It also includes a multifunction trip computer that offers you stuff like trip time, trip length, average trip speed, average trip fuel consumption, current fuel consumption, distance to empty, compass, or radio station display.
My test car  had a rather basic audio system, but it's still good. VW calls it a "Premium 8 AM/FM radio sound system" you can control mostly via a 6.5 inch touch screen. The system itself features an in-dash six disc CD/MP3 disc changer with SD card input, SIRIUS satellite radio integration and 8 speakers. It also has an auxiliary input jack and Media Device Interface with iPod connectivity, and there's supposed to be Bluetooth connectivity for the cell phone.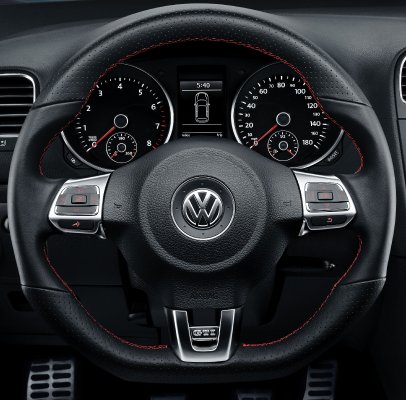 Bluetooth is a marvelous feature and really should be standard on every car today.
The rear seat splits and folds 60/40 and is pretty comfortable for two adults. We found lots of headroom in both rows, not that any of my family has any danger of our heads scraping the roofs of most vehicles.
I really liked the GTI – even more than I thought I would – and I imagine they're going to sell boatloads of them. They certainly deserve to.
So it's no Panamera – but few cars are and, while I still stand by my opinion that the big Porsche would have been a better "Car of the Year" choice, I can see why the GTI was picked instead. It's nearly as much fun and, at about a hundred grand cheaper, far more accessible for most mere humans. A poor man's Panamera? Hardly. But it's a fine and fun vehicle in its own right.
The three door Volkswagen Golf GTI starts at $23,664 U.S./$28,675 Canadian. The five door model like my test car starts at  $24,269 U.S./$28,675 Canadian. That's a lot of fun driving for the money.
Copyright 2010 Jim Bray
TechnoFile.com