VW's hot hatch GTI is back - and better than ever!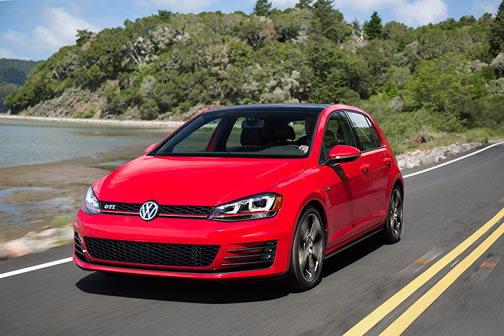 By Jim Bray
November 6, 2014
Ah, the GTI. Sure, it's basically a Golf, but an outing in this Golf  is sure to achieve a hole in one in the hearts of driving enthusiasts. Not that I'm advocating having a hole in your heart!
(Click here or on the photo to open a slideshow)
Available in three or five door versions (which means two or four doors plus the hot hatch's hatch), the 2015 Golf GTI wears a two liter, direct injection, turbocharged four cylinder engine putting out 210 horses and 258 lb.-ft. of torque. That might not sound like a lot in an area where turbocharged four bangers are putting out nearly 300 gee-gees, but as always horsepower is only part of the story.
There's also torque, and while this GTI is only up about 20 horses from the last iteration, it's also up about 50 tourque-like thingies - and it's the torque that pushes you back into your seat when you tromp the gas pedal. Well, the turbo doesn't hurt and when it comes on with its characteristic whoosh (after only a little lag) you probably won't want to take a selfie because the silly grin on your face will end up ridiculed forever on social media.
The power and torque go to the front wheels only, but very nicely, with little torque steer. You can choose from either a six speed manual or Volkswagen's six speed dual clutch DSG. Volkswagen Canada's sample had the six speed manual, and it's a peach. Shifts snick into place easily, with a nice light clutch helping facilitate the fun. I love this transmission.
On the other hand, I got to try the DSG briefly at AJAC's recent Canadian Car of the Year Awards TestFest and loved it, with its intuitive shifting plus sports mode and paddle shifters. I would have to think long and hard about which to buy if I were shopping for a GTI and I honestly don't know which I'd choose. As much as I love the manual, the left foot is getting on in years (funny how the right one hasn't been affected!) and a great auto/manual like the DSG offers so much of the manual's driving enjoyment that you aren't sacrificing much in the involvement department. And your shifts will be smoother and faster! Tough call.
Anyway, the great engine and transmissions are coupled to a nice and tight suspension that gives the GTI handling that's so nearly cat like that I wouldn't be surprised if it would land on its four wheels should you roll it by mistake. The electrically assisted power steering (the steering wheel tilts and telescopes, too, and features the usual redundant controls) imparts excellent feel as well.
And of course the GTI comes with excellent disc brakes with ABS and traction control, along with the rest of the usual electronic stuff found in today's cars. The stuff's basically unobtrusive unless you really need it.
As is its tradition, Volkswagen is "tartan" up the interior, thanks to the seats' design theme. It made me wonder if they'd rename their "Highline" trim level the "Highland" for this car, but apparently not. And if the tartan look isn't your wee dram of whisky, you can choose leather instead and thereby get away completely "Scot free." The base seats are great; comfortable and more supportive than a few bosses I've had over the years. The first time I reviewed a GTI I complained that it felt as if your buttocks were squeezed into a pail (hence "bucket seats," I suppose), but whatever they've done since then works great. These seats are lovely, though I wish they were fully power-operated; the sample's seat back raked via motor but you had to adjust the seat bottom yourself.
Between the front seats is a console on which there's a driving mode selector (sport, naturally, is best) you can use to tailor the ride somewhat.
Volkswagen interiors have impressed me for years, the brand basically epitomizing ease of use - especially when it came to its LCD touch screen. Alas, there seems to have been some change for change's sake in this generation of Golf because they've redesigned the virtual buttons  and shrunk them down so there's lots of wasted space on the screen now, and the buttons are now harder to hit while you're driving. It's still a very good interface, but it was better before, in my never humble opinion, and I miss it.
On the other hand, if not for this I'd have very little to whine about with this car and some might accuse me of being a Volkswagen sycophant (and, really, I'm just a fan of the company and its many great brands, which also include Audi and Porsche).
The Fender audio system is first rate, too, though I wish Volkswagen hadn't shrunk the number of station presets you can see at any one time on the LCD by placing them in a horizontal line instead of two vertical rows of bigger buttons like they did before. Consider that part two of my complaint.
Other nifty new wrinkles include a rear view camera hidden behind the VW logo on the hatch, a logo that - as before - also doubles as the hatch latch. This could theoretically keep the camera cleaner when not in use, a fine idea if it works, but I didn't have a chance to try that aspect of it during my balmy test session.
The Golf GTI includes all the usual safety stuff, from airbags to available stuff like a Forward Collision Warning system and Park Distance Control systems front and rear.  
There's something about German cars - engineering and construction, undoubtedly - that makes them feel extra solid, as if they're carved out of a single block of iron, and the new GTI exhibits this in spades. The doors have a nice, quality "thunk" to them, the controls take effort to use, and when driving the car it feels as if you're going appreciably slower than you really are - which can end in embarrassment and unintended tax assessment if you aren't careful. This is nothing that German cars aficionados don't expect, of course, and Volkswagen has come through very well here, with this small but solid car.  
All Golfs undoubtedly feel that way, but where the GTI excels - beyond its more upscale trimmings than a garden variety Golf - is in the "smiles per gallon" department. The car's extra quick, nimble, and a blast to put through its paces. It's no surprise that many other makers are trying to steal its thunder, with their own hot hatches of varying hotness, and I must admit I haven't driven most of the competition. But it's hard to imagine any car in this class being any more fun, or better built, than this latest generation of Volkswagen's Golf GTI.
The VW Golf GTI starts at $27,995 for the three door and $32,895 for the five door. The DSG adds about $1400 and you can opt for about six grand more worth of options.
Copyright 2014 Jim Bray
TechnoFile.com