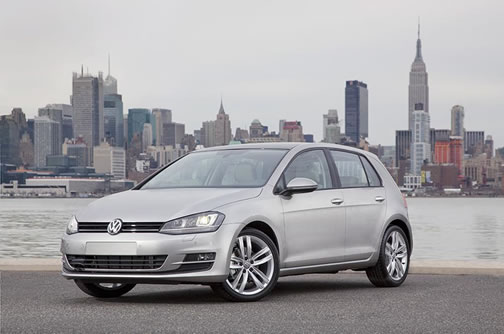 VW Golf re-in-car-nated for its new generation
By Jim Bray
March 6, 2015
Volkswagen has knocked its next generation Golf out of the park, with an evolutionary new design that's clean and modern – just like its new base engine.
I'm not really surprised. The new Golf is getting all kinds of awards, including the Automobile Journalists Association of Canada's Best new small car over $21,000, Car and Driver's 10 best cars, and Motor Trend magazine's Car of the Year award for 2015. I'm kind of surprised it didn't win AJAC's overall Canadian Car of the Year award (I wanted the Jaguar F-Type to win, but would have been quite satisfied if the Golf or Golf GTI had copped the prize instead), but I don't think I've ever called the award correctly since starting to participate in the CCOTY TestFest several years ago. At least I'm consistent…
(click here or on the photo to open a slideshow)
The new Golf is the first Volkswagen to be built on the company's, "extremely advanced" MQB platform that's lighter and stronger than previous generations, which means better handling and less fuel consumption. VW says the MQB also gives the Golf more passenger room and cargo space, though you certainly won't mistake it for a VW microbus. VW also says the new platform is less complex than previous ones, which  (according to their media materials) means they can build it for less - and sell it for less.  I'd still advise you to dicker, though…
I'd only driven the immediately past generation of Golf before sliding my prodigious posterior into the new gen, but I love both - especially the sporty GTI version (I'd probably love the even hotter R version, too, if I ever drove it) and I've been waiting with baited breath to try this new engine for a full week's test (I drove it briefly at TestFest) to see if it's up to snuff.
It is. Previous generations used a 2.5 liter inline five cylinder engine in the base car, which put out 170 horsepower and 177 lb.-ft. of torque. That power plant is ready for the tarpits now, apparently, having been supplanted by the new, 1.8 liter inline turbo four, which turns out to be an absolute sweetheart. It has the same rated horsepower, but with slightly more torque (185 lb.-ft.). Despite the comparable specs, however, the new engine is a revelation, and if I hadn't known better I might have mistaken the regular Golf for a GTI. Oh, its output is down seriously from the GTI's two liter turbo four's 210/258 horses/torque, but despite that this car goes like an absolutely scared, well, rabbit.  I kid you not.
All Golfs except for the R are front wheel drive, and Volkswagen's sample also came with a five speed manual transmission that's a joy to use. It took me a bit to get comfortable with the slick and tight shift patterns but that's probably because I haven't driven a five speed stick in a while. Heck, if you can't afford a GTI, you won't go too far wrong with the regular Golf, even though it has one gear less.
If you don't want to drive in DIY mode, VW also makes available a six speed automatic transmission with a TipTronic manual mode. I haven't driven this transmission recently, but I remember it being a good one; not as good as VW's other option, the six speed DSG dual clutch model that's available on the GTI and the diesel, but it'll do in a pinch. Perhaps Volkswagen should limit the auto tranny choices to the DSG and offer all its customers its best unit. Ditto for the six speed manual instead of the fiver. I'll tell them that when they ask me…
Golfs feel light on their feet and the handling is very good, thanks to independent suspensions front and rear and light and accurate power-assisted steering you operate via a reasonably thick multi-function steering wheel. The disc brakes work fine, with good pedal feel.
Volkswagen's sample Golf was of the five door persuasion (four doors and a hatch; a three door  version is available as well) and it was pretty well loaded with stuff, including a nice, big sunroof. It had plenty of creature comforts, too, spread through its attractive and well laid out cabin.
I've held up Volkswagen, and Porsche, as models of simple, intuitive interfaces and this new Golf is still right up there, but VW designers just had to mess with the audio interface on the LCD touch screen. It's now in full color but rather than offering you a full screen with six big buttons that are easy to see and use, the old virtual buttons are now new virtual icons spread across the center of the screen. You can scroll like you would with a smart phone, but it requires too much attention when your eyes are better served looking ahead of you, down the road.
It's still a much better system than some, but I'm afraid VW (and, to be fair, they aren't alone) are getting seduced by folks who love change for change's sake. My angst only applies to the interface, however; the Fender system itself sounds great, with its 400 watts and eight speakers plus subwoofer. I might quibble with VW moving the CD player to the glove compartment, where it'll be tough for the driver to get at, but to be fair CD's are a dying breed now and the audio system has enough other connectivity choices to keep most people happy.
The Golf is a terrific car, that almost seems to have been carved out of one single block of metal. It's a feeling of solidity and quality that's common in German cars, but you might not expect it in a comparatively lower end car such as this. Yet there it is.
Volkswagen's website says the three door Golf starts at $18,995 Canadian, with the extra two doors adding a grand to the total. If you load it up, you can reach $33,000 or more for the five door diesel automatic with all options, which is starting to become serious coin for a little car like this – though it's still less than the marvelous GTI will set you back.
Immediate competition includes the Ford Fiesta, Kia Rio and Hyundai Excel, among many others.
Copyright 2015 Jim Bray
TechnoFile.com