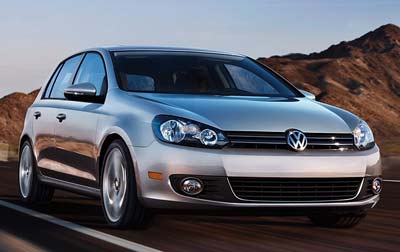 VW's Golf a Fair Way to Get Around
By Jim Bray
April 8, 2010
If you're looking for a nice vehicle to "putter" around in, you can't go too far wrong with the latest Golf.
In fact, a little birdie told me this sixth generation of VW's entry level car was a real hole in one for the German car maker. And having driven the gas-powered four door hatchback recently, I can tell you they've definitely aced it.
Golfs have been around for years, and under various noms de plume, and I can see why it remains popular: it's a fantastic little car, well built, fun to drive and with one of the best interiors you can find.
Speaking of noms de plume, the naming conventions can be a bit confusing even now. For example, I also got to spend some quality seat time in the Canadian-spec Golf Wagon, which is known in the U.S. as the Jetta SportWagen.
Why? According to Volkswagen Canada's Peter Viney, Volkswagen of America has chosen to sell the sixth generation Golf Wagon as the Jetta SportWagen even though, worldwide, the vehicle has always been called the Golf Wagon. "We decided to follow the global nomenclature in Canada," Viney says about this sixth generation Golf, which means the Rabbit became the Golf (again), the Jetta Wagon became the Golf Wagon, and the GTI became the Golf GTI. "The U.S. had a lot of success using the Jetta SportWagen name," Viney says, "So they kept it for the latest generation."
Whatever you call the wagon, it's pretty much a Golf with an extended bum – though on the other hand a Jetta's mostly a Golf with a conventional trunk rather than a hatchback: a Golf with an extended bum, in other words – it just doesn't extend right up to the roofline. Then again, on the other, other hand, the new SportWagen, er Golf Wagon, looks more like a Golf than it looks like the current Jetta.
In honor of this potential confusion, I've decided to review the Jetta SportWagen when I cover the Jetta sedan I'm driving now, but I'll call it the Golf Wagon to ensure cross-border amity. Why? Because they're both diesels with the DSG transmission.
That'll straighten everything out!
Anyway, regardless of what you call these particular roses, it's a bouquet with which Volkswagen obviously doesn't want to mess. And to that end the new Golf's exterior is very much like the old model's, but refined through such things as a new front fascia, short overhangs both front and rear and a wider rear hatch opening. The car's wheelbase and height hasn't changed, though it's a tad shorter overall and just a smidgen wider.
The extra width doesn't mean you'll want to put a third person in the back seat; like most cars in this class, the Golf is really meant for four passengers and as long as you remember that all should be well.
My test Golf four door hatchback came with the standard 2.5 liter inline five cylinder engine, and while five cylinders might seem a bit weird, the engine works well. Horsepower isn't huge – VW rates it at 170 horsepower and 177 lb.-ft. of torque – but it's more than adequate for a small car such as this.
You can order your "five banger" with either a five speed manual or six speed automatic transmission with Tiptronic (auto/manual shifting feature) and Sport mode, the latter of which gives you a nicely spirited drive even if you don't shift it yourself. My test car had the automatic and I liked it quite a bit; shifts are very smooth and unobtrusive.
Diesel-powered Golfs can be had with either a six speed manual or the six speed dual clutch DSG direct shifting automatic, which is even better than the "garden variety" Tiptronic.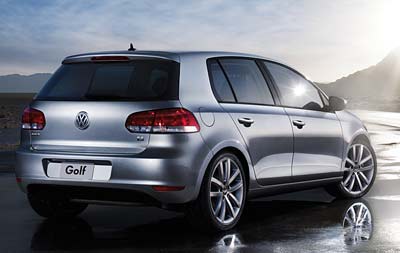 Golfs' suspensions are independent MacPherson struts up front (with coil springs, telescopic shock absorbers and an integrated stabilizer bar) and a multilink rear with coil springs, telescopic gas pressurized shock absorbers and a stabilizer bar. Volkswagen has done a really nice job of balancing comfort with fun, leaning a little toward the fun side of the equation, which contributes to the Golf being so entertaining to drive.
Brakes are discs (ventilated up front) all around, with ABS. Pedal feel is perfect, giving you good braking right away without being so grabby it feels as if you're about to stand the Golf on its beak.
The interior materials of my test unit were of very good quality, the buttons and stalks and displays were just where they should be – and Volkswagen's touch screen interface on the center stack is absolutely first rate.
Except for the HVAC controls. They're definitely easy to use, but the labels are so small I needed to put on my reading glasses to figure them out, then take them off again to drive. I doubt this would be a long term problem because even after a week in the Golf I was starting to get comfortable with what was where and what did what, but it seems strangely fuzzy-headed when everything else about the interior and the interfaces is done so well.
On the other hand, it gives me something to complain about, and something for VW to think about for the 2011 model (as if they give a hoot what I think!).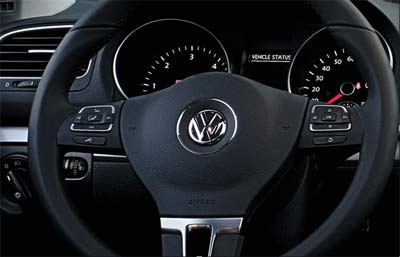 The three spoke steering wheel feels great in the hands, and on my test unit had multi-function buttons for computer, audio and the like and it works very well. The steering column tilts and telescopes and the steering – which is electro-mechanical variable assist power rack-and-pinion – feels just right. There's minimal torque steer, too.
The greenhouse is excellent, offering very good visibility all around.
The seats are comfortable, the front ones having good support for the twisty bits of asphalt. The seat fabric looks and feels good, though it also acts like a pet hair magnet and that means it takes a vigorous vacuuming – punctuated by much cussing – to get them fur-free.
The rear seat splits and folds down nearly flat, for extra hauling capacity.
I was impressed with the audio system, which offers very good power and very, very good sound. I also liked the iPod adapter that sticks out of the center console like an impudent tongue (if you order the multimedia package): plug in the iPod and the LCD screen on the center stack mimics its controls, giving you easier access to your tunes while driving.
Safety features includes an abundance of belts and bags as well as traction control with ASR (Anti-Slip Regulation), EDL (Electronic Differential Lock, available when the Golf is equipped with ESP), EBA (Engine Braking Assist) and an Electronic Stabilization Program.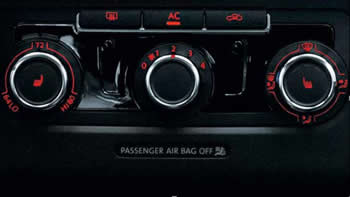 I really like the new Golf, so much so that it has replaced the lovely but goofily grinning Mazda3 as my favorite vehicle in this market niche. I still love the 3, but the Golf is even more fun (despite its lack of claimed "Zoom-Zoom"!), with a nicer interior and better thought out and executed interfaces.
You could have knocked me over with a feather!  
The five door Golf hatchback starts at $19,335 U.S./$21,175 Canadian.
Copyright 2010 Jim Bray
TechnoFile.com