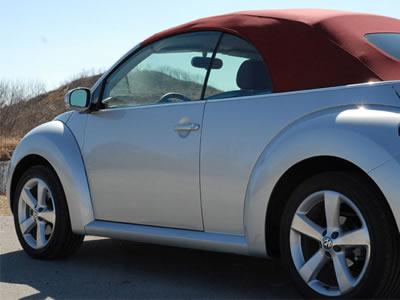 VW New Beetle and Golf City – Reasonably Sublime to Downright Ridiculous
By Jim Bray
October 7, 2009
Volkswagen's entry level Golf City is a nice little car, affordable and comfortable and undoubtedly easy to live with.
Then there's the New Beetle convertible.
I got to drive both vehicles back to back, spending about three weeks with them in total – mostly (fortunately) puttering around in the Golf, no pun intended. Well, okay; I did make the pun deliberately. The Golf City restored the good taste for Volkswagens that I'd had before I was infected by the nasty bug.
As for the Beetle: How do I hate thee? Let me count the ways!
That's the thought that was going through my head during my ordeal with the VW New Beetle convertible, a car I thought I would like – or at least not hate – but which has to go down in history as only the second car that rubbed me so much the wrong way that I had to pan it.
Maybe it was me, but not only did I not bond with the Beetle, I really came to despise it.
My test unit was the Silver-Red edition, which means among other things that it was in an attractive silver color with red roof and interior trim that was very similar to the Porsche Boxster RS 60 Spyder I got to play with last year. That – and the fact that they were both convertibles – was where the resemblance ended, though. While they had to pry the Porsche from my warm, live hands, I was more than ready to fumigate my castle of the Beetle when my time with it was up.
The New Beetle Convertible Silver-Red comes with a 2.5 liter, five cylinder engine VW says puts 150 horsepower and 170 lbs-ft torque onto the road. It's perfectly adequate motivation, and is mated to either a five speed manual transmission or the six speed automatic with Tiptronic manual shifting and sport mode that my test car had, though it isn't particularly sporty.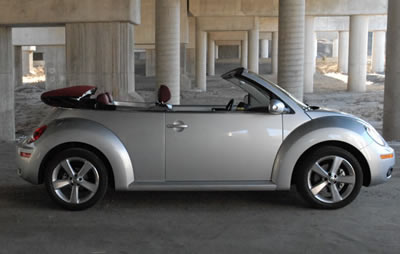 The Silver-Red also sports what VW calls a sport suspension, as well as nice and comfortable red leather seats, a tonneau cover for the retracted convertible top, 17 inch alloy wheels with anti-theft locks, and all-season tires.
Other that that, I guess, it's pretty well a garden variety New Beetle ragtop, a car that also comes with power-assisted four wheel disc brakes with ABS, electromechanical power assisted rack and pinion steering (that feels fine), independent suspension front and rear and such other nannies as stability and traction control.
Getting into the seats is easy, thanks to big doors and, in the case of the those riding in "steerage", front seats that move out of the way nicely to facilitate ingress and egress. Once in the driver's seat, the instrument panel is very straightforward and there are minimal HVAC and audio controls on the center stack. That part of the car is done very well.
They've even stuck in a little clear plastic tube-like thing that's apparently meant as a cute little vase, but which my daughter in law pointed out would work really well as a rainfall gauge if it were graduated (though she didn't say from which school it should graduate).
The view forward from the front seats is, well, interesting. Above, and far beyond the instrument panel, is a big and flat dashboard that reminded me of those toy hockey games with little slots and players you control via sliding rods. And far beyond that is the windshield – atop of which are the clock and temperature gauges. You sit so far back that you're virtually in the rear half of the car, which may be good for weight distribution but which is quite disconcerting in the Beetle.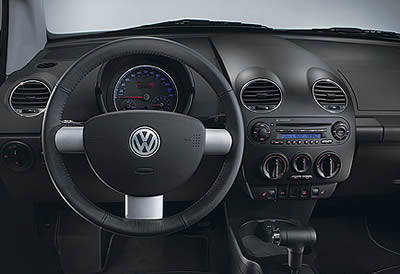 That said, the seating position relative to the steering wheel and pedals is just fine and the car drives well; it just feels weird being that far back in it. And yet I used to own a Datsun 240Z in which you also sit far back, but which felt perfectly normal that way.
 The rear seats are quite comfortable, though the rather straight seat back means you sit up erect. And there's only one cupholder in the back, so multiple passengers will have to share, or fight. They'll have to beg the driver to lower their windows, too, since there are no controls back there. The driver, on the other hand, has individual controls for each window, plus one "master control" to rule them all simultaneously. Kind of like Sauron's One Ring.
The roof mechanism is weird. You first have to unlatch the front, which is no big deal (as opposed to latching it again upon closing, which is a big deal), then press the button on the center console – very Porsche-like and very straightforward. But the roof retracts back on top of the car's bum rather than into it, leaving what looks like a big fabric spoiler that does anything but enhance the vehicle's performance.
Think sailboats.
In fact, wind noise and turbulence are a real issue, whether you're trying to talk to passengers, listen to the audio system, or just hear yourself think. It's like banshees are flying around your head, shrieking mightily and buffeting you about the head and shoulders. Even with the windows up it's hard to take. It's so bad that I could hardly make out the notes I made on my digital voice recorder while driving, and when I played them back later, and my voice recognition software just threw up its little electronic hands in frustration.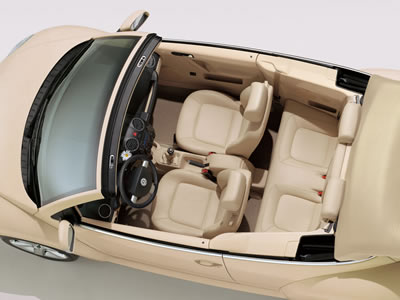 At least the view upward is unobstructed…
The view rearward is very obstructed, though. It's so blocked by the retracted roof that I could barely see the top half of the windshield of cars following.
The Silver-Red's tonneau cover smooths out the retracted roof's look, but it's a real ordeal stretching it into place, and even worse getting off again. I tried it once then threw it back into the trunk, through its very, very tiny opening, never to think about it again.
I'm not comfortable with the car's quality of construction, either, at least where my test unit was concerned. Once, it took me three tries before the roof would retract properly and the auto up/down feature of the driver's side window was such that on several occasions it would auto up, then auto down again as if it were second guessing me.  And I have a wife and kids for that, thank you.
There was also a noticeable rattle from in or behind the driver's door or somewhere in the roof mechanism.
On the upside, the Silver-Red's leather upholstery is very attractive. And the roof closes snugly enough to be confidence-inspiring in car washes.
The New Beetle Convertible starts at $25,990 U.S./$31,175 Canadian, money that, in my never humble opinion, could be spent better elsewhere.
A Not Crazy Rabbit…
The Golf City, on the other hand, was a marvelous breath of fresh air and restored the warm feelings I'd gotten from other Volkswagens I've driven. Sure, it's entry level, but it's a nice little car and, unlike the New Beetle Convertible, I can see why people would buy one.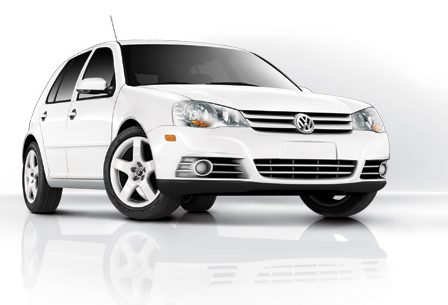 Alas, the Golf City appears to be unavailable in the U.S. at the time of this writing, but if you think "Entry Level Rabbit" you won't be too far off, though the City appears to be a little stripped down even for that.
VW Canada bills the Golf City as "What you need, nothing less, nothing more. Like a perfectly balanced diet." And that's pretty apt, I guess, not that I'd know a perfectly balanced diet if it hit me in the face. What it means is that, while the Golf won't set the world on fire when it comes to performance and speed, for an entry price of just over 15 thousand loonies you get a very nice four door hatchback that includes stuff like four wheel disc brakes with ABS, a CD player with USB and eight speakers, telescoping and tilting steering wheel and adjustable front seats as standard equipment.
Powering the Golf City is a two liter, 115 hp four banger mated to either a five speed manual transmission of the optional six speed automatic with Tiptronic (which my test car had). I wish I'd had the stick shift, because it can get the most out of the little engine (though to be fair, its horsepower is competitive with others in this market niche), but the Tiptronic was okay if you used it in manual mode.
American Rabbits (of which Bugs Bunny is a prime example, though he doesn't come with wheels) get a 2.5 liter inline five cylinder engine, undoubtedly the same one as in the New Beetle. Its 170 hp @ 5700 rpm and 177 ft.-lb of torque @ 4250 rpm probably make it more fun to drive than the Golf City.
The little car drives well, though, with good handling and braking, and you get a comfortable interior that includes a good driving position. If the Golf City had as much oomph as the Rabbit it would probably be an absolute blast.
Ah, but all isn't perfect. The audio system's black on silver buttons are hard to read, as is its LCD display when wearing polarized sunglasses. And when you put down a rear window, you get a horrible "Whoof, whoof, whoof" noise similar to what you get sometimes from open sunroofs. It's enough to give you a headache.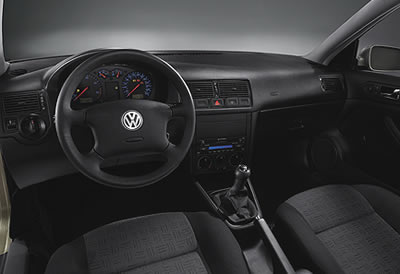 Still, the audio system is decent for a low end car, with eight speakers mounted on the doors, tweeters up high and woofers down low. And the overall experience of driving it is quite rewarding within its low end limitations.
In all, the VW Golf City is a nice little car and I was pleased to see it available with four doors (the Rabbit can be had as a two door hatchback as well), which I prefer to a coupe because it's easier to throw stuff into the back seat.
The Canadian-spec Golf City starts at $15,300 Canadian, while the U.S. spec Rabbit tips the cash register scale at $16,300 U.S. for the two door hatch and $19,340 for the four door hatchback.
Copyright 2009 Jim Bray
TechnoFile.com