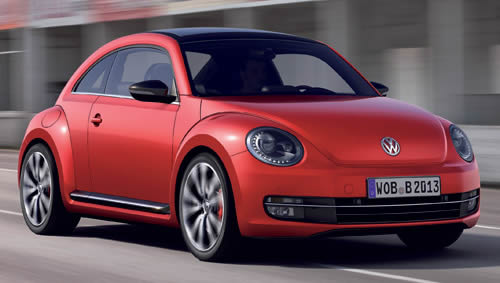 New, New Beetle a step forward for the car, a step backward for the cuteness
By Jim Bray
February 11, 2012
It's a Beetle you probably won't want to stomp on, unless you're only referring to what your foot does to the accelerator pedal.
After the reasonable success of the first generation of the "New Beetle," you might think Volkswagen would leave well enough alone and not risk alienating its built in audience. You'd be wrong, though: as with other cars in its lineup, the "new New Beetle" has been extensively retooled and reimagined for a new generation, Volkswagen in the process eschewing some of the "Old New Beetle's" cuteness in an apparent attempt to make it seem like a more serious car than its predecessor, while still holding true to its "buggy" heritage.
How successfully has Volkswagen walked this fine line? Time will tell as far as sales are concerned, of course. But the new-for-2012 Beetle is a real eye-opener compared to the previous one, whose insufferable cuteness rubbed some folk the wrong way. And it wasn't just the cuteness that caused automotive angst among some: the old car's interior was a model of wasted space, with a dashboard big enough and sticking far enough into the interior to use as a foosball table.  
Then there was that little rose vase – just what every self respecting guy wants in his car. Heck, it wasn't even big enough to use as a beer holder!
It's hard to hate the new Beetle, though. It's longer, lower and wider than the outgoing model, and really does look more like a serious car. Oh, it's still recognizable as a Beetle the instant you see it, but the new body styling is more athletic, less feminine.
Maybe we have the makings of a new Herbie here!
The sample Beetle Volkswagen provided was fitted with VW's 2.5 liter inline five cylinder engine, which isn't really enough to get one thinking about riding Herbie again in anger, but which is perfectly serviceable for everyday driving. It's rated at 170 horsepower @ 5700 rpm and 177 lb.-ft. of torque at 4250, so while it may not push you into the rather comfortable seats, it's certainly competitive with other small coupes in this niche.
If that isn't good enough for  you, you can order VW's two liter turbo four, which is good for 200 horses and 207 pound feet. That isn't a huge difference, but it should be noticeable. A warning, though: that engine wants premium fuel, while the five banger drinks regular unleaded. 
You equip your Beetle with either a five speed manual or VW's six speed automatic transmission with Tiptronic, which is what the sample Beetle had. It's a good transmission, smooth and efficient and with a decent manual mode, but of course it doesn't offer the involvement of a stick. You can also order VW's DSG dual clutch transmission – with paddle shifters – and this might be the best balance between performance and convenience.
Underpinning the front wheel drive Beetle is a sport tuned suspension that feels quite lively. The independent front uses McPherson struts, coil springs and telescopic shock absorbers, while the Beetle's bum is bolstered by a torsion beam axle with coil springs and telescopic shock absorbers. It's no GTI, but it's better than expected and helps make the little bug a decent vehicle to drive.
Stepping on the Beetle's brake pedal activates four wheel discs, with ABS. Pedal feel is good and brake performance is fine, stopping the car with no fuss.
Steering feel is also pretty good. The car sports, er, has, power-assisted rack and pinion steering and it does a good job of taking the car where you want it to go. The steering wheel tilts and telescopes, too, which is always nice.
The interior is comfortable up front, with good headroom, and it isn't too onerous getting into the rear seat , thanks to the wide door openings coupled with the way the front seats have been designed to fold forward. Don't try putting three people back there if you expect an award for your humanity, though. Leave it with a pair of your peers, however, and you'll be fine – as long as they aren't from Pandora.
A hatchback, the Beetle offers decent storage space, especially if you fold down the rear seat. And of course there are cup holders and other little storage areas up front.
Standard equipment includes 17 inch alloy wheels (18 inchers are available), air conditioning, front seat heaters and a decent AM/FM/CD audio system with MP3 and satellite radio capability and auxiliary input).
The interior is all VW, which means it's thought out well, with interfaces and controls that are simple to use and placed where they're needed.  Depending on the trim level, the LCD screen is either touch operated or controlled by buttons surrounding it. The touch screen is better, but the base interface works well.
Volkswagen's test sample also sported Bluetooth connectivity, which should be standard on every car sold today (but isn't, yet). You can also equip your Beetle with stuff such as a very good Fender audio system, navigation and the like.
There's no diesel version available yet, but it'll probably come long before this Beetle sheds its newly formed skin a few years down the, er, road.
The 2012 Volkswagen Beetle starts at about $22,000 Canadian and about $20,000 U.S..  
Copyright 2012 Jim Bray
TechnoFile.com