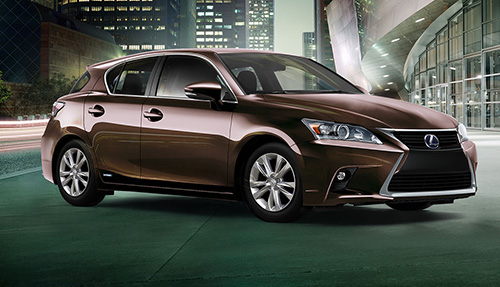 Toyota and Lexus offer interesting choices in entry level editions
By Jim Bray
March 13, 2014
Toyota's entry level car is a good little vehicle that's more fun to drive than you might think. Even with an automatic transmission. Lexus', on the other hand, is nice vehicle that could be even nicer if they'd offer a non-hybrid version.
(click here or on the picture to open a slideshow in a new window)
Toyota's little guy is the Yaris, which replaced the Echo that replaced the Tercel that filled a hole created when the Corolla grew up. A lot has changed since those days, of course, but one thing that hasn't is the fact that Toyota's littlest guy has a lot to like if you're shopping at this end of the marketplace.
Lexus' current entry level model is the CT 200h, a great little wagon that would go head to head against such worthy entries as the Audi A3 or VW GTI if it weren't saddled with a gutless and funless hybrid power train. As it is, however, it's still a really nice little car, even if it isn't great to drive.
I drove these cars virtually back to back and, even though the Yaris is seriously down market to the CT 200h, I enjoyed driving the Toyota more than the Lexus. Who'd have thunk it? On the other hand, it's hard to argue against the CT's luxurious interior and increased amenities.
Obviously, Lexus is pursuing a different market than I think they should (and how dare they!) and, let's face it, the company and its parent Toyota are doing pretty well by not following my advice, so maybe they know something I don't. Still, I pine for what could be.
More on that later…
Yaris sticks out…
The Yaris, on the other hand, is just fine as it sits, though you might want to check out the version with the manual transmission if you're into "joie de conduire." That said, even the atavistic four speed automatic of Toyota Canada's sample offers a better driving experience than the CT's noisy CVT.
Available as either a three or five door hatchback, the Yaris offers pretty good interior space and enough technology to qualify it as being up to date. Toyota's five door sample, for example, even offered Bluetooth for phone and audio, though it didn't have a voice interface and so I had to pull over and scroll up and down the audio system's LCD screen to use it, which kind of defeated the purpose.  
Under the Yaris' hood is a four cylinder engine that features dual overhead cams, 16 valves and variable valve timing. And while its 106 horsepower and 103 lb.-ft. of torque may not set the world on fire, it works surprisingly well in this small and light vehicle; I was surprised at that minimal oomph ante because it felt like more.
Power gets to the front wheels via either the four speed automatic of Toyota's sample, or what's undoubtedly a more entertaining five speed manual. The automatic shifts well, but not nearly often enough compared to a lot of its competition these days. The "European tuned" suspension (which boasts struts up front and a torsion beam bum) - ditto for the steering and brakes - even feel a tad sporty; you won't confuse the Yaris with a hot hatch, but that's not what this car is about.
One thing that worked against a more compelling drive was the non-telescoping steering column, which meant I couldn't get as close to the wheel as I liked. Couple that with a relatively high seating position and I kind of felt as if I were sitting on a bar stool. Not a big deal, however, and after a couple of days I was used to it. And to be fair, I got into the Yaris right after being in a low slung sporty coupe, so that didn't help.
On the downside was the typically Toyota audio system. Oh, it worked fine for what it was, but the volume and tuning buttons were the worst I can remember: they don't stick out far enough from the head unit to let you get a proper grip on them at the best of times; if you're wearing winter gloves they're nearly useless. The SE trim level on the five door helps here by adding steering wheel-mounted controls.
The Yaris comes with only one windshield wiper, a huge thing that actually cleans the windshield surprisingly well, better than some cars with two wipers. The only drawback, and this is minor, is that the washer spray comes right off of the wiper arm and when you first start it up it tends to waste some fluid by hosing it sideways across the car until the wiper starts its scroll. You might spend a tad more on washer fluid because of this, but not much.
All told, the 2014 Toyota Yaris is a great little car. It may not be quite the fun of some others in this segment - the Mazda2 or Honda Fit, for example - but it's a surprisingly interesting drive anyway. And at a starting price of $14,255, it won't break the bank.
Low end Lexus…
For 2014, Lexus has upgraded and enhanced the CT 200h and - my angst about the power train notwithstanding - I liked the little wagon even better than the last one I drove.
One thing they've done this year is to inflict that Lexus "spindle grille" on the CT, but unlike models such as the IS it doesn't ruin the front end. That may be because this particular spindle isn't as in your face as others.
The CT's bum features a new bumper design that incorporates L-shaped reflector housings and a black lower center section to "emphasize the vehicle's low center of gravity and broad rear stance," according to Lexus' press materials. It all contributed to a handsome vehicle, one of the nicer-looking small wagons available today.
Inside, the CT 200h offers more stuff, and Lexus says it also features improved visual and tactile quality (which I guess means its materials look and feel better than before). It works.
The front wheel drive car features a decent suspension and would be pretty nimble if it had the oomph to back up its chassis. Lexus says the CT's stiffness has been improved through the use of more spot welding and structural adhesives. The suspension has also been re-tuned, with optimized coil spring rates, new shock absorber valves and a tweaked rear stabilizer bar diameter.
The CT's anemic oomph comes from a 1.8 liter Atkinson cycle four cylinder engine with the hybrid electric stuff tacked on to create a combined horsepower rating of 134. That wouldn't be too bad for a car this size, except Lexus seems to be concentrating on greenness to the exclusion of "whee!" factor. That's okay if that's what you're looking for, but it might be a deal breaker for others; it certainly would be for me.
On the other hand, after spending a week with the CT 200h I only spent $17 and change to fill it up with gas, so that's something.  
Ergonomically, the CT scores well, with a "cursor control-type thingy" that works and is located close to hand. The audio system is quite good, too, perhaps because it uses what the company claims is the world's first bamboo loudspeaker technology to create "the industry's thinnest loudspeaker diagram, which results in noticeably improved sound quality," according to the company. Sounds like mumbo jumbo to me, but I can't argue with the sound quality. I've heard lots better, but not usually in this price range.
The F SPORT package has been revised from earlier CT's, but as it's still as much a trim package as a performance one. It tweaks the spindle grille design, adds a cute roof spoiler to the top of the hatch as well as adding cut outs to provide extra downforce for the better grip and stability you probably won't need. You also get unique 17 inch, 10 spoke alloy wheels, exclusive upholstery, ornamentation and trim pieces. The F SPORT option also changes the coil spring settings and optimizes the front/rear roll rigidity distribution.
It all seems rather wasted, though, as long as the car's a gutless hybrid with a continuously variable transmission that howls like a banshee when you step on the gas. The only time the car approaches feeling lively is when you put it into sport mode via the center console knob (you can tell you've done this because the instrument panel glows with red illumination).
Toyota, Lexus' parent company, has a terrific engine that could turn this car from a pretender to a real Audi A3 wagon fighter. It's the one from the Scion (also a Toyota brand) FR-S, that great little sports car that feels like a budget priced Porsche. Drop that engine and either of the six speed transmissions (manual or automatic with paddles) and you'd really have something here. I have no idea if it's even feasible, but it would sure be nice!
I'm not saying they should dump the hybrid. To each his own! And the folks at Lexus have undoubtedly thought their strategy through. It's just that this very nice little wagon could be so much more. I guess they won't, but it would sure be great if they did!
As it sits, the Lexus CT 200h starts at $30,950 Canadian, which seems like a pretty decent price for what you get. You can option it up from there, via the Touring Package ($34,150), the Premium Package ($37,750) and the F SPORT package ($38,400), at which time you're getting into some serious coin - but at least the hybrid mien of this machine means you'll get a break at the gas pump.
Copyright 2014 Jim Bray
TechnoFile.com