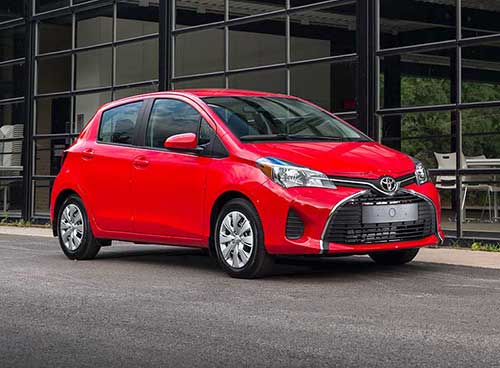 Toyota Yaris gets a 2015 tweaking
By Jim Bray
April 2, 2015
It doesn't have a lot of power, or creature comforts, but Toyota's entry level car has been nipped and/or tucked nicely for 2015 and continues to be a compelling little car.
(Click here or on the image to open a slideshow)
Available in three or five door versions, the Yaris is the successor to the Echo which was the successor to the Tercel, making the Yaris the latest in a long line of wee winners from the world's biggest car maker. Toyota Canada's sample was of the five door persuasion, in LE trim with few options. There's a higher end SE trim level as well, and the base three door model also comes in CE trim. Prices start at $14,545 for the lowest end Yaris, going up to $17,665 for the five door SE. The LE trim of the sample starts at just shy of 16 grand.
I liked this car a lot. It isn't perfect by any means – for example, it lacks the automatic headlight feature that, in my never humble opinion, should be standard equipment on all cars sold in Canada today – if for no other reason than to combat blissfully unaware drivers who tool around in the dark with only their daytime running lights illuminated up front. It also doesn't offer a telescoping steering wheel, and that meant I couldn't find a completely comfortable driving position and ended up feeling like I was driving a four wheel bar stool. I could live with both of these omissions, however, if my budget only allowed Yaris-type investment because the car is otherwise so good to drive and – being a Toyota – will probably outlive its owner.
For 2015, the Yaris gets a styling upgrade inside and out, with a new front end that looks like the little car wants to be an Avalon when it grows up. The rear end has been tweaked to give it a lower and wider stance, though you obviously won't confuse this with a GTI or other hot hatch (which begs the question of why Toyota doesn't offer a hot hatch).
Inside, Toyota emphasizes "the roominess and dynamism of a cabin with space for five adults." I might argue that the three adults stuffed into the back of this little hatch had better know each other pretty well before they get in, lest fisticuffs ensue – but this is a common affliction of cars in this size range.
The upper instrument panel is thinner than before, and features materials that appear to be of good quality, including "satin chrome" trim and new seat fabrics (the latter, in Toyota's sample, still loving to pull cat hair off your clothes and display it proudly there once you've pulled your posterior away. I'm not sure when they moved the instrument panel back in front of the driver instead of being in the middle of the dashboard like it was on older models, but I'm glad they did; the gauges are now in front of you, where they should have been all along. The gauges themselves are pretty straightforward.
There are no redundant controls on the Yaris LE's steering wheel, which is too bad because I found it a bit of a long reach over to the LCD screen – with its too small virtual buttons – and would have liked to have kept my hands on the wheel. The audio system itself, which incorporates Bluetooth for tunes streaming, is pretty low end, though to be fair I fired some high resolution audio files over to it from my phone and they sounded better than I'd expected. Still nothing compared to the many higher end systems out there but, after all, this is "just" a Yaris.
Yari are powered by a 1.5 liter inline four Toyota says will put out up to 106 horsepower. That isn't a lot – and to be fair some of the competition offers appreciably more – but it's plenty to move this little car along nicely. Even with the ancient four speed automatic transmission, Toyota's sample had no trouble keeping up with traffic and handling hills. If you appreciate the art of driving, you'd be better served with the five speed manual transmission – which would undoubtedly up the driving fun quotient substantially – and you'd save yourself a grand in the process.
That said, I still had a ball zipping around town in the automatic Yaris. The only downside to the drive train is that when you step on the gas it howls almost as if it were saddled with a CVT. Fortunately, it isn't; while the four speed automatic may be a tad ancient, it still beats the driving feel (such as it is) imparted by a CVT. And it shifts fine for what it is, though there's no real manual mode.
Brakes are power-assisted discs up front with drums on the rear wheels. Pedal feel and brake performance are fine.
To give the Yaris some semblance of fun to drive, Toyota increased the rigidity up front by using new windshield bonding material and a thicker dashboard bulkhead structure. They also used an extra 36 welding spots and some redesigns to make the vehicle stiffer. The rear suspension uses a new, stiffer torsion beam and both ends feature softer coil springs. The result isn't going to make Porsche engineers wake up in a cold sweat, but Yaris owners may just enjoy exercising their driving skills a little more than they may have been able to with previous versions.
All Yarises come standard with stuff like power door locks and windows (the driver's is one touch auto down as well), and the sample five door Yaris LE also had air conditioning, cruise control, keyless entry via buttons on the fob and power-adjustable outside mirrors.
Toyota has stuffed its usual complement of safety stuff into the 2015 Yaris as well. That means you get nine airbags (10 if you have a politician in the car), child seat anchors and the "Toyota Star Safety System's" collection of Vehicle Stability Control, Traction Control, Antilock Brakes, Electronic Brake Force Distribution, Brake Assist and Smart Stop Technology.
The five door Yaris hatchback doesn't have a huge amount of storage space – this is a tiny car, after all. I had to put the rear 60/40 fold seat down to carry a couple of boxes of audio components, though this wasn't really surprising.
My week in the new Yaris had my mind hearkening back to my old 1976 Honda Civic, except that it's far more modern of course. The Civic was a cheap car but surprisingly competent and fun, and I loved and drove mine until it rusted out from under me. That car was a manual, which made it more fun; fortunately, Toyota still offers a stick in the Yaris, which is the version I'd recommend if you're looking to maximize the Yaris' fun. 
Copyright 2015 Jim Bray
TechnoFile.com