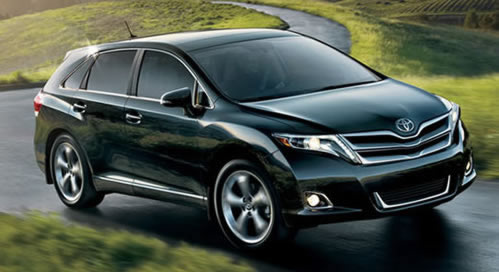 Toyota Venza a secure ride, even skirting Sandy
By Jim Bray
November 30, 2012
Toyota's Venza crossover has had a re-do for the 2013 model year, but that doesn't mean the big wagon-compatible vehicle has lost what made it attractive.
In fact, it's even nicer than before, a good people-and-stuff hauler for folks who don't want an SUV but who could use most of a SUV's advantages – tallness, cargo capacity, etc.
Exterior tweaks for 2013 include "updated exterior styling," though it's still immediately recognizable as a Venza. But you now get heated mirrors with integrated turn signals and a blind-spot convex mirror on the driver's side, a new front grille and fog lamp bezel and new tail lights.
Inside, the three spoke (tilt/telescoping) steering wheel is new, the trim has been modified, and there's an upgraded audio unit with a 6.1 inch LCD display. Perhaps best of all, Toyota says that all four Venza models have a lower starting price than the outgoing ones.
That's not a huge amount of change, but the Venza isn't that old anyway and there wasn't a lot to complain about. Oh, I'll get in my usual dig about Toyota audio systems, but that doesn't detract from the fact that the Venza is still my favorite Toyota – though the Camry SE is a really close second. 
I drove the new Venza briefly a couple of months ago, and liked it a lot, but this time Toyota indulged me with a sample I used during my trip to the Canadian Car of the Year TestFest in southern Ontario. That meant I got to pick it up at Toyota's Canadian headquarters in Scarborough (about a $75 cab ride east from Toronto's international airport), take it down to Niagara-on-the-lake – site of TestFest – and then drive it to Ottawa after that for a quick visit with my Dad before returning it to Scarborough.
It was an excellent chance to put the Venza through its paces under a variety of conditions – including, much to my chagrin at the time, a drive along the edge of hurricane Sandy as it began to make its presence known in the area.  
The Venza did the job just fine, and once again showed me what a good – if not particularly exciting – vehicle it is. This is a Toyota I would own; in fact, my uncle bought one not too long ago and is quite happy with it. He moved into it as a way to downsize from a minivan whose size and space they no longer needed.
That's actually a pretty good niche for the Venza. It doesn't have three rows of seats like a minivan – and some SUV's like Toyota's own Highlander – but it still sits high enough that you can peer over much of the traffic in front of you (and it's always nice being able to see what's ahead). And it's still roomy enough that you can carry quite a bit of your stuff. Maybe not a baby grand piano, but plenty of stuff regardless.
The new Venza's color LCD screen looks great, and I liked its touch screen action for the audio system (which in my sample included XM satellite radio activation), but – as is often the case these days, I couldn't make head nor tail of it with my polarized sunglasses on. That, unfortunately, makes it virtually useless on a sunny day unless you take off your sunglasses.
My sample Venza was the AWD V6 model with the Premium trim package, which included a power hatch with jam protection (so the sticky aspic doesn't get all over the interior if the jar breaks, I guess), a lovely panoramic glass roof, backup camera, anti-theft system, and leather seats (heated up front, with two settings). It didn't have the navigation system, which I wouldn't miss normally except that I was nervous that I'd miss the turnoff point from 401 west onto the QEW that would take me to Niagara-on-the-Lake.
I'm not sure I'd spring for a nav system if I were only going to be driving in my own local area, but it depends upon what else you want in the vehicle. With the Venza, the Touring Package gets you the navigation system, as well as upping the ante over the Premium package with other stuff, including push button start, a smart key system with front door handle touch sensor lock/unlock, auto-leveling HID headlights, seat and outside mirror memory, a four way power adjustable passenger seat and more.
That's all stuff I'd like to have, so I guess the rationalization would be that I opted for all those options and got the nav system thrown in "for free." Well, included in the price…
And if you opt for the JBL option you get all that plus a 13 speaker JBL Synthesis Audio System. Okay, I might choose that, too…
My trip from the Niagara area to Ottawa gave me a chance to get off the horrid 401 freeway and take a lovely drive through the country along highway 10, which took me through the beautiful towns of Westport (the heart of the Rideau Lakes) and Perth, and into Ottawa by back roads.
Highway 10 is a wonderfully meandering highway full of nice curves and moderate hills (moderate compared to where I live, in the foothills of the Rocky mountains!). It gave me a chance to check out the Venza's handling as well as the manual mode of its six speed automatic transmission.
And while I admit I didn't expect much from the Venza in the "fun to drive department," I actually had a very good time driving the big wagon. It was no Porsche, of course, but it was better than I expected and the manual mode made it a lot more enjoyable on the hills and curves.
The Bluetooth phone and audio interface came in handy, of course, and really should be standard equipment on all cars these days. As usual, Toyota's clunky voice interface rubbed me the wrong way, but I could skip forward and back through the audio tracks on my phone with the Venza's audio controls, as well as listen to radio station apps streaming to the phone when the music got boring.
I really like Toyota's new steering wheel control setup, which is also on the new Camry. The big, black thingy on the left side may not be the most attractive and looks intimidating, but it works well and is mastered quickly. And the tilt and telescoping steering wheel is comfortable in the hands.
I took the same route back to Scarborough from Ottawa to catch my flight home – highway 10 to Kingston and then 401 to "Toyotaville." Alas, whereas on the way up it had been a beautiful, fine autumn day, the trip back happened as Sandy was flexing her muscles.
So it was that the rain started about Richmond, a short distance outside Ottawa, and lasted till Kingston, where I stopped for a quick lunch. And that's when the wind picked up – and boy, did it ever!
What a great opportunity to sample the Venza's aerodynamics! And the Toyota performed very well. Oh, sure, there was buffeting – what would you expect from the leading edge of a hurricane? But the Venza didn't get blown around much at all, staying impressively stable along the execrable highway 401.
All heck broke loose around Oshawa – the wind combined with extremely heavy rain to make the drive a real challenge – and that's the way it stayed right into Scarborough. Then, as Murphy's Law would have it, the storm died down (temporarily, at least) about five minutes after I handed the keys back to the folks at Toyota.
But it was pretty hairy during that hour or so. Visibility was awful, made even worse by the spray from the hundreds of semi trailers that use the highway and who also cause really weird wind conditions (as if Sandy hadn't made things bad enough!). I had to keep the Venza's windshield wipers on their fastest setting, but they did a commendable job of keeping the glass as clear as was humanly – or robotically – possible.
In all, the Venza did an excellent job of getting me back to Toyota safely, in good comfort and reasonable style.
Of course, the Venza's underpinnings are modern and work well, and that's most of the battle. The suspension features Macpherson struts, Coil Springs, a Stabilizer Bar and Anti-Vibration Subframe front and rear,  and you get 20 inch aluminum alloy wheels wearing P245/50R20 all season radial tires. The Venza also sports power-assisted disc brakes with ABS, Electronic Brake Force Distribution (EBD), and Brake Assist (BA).
Besides the usual belts, airbags, and the like, Venzas also come with an Active Torque Control System, Vehicle Stability Control (VSC), Traction Control System (TRAC) and a Hill-start Assist Control (HAC).
My biggest complaint was the sunroof and while that may seem like a really minor gripe it really does drive me nuts. The thing opens with one touch, but to close it you need to keep your finger on the button the whole time – and for some reason it still stops part way closed, forcing you to release the button and press it again to finish the job. What's with that?
That said, the 2013 Toyota Venza V6 AWD is big, comfortable, as powerful as it needs to be (the V6 puts out 268 horses as compared with the 182 horsepower of the four cylinder version), with good visibility and great flexibility. It strikes a nice balance between the conventional station wagon and evil SUV's, making it perhaps one of the few true crossovers on the market today. 
Venzas start at $28,690 for the base four cylinder model. My test sample tipped the scale at $36,460.00 and the top line trim level lists for $39,550.
Copyright 2012 Jim Bray
TechnoFile.com