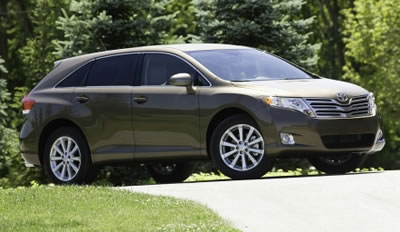 Toyota Venza a True Crossover
By Jim Bray
May 21, 2010
It's neither a station wagon nor a minivan, and it isn't an SUV, either. Instead, Toyota's Venza blurs the lines between these distinct market niches, a vehicle that crosses over from one to the other.
That says "crossover" to me.
Many, if not most, so-called crossovers these days are basically car-based sport utility vehicles – perhaps named as crossovers by marketers more concerned about political correctness than truth in advertising. After all, SUV's are evil, Mother Earth-sapping horriblemobiles regardless of how well they serve many people's needs.
But the Venza is different. It's like a tallish Camry wagon, and it's a pleasant and efficient, if a bit bland and not particularly fun to drive, vehicle with lots of room for people and stuff.
I thought that a winning combination the first time I drove the Venza and, after a week with the V6 all wheel drive version, it's still a winning combination. This is a very nice vehicle.
You can choose from two engines: a 2.7 liter four cylinder power plant that Toyota rates at 182 horsepower @ 5,800 rpm and 182 lb.-ft. of torque @ 4,200 rpm and a 3.5 liter V6 that cranks out a healthy 268 horsepower @ 6,200 rpm, with 246 lb.-ft. of torque @ 4,700 rpm.
The V6 engine is shared by many Toyota models and I like a lot. I was surprised, however, to find that the difference in real world driving between the four cylinder model I drove last year and this V6 wasn't as much as I'd expected. If you aren't asking your Venza to tow (it's rated at 3,500 LB), or aren't planning to carry heavy loads all the time (or race, though you'd have to be some kind of nut to race the rather stodgy Venza), you can get away with the four cylinder model just fine.
In fact, I was a bit disappointed in the V6 as fitted in the Venza. It just didn't seem as gazelle-like as it has in other models. Maybe it has something to do with the vehicle's rather boat-like suspension. Whatever the reason, if you don't need the V6, you can save some cash – and ongoing gasoline costs – by opting for the smaller engine.
Venzas also come with either front or, as in my test car, all-wheel-drive – the latter of which is an electronically controlled Active Torque Control system that distributes torque as necessary (though the Venza is at heart a front wheel drive vehicle, and there's not really anything wrong with that).  
All Venzas come with a six speed, Super Electronically Controlled Transmission (Super ECT is how Toyota refers to it) with a sequentially shifting manual mode that shifts very smoothly, though not with particular élan.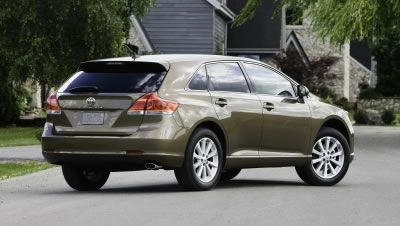 The suspension, which seems set for the maximum soporific effect, features MacPherson struts, gas shock absorbers, coil springs and stabilizer bars front and rear. There's also an anti-vibration subframe.
My test car's wheels were humongous 20 inchers, though 19 inch wheels are standard on the four cylinder models. Each of the wheels has a disc brake attached to it, which is power-assisted and features ABS, Electronic Brake Force Distribution and Brake Assist.
What the brakes don't have is a decent pedal feel. Stepping on the pedal reminded me of stepping into a peat bog, the pedal sinking mushily toward the floor. Okay, maybe it wasn't quite that bad, but it is definitely a mushy feel compared with much of the competition. On the upside, the brake performance is fine; it just feels funny.
Couple that with the decidedly barge-like handling, and you have a vehicle that, for all of its excellent features, comes in quite low on the "fun to drive scale".
Oh, well. Toyota's aren't known generally for being fun to drive. Rather, they're well designed and built, efficient, and last forever. And in this regard the Venza is undoubtedly the same.
Inside is a marvelous cabin, full of interesting storage thingies including a center console that's made up of separate sections that can slide independently or together, and a really nifty little iPhone/iPod/MP3 player dock that perches the device right at the bottom of the center stack, at easy reach.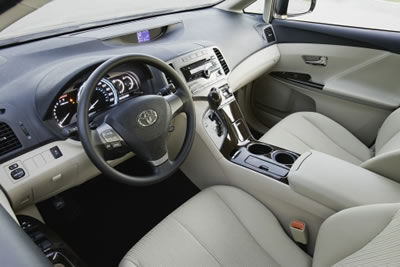 Toyota has also included USB-audio interfacing with the 2010 Venza, and it works beautifully: when you plug in the player this way (or this is how it worked with my iPhone, anyway), you can then control it right from the car's (er, crossover's) audio system – and since it also has steering wheel-mounted audio controls, you can access the player's tracks without taking your hands off the wheel.
This is a terrific feature and it's starting to become quite common. I'm glad; to me, it's not only wonderfully convenient but it's also an important safety device, just like a Bluetooth cell phone interface – which the Venza also offers. I think features such as these, which you'll probably use every day, are more important safety features than air bags, which you'll only use once. Sure, the airbags may save your life, but keeping your hands on the wheel may help prevent you from causing that possibly fatal collision in the first place.
Automatic headlights, which the Venza features as well, is another such safety innovation; they prevent the oblivious, especially whose vehicles have daytime running lights on them, from driving with no taillights lit, blissfully unaware that just because they can see light in front of them doesn't mean there's light behind them.
My test car also had satellite radio activated, which is always a nice feature, and Bluetooth audio, which I couldn't test, thanks to having an iPhone that came across with Columbus.
Other standard equipment on all Venzas includes:
Dual-zone automatic climate control with a dust/pollen/odor filter and rear seat heater ducts;
Cruise control;
A six-speaker audio system featuring AM/FM/CD with MP3/WMA capability, though in typical Toyota tradition it's merely adequate when it comes to sound quality.
Variable intermittent wipers, including a rear window wiper/washer and windshield wiper de-icer;
Power adjustable heated mirrors;
Projector-style halogen headlamps with Fog Lamps;
Vehicle Stability Control (VSC);
Traction Control (TRAC);
Seven air bags;
Active Front Headrests with Whiplash Protection;
Three-point lap and shoulder belts for all five seating positions, including front seatbelt anchor height adjusters, pre-tensioners and force limiters;
Anchor points for child seats and child protector rear door locks.
My tester had a nifty, two section panoramic roof, the front panel of which slides/tilts while the rear panel remains fixed. Closing it isn't nifty, though: Toyota makes you hold your finger on the button while the front panel slides shut halfway, then you have to press it again when it stops for no apparent reason. This is annoying and, since you have to keep your hand off the steering wheel for the duration, dumb.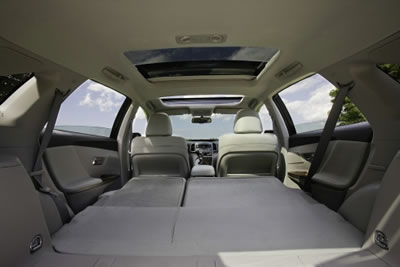 The steering wheel tilts and telescopes to help you find the perfect driving position and the rack and pinion electric power steering points the Venza where you want it to go well and the steering feel is fine.
Toyota has also included a hill hold feature – mash (or should I say "mush"?) the brake to the floor and when you release it the vehicle stays put for a second before rolling back.  It reminds me of my old school bus-driving days with air brakes, though much less rude-sounding.
The seats are comfortable, the mostly-analog instrumentation is straightforward, and there are so many cup holders you can carry drinks and chasers at the same time. There are also numerous power supply outlets. The rear seat's actually pretty good for three adults, too, and besides split/folding 60/40 nearly flat it also reclines a bit.
My "Aloe Green Metallic" review unit also included a "touring" package that added power adjustment to the front seats, leather, power tailgate operation with jam protection (it let me load marmalade through it, though), a backup camera, a little LCD multi-information display atop the dash, smart key, and the like.
Another nice convenience is the fact that all four windows have "auto up and down" capability.
While driving the Venza isn't particularly exciting, it's still a fine vehicle – quiet, comfortable and efficient, and there's nothing wrong with that.  
And at starting retail prices of $26,275 U.S./$29,310 Canadian for the FWD four banger and $29,550U.S./$32,250 Canadian for the V6 with AWD, I'd say it's a pretty good deal as well.
Copyright 2010, Jim Bray
TechnoFile.com