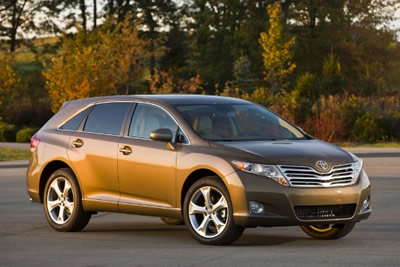 Toyota Venza Blends the Line Between Car, SUV
By Jim Bray
August 22, 2009
Take a Toyota Camry, feed it Wheaties to help ensure it grows up nice and tall and what might you get? The Toyota Venza.
Venza could be referred to as a true "crossover", as opposed to merely a marketing moniker to keep the envirodudes from picketing Toyota dealerships for having the audacity to offer SUV's to people who want them. It's a skillful blend of car and SUV, giving you the best of both worlds. It's at heart a Camry, which considering the car's success and reputation is a good thing, but it's higher and offers wagon-like/SUV-like storage space for those times when you want to haul stuff.
Sounds like a winner to me, and after my week behind the wheel of a Venza, it feels like a winner, too. Okay, it's a bit bland, but if you want a little more pizzazz there's always the Lexus RX 350, which is built on the same basic platform.
Venzas get their motivation from a pair of engines: an all-new 2.7 liter four cylinder power plant that Toyota rates at 182 horsepower @ 5,800 rpm and 182 lb.-ft. of torque @ 4,200 rpm. (providing capable performance and good fuel efficiency) and Toyota's terrific 3.5 liter V6 that cranks out a healthy 268 horsepower @ 6,200 rpm, with 246 lb.-ft. of torque @ 4,700 rpm.
You can get either engine in front or all-wheel-drive versions of the Venza, the latter of which features an electronically controlled Active Torque Control All-Wheel-Drive system to distribute torque to the front and rear wheels where necessary (though at heart it's a front wheel drive vehicle). All versions feature a six speed sequential-shift electronically-controlled automatic transmission that shifts very smoothly.
If I had my druthers I'd always opt for the oomph, but my review sample came with the four banger. Once I stopped banging my head against the wall in frustration at the injustice of it all and actually got behind the wheel, however,  I was pleased to find it is more than adequate. I took it on flat land and through the Rocky Mountain foothills and never found the Venza to be wanting in power.
If you want to tow a trailer or do a lot of hauling  you might find the V6 more to your liking, but if you want to save some cash on the initial price and on the gas to keep the Venza voyaging long term, the four is easy to live with.
So is everything else about the car. Oh, it isn't perfect, and I had minor quibbles such as with a stereo I don't think is up to snuff for audiophile performance and whose knobs offer little if any tactile feel, but that's really griping for the sake of griping – and it's also why there are aftermarket stereos.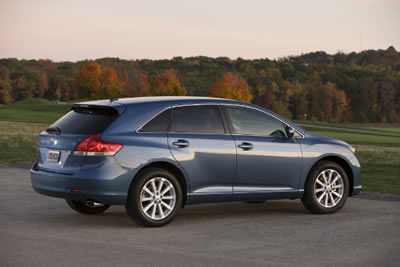 From the front, the Venza looks very Camry-like, though its grille is different enough that the two "in-car-nations" can be differentiated from each other. From the back, of course, it's very different – with a wagon's bum rather than a sedan's. I'm not madly in love with the overall styling, but it is growing on me the more I see the Venza on the road.
Four cylinder Venzas come with 19-inch aluminum alloy wheels, while Venza V6's get 20-inch aluminum alloy wheels and a dual exhaust. The car or whatever's auto-leveling high intensity discharge (HID) headlights feature an automatic high beam feature that can switch the headlamps from high to low beam when the Venza sees another car coming toward it.
Getting in and out of the Venza is easy, thanks to Toyota having narrowed the doorsills, lowered the rocker panels and integrated them into the doors.
I enjoyed the (optional) panoramic roof, the front panel of which slides/tilts while the rear panel remains fixed. I didn't enjoy closing it, though: you have to hold your finger on the button while the front panel slides shut halfway, then press it again when it stops there for no apparent reason. It seems like a bit of fuzzy design from the usually-logical Toyota designers and it was very annoying.
Driving the Venza isn't particularly exciting, but it's quiet, comfortable and efficient, and there's nothing wrong with that. The rack and pinion electric power steering points the wagon, er crossover, where you want it to go and the four wheel disc brakes with ABS stop the vehicle well – though the brake pedal has a strange squishy feel that isn't particularly pleasant. It didn't seen to affect braking performance, though.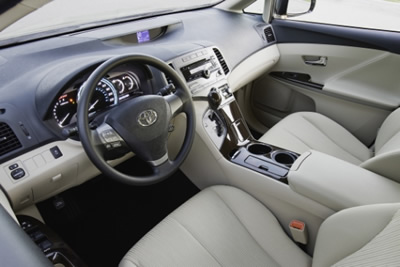 There's also a hill hold feature – you mash the brake to the floor and when you release it the vehicle stays put for a second before rolling back. And Toyota also says a shift logic control selects the proper gear for driving conditions and "helps moderate engine braking during downhill driving."
The front suspension uses MacPherson struts with a stabilizer bar, while the rear is a dual-link MacPherson strut setup with a stabilizer bar.
The steering wheel tilts and telescopes to help you find the perfect driving position.
The seats are comfortable, the instrumentation analog (mostly) and straightforward, and there's the usual bevy of cup holders (10 in all; you could party hearty in the Venza!), storage bins, and the like. The rear seat's actually pretty good for three adults, and besides split/folding 60/40 it also reclines a bit.
The anemic audio system features AM/FM/CD/MP3/WMA capability, steering wheel audio controls, six speakers, an in-dash 6 CD changer and an auxiliary input jack. As mentioned, it isn't going to make audiophiles drool, but it's okay for background music.
The 3.5" LCD Multi-Information Display is mounted high on the dash, right under the windshield in good view of the driver and it includes the view from the back up camera when you shift into reverse. And the centre console comes with a sliding cover and armrest, two illuminated cup holders,  a place to hold your MP3 player and a nifty wire management feature that helps keep the front seats from drowning in spaghetti.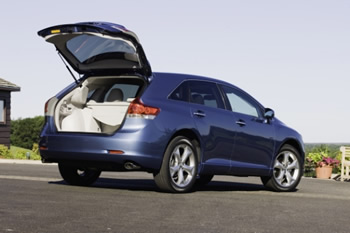 Here's a list of some other Venza features:
Integrated fog lamps;
Windshield wiper de-icer and electric rear window defroster with timer;
Chrome exhaust tip (dual chrome exhaust tips on V6 models);
12-volt auxiliary power outlets (2 front, 1 rear);
Dual zone automatic climate control with air filter and rear seat heater ducts;
Interior chrome accents and door handles;
Vehicle Stability Control;
Traction Control;
Cargo area tie-down rings;
7 airbags including a driver's knee airbag;
My "tropical sea metallic" review unit also included a premium package that added power adjustment to the front seats, leather, power tailgate operation, rear privacy glass and auto dimming rear view mirror with compass, integrated satellite radio and other toys like that.
Venza is an interesting vehicle, that splits the difference between car and SUV really well. It truly is a crossover in a world of SUVs that just call themselves that.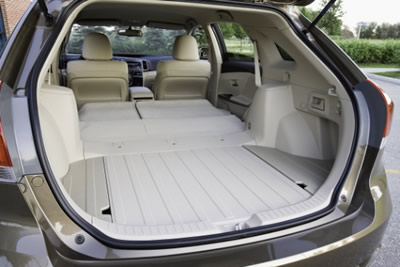 It's pleasant to be in, and to drive, and will probably serve its owners very well for a long time.
And at starting retail prices of $25,975 U.S./$28,900 Canadian for the FWD four banger and $29,260U.S./$32,050 Canadian for the V6 with AWD, I'd say it's a pretty good deal as well.
Copyright 2009 Jim Bray
TechnoFile.com