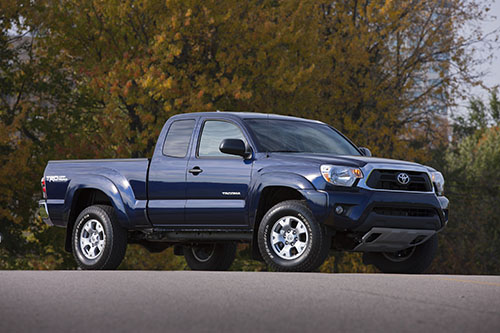 Toyota's Tacoma TRD offers fine utility; but 'racing development'?
By Jim Bray
May 8, 2014
Toyota made its name in pickup trucks and four wheel drive decades ago and the company hasn't sat back on its laurels since then, with its Tacoma small pickup continuing the company's history of offering excellent trucks that are virtually indestructible. (Click here or on the image to open a slideshow in a new tab)
I remember watching the guys on Top Gear trying their utmost to destroy one a few years ago. It was called a Hilux on that show, a name Toyota eschewed in North America years ago in favor of the Tacoma moniker. But at heart it's the same truck, a workhorse that'll haul you and your stuff pretty well anywhere you want to go, including the side of a mountain or the African veldt.
The Top Gear folk even put their torture test "Hilux" on top of a building that was then imploded, and the plucky Toyota still refused to die. It's like a zombie truck!
In a previous existence, my business partners and I leased a circa 1983 Toyota truck, the short cab 4x4 version of what would now be called the Tacoma. It was a fantastic vehicle. We put a camper in its bed that was too big for the truck and wreaked havoc upon its center of gravity, and sent it up a beautiful mountain valley twice a week loaded with videocassettes and VCR's for rent in the rural areas there, and it performed flawlessly - and didn't flip over once despite the twists and turns of the narrow mountain roads!
On the other hand, it did go buttock over teakettle in two dimensions, front end swapping positions with rear end on a snow and ice-filled rural highway in Washington state, thanks to a lack of four wheeling experience by the driver at that time (who happened to be me), and sliding into a snow-filled ditch, coming to rest facing backwards. And after having the truck towed out of the embarrassing situation by a pre-teen girl on an ATV, there was absolutely no damage to the truck, just to the driver's ego. It was a very impressive truck.
Now it has evolved into today's Tacoma, which is available in a variety of configurations from short cab two wheel drive (starting at just shy of $22,500) to Toyota Canada's test sample V6 four wheel drive double cab (starting at just under $30K) with the TRD (Toyota Racing Development) package. Base Tacomas can be had with a five speed manual transmission, but the sample 4x4 Double cab  can be had a five speed automatic (lesser Tacomas get a four speed automatic). You can opt for a six speed manual, too.
Despite the TRD labelling, there's no manual mode for the automatic. Paddles? Forget about it - and as much as I love paddles and think they should be standard on automatics, I really didn't miss them on this workhorse vehicle. Well, not too much.
Toyota seems to misuse the TRD moniker sometimes, and this is one of them. To me, "racing development" should include such stuff as more power, better suspension and the like, but here Toyota says the TRD package only ups the Tacoma's off road capabilities, as if most people will need that. The package includes the SR5 Power Package (stuff like 16 inch alloy wheels with locks, a leather-wrapped steering wheel, towing harness and more), plus TRD package stuff like an upgraded alternator (an alternate alternator?), front skid plate, a power outlet in the bed, 17 inch alloy wheels, heated front sport seats, fog lamps, integrated garage door opener and signal lights integrated into the outside mirrors. You also get color-keyed bumpers and mirrors, front seat back pockets (for the folk in the rear bench seat) and other non-performance-related stuff.
About the only real performance-related feature (besides, arguably, the skid plate) is Bilstein shock absorbers that may help when you're off road (spring having refused to arrive here, I didn't take the Tacoma off road so I wouldn't end up in a ditch again!) but which on the road don't change the truck's road feel from being very - surprise, surprise! - truck like. This means you bounce all over the place, but such is the nature of the trucking beast.
All Tacomas come with a limited slip differential that helps ensure the equal distribution of torque between the rear wheels, which comes in handy when one or more tires lose traction.
The standard Tacoma engine is a 2.7 liter, DOHC, 16 valve four cylinder with intelligent Variable Valve Timing (VVT-i), Sequential Multiport Electronic Fuel Injection, etc. It puts out 159 horses @ 5,200 rpm and 180 lb.-ft. of torque @ 3,800 rpm, which is probably enough if you aren't hauling or towing heavy stuff up and down mountainsides all the time. Fortunately, Toyota Canada's sample came with the optional four liter six cylinder power plant that's rated at 236 horses @ 5,200 rpm and 266 lb.-ft. Of torque @ 4,000 rpm. Power and torque from the V6 are more than adequate.  
Tacoma's suspension features an independent, double wishbone-style up front, with coil springs and a stabilizer bar, and that's good stuff even in a car. The rear end is supported by multi-leaf springs, which is great until they fall off during the autumn (just kidding) and as mentioned, the TRD package adds Bilstein shock absorbers to all four corners. Brakes are power-assisted discs up front, with drums on the rears, and of course you get the usual aids such as ABS, brake assist and electronic brake force distribution. Pedal feel and stopping power are fine for a pickup truck, as is the feel and performance of the power-assisted rack and pinion steering. That wheel tilts and telescopes, too, and features duplicate audio controls.
The double cab means you get four real doors and a full bench seat behind the front buckets, as opposed to the little jump seats of lesser versions, and there really is plenty of room considering the Tacoma is a dwarf compared to Toyota's big Tundra and its competitors.
The amenities won't make you forget this is a truck, either, but that said you can still get most of what you'd want these days, including Bluetooth, air conditioning, a backup camera, cup holders and a navigation system. The audio system of the sample was adequate.
The V6 TRD Tacoma's towing capacity is rated by Toyota at 6,500 pounds with the manual transmission and 6,400 with the automatic, which is certainly decent.
As mentioned above, the Toyota Tacoma starts at a base price of about $22,500 Canadian, and if you check off all the options and models, you can spend about forty grand. Alas, I'm not really a truck guy and so probably can't do them justice in my reviews but, that said, there's a reason Toyota has earned such a great reputation for its trucks.
And regardless of which model you choose and how much you spend, you'll be getting a heckuva capable truck which, though not redesigned substantially for 2014, brings Toyota's legendary quality and off-road prowess to your garage.
Copyright 2014 Jim Bray
TechnoFile.com