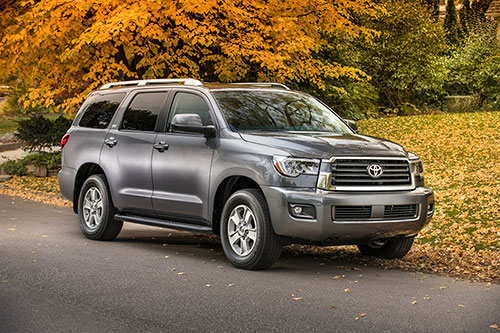 Toyota's Sequoia may have been treemendous once – but it's time for an upgrade
By Jim Bray
June 14, 2018
Maybe it's Toyota's way of ensuring the long-term viability of "old growth" forests, but the Tundra-based Sequoia SUV seems more like a blast from the past than a state-of-the-art "people and stuff hauler."
That doesn't mean it isn't a great vehicle – it's a Toyota, after all, and so if nothing else the thing'll probably serve its owners forever – but it's a vehicle that, to make a Sequoia analogy, seems to have a few more rings in its trunk than some of the "new growth" gigantic SUV's with which it competes.
Click on the image to open a slideshow.
I think specifically of the Ford Expedition and Lincoln Navigator I drove a month or so ago – mostly because those are the only city-sized SUV/Crossovers I've driven in the past few years. None really appeal to me as vehicles, being far too large and tall for my lifestyle and diminutive stature, but the Ford/Lincoln seemed more up to date, especially in their interiors.  
For example, the Sequoia's centre stack-mounted LCD screen is not only small, it's nearly impossible to read while you're wearing polarized sunglasses. This sunglasses thing used to be common but is getting less so these days – except for the Sequoia (there may be other such offenders, too, but I haven't driven one in recent memory – though some Head's Up Displays display similar issues).
The Sequoia, since it's based on Toyota's Tundra pickup, comes with a big V8 engine, in an era in which other companies are downsizing. Now, I have no objection to a V8 – and you sure can't beat the growl of one (unless you have a V10 or better!) – but the Sequoia didn't seem faster or more robust than the turbo V6-powered Ford/Lincoln boats did.
Here are the various specs:
Sequoia 5.7 litre i-FORCE V8: 381 hp and 401 lb.-ft. of torque
Ford Expedition 3.5 litre twin-turbo V6: 400 hp and 480 lb.-ft. of torque
Lincoln Navigator 3.5 litre twin-turbo V6: 450 hp and 510 lb.-ft. of torque
So, Ford gets more oomph out of smaller engines with fewer cylinders. Methinks Toyota probably has something up its corporate sleeve to compete with this (and its undoubted fuel mileage performance issues) but as of this writing they have not yet done this.
Not all is bad, or at least ancient. The Sequoia has a suspension I enjoyed more than either Ford/Lincoln, less floaty and a tad more interesting (though only a tad). Both front and rear suspensions are independent double-wishbone types, the stuff of racing and performance cars, which surprised me. And, as mentioned, it shows. You'll never forget you're at the conn of an aircraft carrier, but you might be impressed by how the thing handles – as long as you don't forget Newton's Laws of Motion.
The Sequoia also comes standard with running boards so someone like me can climb in relatively easily rather than having to carry a step stool or take a flying run at the seats. The Sequoia's don't retract, but they're still very welcome.
Now standard on every 2018 Sequoia are a new grille and front fascia, LED headlamps, fog lamps, and daytime running lights.
If your SUV life is spent off road, the Sequoia should serve you well, with the kind of prodigious off-road performance you'd expect from a Tundra or 4Runner.
Sequoia's V8 gets the power to the ground via a six-speed sequential shift mode automatic transmission with overdrive, lockup torque converter, transmission cooler and automatic transmission fluid warmer. The tranny shifts fine and there's a manual mode accessible from the shift lever you can use when you want to do things like engine braking when you're going down hills.
The big SUV uses Toyota's on-demand, one-touch 4WD system, with a centre differential lock, auto limited slip rear differential, two-speed transfer case and automatic disconnecting differential. The engine and the transfer case are protected by plates to keep rocks and eco-warriors from poking holes in them.
If you want to pull a trailer you might be happy to know the Sequoia claims a 3,220 kg (7,100 lb) towing capacity as well as a trailer sway control system and a heavy-duty tow package.
As far as its exterior styling is concerned, the Sequoia is pretty straightforward, looking like an enclosed Tundra (well, duh!). Inside, there is gobs of space for up to eight passengers (depending on how you configure your Sequoia), with reasonable access to the third-row bench. And there is an abundance of storage space inside, including little bins on the door armrests.
The audio system isn't particularly robust, but it works fine. I have a couple of USB drives I use in reviewing vehicles – full of high quality music files I can use for apples-to-apples comparisons of audio systems – and the Sequoia played the tunes fine, but the amp does run out of steam before it should. This is common with Toyotas, however, so the Sequoia is, if nothing else, consistent. And it isn't as if it sucks; it just doesn't really ROCK!
On the upside, the vehicle's interfaces are very straightforward and that's always a good thing. The driving position is fine, seats are comfortable and the instrumentation is clear and legible – just as it should be.
You also get three-zone automatic climate control, heated and powered front seats and the rear seats fold flat via power as well.
All Sequoias now feature a revised gauge cluster with high-visibility "Optitron" gauges and a 4.2-inch multi-information display in the middle.  
Depending on your budget and wants, you can get into a base 2018 Toyota Sequoia SR5 (starts at $59,850 CAD) with its reclining second row bench seat (with 40/20/40 split fold-down capability) and, new for 2018, newly-designed 18-inch alloy wheels, gloss black front grille, lower grille chrome surround, black rear door garnish, and black side mirrors.
You can upgrade this with a TRD Sport package (Starting at $65,065). It's new for 2018 and gets you TRD Sport-tuned Bilstein shocks and sway bars, 20-inch black alloy wheels, front and rear clearance sonar systems, and TRD Sport door sill protectors, floor mats, shift knob, badging, gloss black front grille, and lower grille chrome surround. Other than the shocks/bars and wheels, it's pretty well a cosmetic upgrade (like most of the TRD packages I've seen, alas), but it looks cool.
The Limited trim level (Starting MSRP: $66,750) features upgrades to the audio and LCD, while also adding driver's seat (and exterior mirror) memory and a bunch of other stuff including front and rear clearance sonar systems, a power tailgate lock, 20-inch alloy wheels, reverse auto-tilting chrome exterior mirrors with integrated puddle lamps, and even a rear spoiler (so you can pretend the Sequoia is sporty!).
Topping the Sequoia lineup is the Platinum (Starting at $74,935). This gives you goodies such as an adaptive variable suspension system and a load levelling rear air suspension. You also get a JBL Synthesis Audio system, a rear seat video entertainment system with nine-inch LCD monitor and two sets of wireless headphones, perforated leather seating, heated and ventilated front seats, driver's seat memory (linked to the outside mirrors), heated middle-row captain's seats, the front and rear clearance sonar systems, power tailgate lock, unique 20-inch alloy wheels, reverse auto-tilting chrome exterior mirrors with integrated puddle lamps, rear spoiler, and more.
As is Toyota's wont these days, the Sequoia also comes bursting with safety stuff. New for 2018, all Sequoias comes standard with Toyota Safety Sense P, which includes a Pre-Collision System with Pedestrian Detection, Lane Departure Alert with Steering Assist, Automatic High Beams, and full speed Dynamic Radar Cruise Control. You also get the Toyota Star Safety System with its Blind Spot Monitoring and Rear Cross Traffic Alert systems, eight air bags, a back-up camera, direct tire pressure monitoring system, and anti-theft system.
Toyota Canada's sample was the base SR-5 4WD, carried a retail price of $59,850, and to be honest it seemed a tad Spartan. On the other hand, everything you really need is there – it's just that I get spoiled by higher trim levels in review vehicles (and in my personal car) and I miss 'em when they aren't there. 
Toyota's Sequoia is definitely a throwback to a decade or more ago, and despite its welcome updates it really shows its age. I haven't heard when or if a new Sequoia will fall in the truck market forest, but in the meantime the Sequoia is still a very good vehicle. It just isn't as nice as some of the newer ones that are available.
Copyright 2018 Jim Bray
TechnoFile.com
Jim Bray is a member of the Automobile Journalists Association of Canada. His columns are available through the TechnoFile Syndicate.