Toyota RAV4 worth a first - and second - look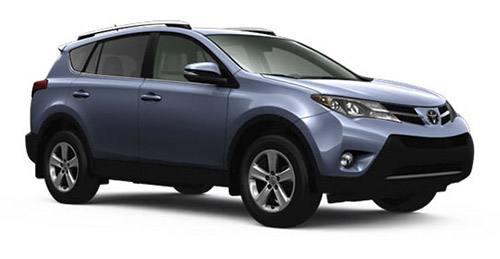 By Jim Bray
June 12, 2014
Writing about cars is a great gig. You not only get to drive a lot of the latest wheels, you get to drive some of them more than once, and that second chance to live with a car for a few days can change your initial opinion. (Click here or on the image to open a slideshow in a new window)
It's happened to me several times, and I guess it's like anything else: the longer you stay together the better you know each other. It certainly works that way in my marriage (and hopefully my wife's!), though it's a decidedly one way street when it comes to products automotive.
Yet even though a car can't love you back, it's still true that the more time you get behind the wheel of a particular vehicle the better you know it. You have the luxury of being able to appreciate some of the finer details you might have missed in the initial run - and you may in the meantime have driven similar vehicles that give you an even better perspective of a particular vehicle and how it compares to its peers.
So it was when I reviewed the current generation of the Toyota RAV4, which I said at the time added boxiness and subtracted horses from the previous version. And it was true. It was quite a change from the old RAV4, but I liked the old RAV4, whose looks were less angular than the current iteration. Beauty's in the eye of the beholder, of course, and since I see these RAVs everywhere these days it appears I may have been a minority beholder. And to be fair, now that I'm used to the new RAV, I don't mind its more muscular mien as much as I did when it first came out. It may not be a fungus, but it has definitely grown on me.
Toyota says the RAV's boxy styling (which they call "boldly sculpted") contributes to the vehicle's "significant cargo capacity" and abundant legroom for the folks relegated to the reasonably comfortable, reclining rear seat.
I still miss the V6 option, though. It may have been a case of overkill for a small ute - and it isn't as if most of the competition offers V6's - but it was a nice and torquey addition to a very pleasant vehicle, and I've always had difficulty arguing against extra power.
That said, the current four cylinder engine is fine. The 2.5 liter unit cranks out 176 horsepower which, compared to the Honda CR-V's 185, the Mazda CX-5's 184 (with the bigger Skyactiv engine), the base Kia Sportage's 182 (Kia also offers a turbo version with 260!) and VW Tiguan's 200, means the little Toyota is a tad down on power, but I doubt it will bother people who weren't born with lead feet when they're driving under real world conditions.
The RAV's engine gets power to either the front or all four wheels via a good six speed automatic transmission with sequential shift mode (no paddles, though) and there are three driver selectable drive modes – Sport, ECO and normal. Guess which is the most interesting.
RAV4's are available in five models, two with front drive and three with all wheel drive. Toyota Canada's sample was the AWD XLE model, the second from the top, and with its $800 navigation package option came in a just over $31,000 Canadian.  That seems reasonable considering what you get and what the competition offers. The top line Limited starts at $32,860 without options, while the base RAV kicks off its pricing at $23,870 sans extras.
It's a decent vehicle to drive, and the suspension (MacPherson gas struts/coil springs/stabilizer bar up front, double wishbone/coil springs/stabilizer bar in the rear) is reasonably tight. Steering and brake feel aren't particularly sporty, even in sport mode, but since this isn't meant to be a particularly sporty vehicle it isn't really a problem.
Inside the RAV4, you're treated to an audio system with USB input and Bluetooth connectivity for phones and tunes, steering wheel-mounted controls, air conditioning, power door locks with keyless entry, power windows (with driver's side auto down), tilt/telescope steering wheel and lots of in cabin storage. The seats are comfortable, everything is nicely at hand and it all works as well as you'd expect from a Toyota - which means it works well even though you might want to throttle the voice recognition system at times (and that's hardly unique to Toyota and the RAV).
One of the best additions to the current generation is the new tailgate, which not only eschews the big spare tire that dangled off it on previous versions but which also swings upward and out of the way now, as it should have from day one. The old, side opening method didn't lend itself to loading up your stuff if you were parallel parked and coming at it from the right side. Now it doesn't matter from whence you approach the RAV, and the lift over is reasonably low, which shorter people will undoubtedly appreciate as much as they may hate the new, higher position of the top-opening tailgate.
Up your RAV ante to the AWD XLE trim level Toyota's sample wore and you get stuff like chrome inner door handles, automatic headlights, a reasonable 6.1 inch display audio system with six speakers, steering wheel-mounted controls, dual zone automatic climate, heated premium fabric front seats, a back-up camera, 17 inch aluminum alloy wheels with locks, roof rails, a nice power moonroof, variable intermittent windshield wipers and more. Whew!
The Navigation package adds (not surprisingly) navigation, with "advanced voice recognition" which I assume means Toyota thinks the little person stuffed inside the RAV's cybernetic brain isn't as stupid as some - though they'd be wrong. You also get SMS-to-speech and email-to-speech services, and more.
The Limited model, which is available in AWD only, throws in "Premium Navigation" and dual zone automatic air as standard equipment rather than as part of an option package. You also get an eight-way power adjustable driver's seat, "simulated leather" door trim (from bogus bovines), a sliding front center console box, illuminated front cup holders, power tailgate, push button start/stop, 18 inch aluminum alloy wheels and more. Opt for the optional Technology Package and you'll get an 11 speaker Premium JBL audio system, Lane Departure Alert, Blind Spot Monitor, Rear Cross Traffic Alert System, Back-up Sensors and Automatic High Beams, too.
Along with its V6, the optional third rows of seats is no longer available on the RAV4, but the vehicle isn't really big enough for that anyway. If you need a third row, you're better served with the excellent - and bigger - new Highlander.
Toyota says RAV4's received top marks for safety, with all versions coming equipped with eight airbags and the six active safety technologies the company calls "the Star Safety System." It consists of antilock brakes, Brake Assist, Electronic Brake-force Distribution, Vehicle Stability Control, Active Traction Control and Smart Stop Technology, all of which are good to have, though hardly unique to Toyota these days.
I'm glad to have had this second chance to review the RAV4. It's always been a good vehicle and while I miss the old version and some of the stuff it offered, my second kick at the RAV can eased a lot of my initial angst about Toyota's little cute ute. It's a very nice vehicle, reasonable to drive and with enough features and technology to keep it competitive in a very crowded and fast-moving market niche. Heck, I don't even hate its styling any more.
Familiarity breeds contempt? In this case, familiarity breeds content(ment).
Copyright 2014 Jim Bray
TechnoFile.com