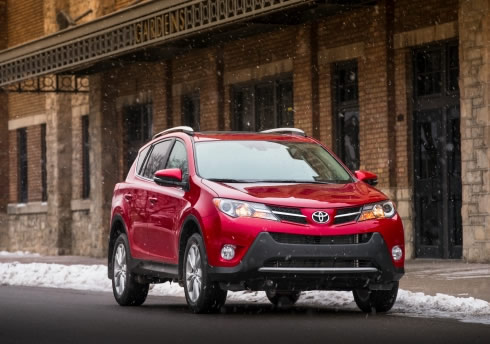 New Toyota Rav4 adds boxiness, subtracts horses
By Jim Bray
May 9, 2013
Toyota has taken the wraps off a new RAV4, its popular entry into the small sport utility market. And it'll probably prove to be popular as well, as so it should despite the dumb Kaley Cuoco advertising campaign.
On the other hand, it may also have lost something in the upgrade to the new generation.
Of course it's gained, too. One of the best additions is the new tailgate, which not only dumps the spare tire that previous versions carried there, but which also now swings upward and out of the way, as it should. My biggest gripe against the old Rav4's (or is it " RAVs4?"), which I liked very much otherwise, was that the previous gate was hinged on the right hand side and therefore swung open from the left. This could be really counterproductive if you were coming from the right side with an armful of groceries or whatever.
With this welcome new move, Toyota joins Honda, whose new CR-V also eschews a side-swinging tailgate for a conventional one – and both of them join pretty well the rest of the market who have used the upward-swinging tailgate for years.
I guess really short people might prefer the old way (in fact, I hadn't thought about that aspect of it before, despite my own lack of height), because the opened tailgates can be a bit of a stretch to reach, but most people will probably appreciate the new ease of entry.
The new Rav4 has also, according to Toyota, gained in aerodynamics and driving dynamics (thanks to a freshly uglified, boxy body style and mechanical tweaks such as a retuned suspension and optimized electric power steering). Those gains might be pretty subtle, however; I never noticed it slipping through the air better than the old version, nor did it seem a more interesting drive. To be fair, I last drove a Rav4 about a year ago – and it was the V6, which I preferred over the four cylinder version – so between the V6/inline four power difference coupled with my middle aged memory I could be remembering the past Rav through rose colored glasses.
The V6 is no longer available, unfortunately. Toyota has chosen to offer only a 2.5 liter inline four, equipped with stuff like dual variable valve timing with intelligence (VVT-i) and sequential multiport fuel injection – so it's no slouch when it comes to four bangers. Power is competitive. Toyota rates it at 176 horsepower @ 6,000 rpm, and 172 lb.-ft. of torque at 4,100. Compare this with the new Mazda CX-5 (my new favorite in this niche) and its 184/185 hp/torque (from the larger, 2.5 liter version of its Skyactiv engines) and you won't find a lot of difference in real world driving.
Ditto for the aforementioned CR-V, which Honda rates at 185/163 and the Nissan Rogue's 170/175. Not  huge differences. You have to look to the turbocharged fours such as Volkswagen's Tiguan or Hyundai Santa Fe for more real performance, but those are apples-to-oranges comparisons.
So in the grand scheme of things, the Rav4's power is fine.
The engine gets its power to the road through a new six speed automatic transmission with sequential shift (though no paddles are offered). Toyota says the first two gears are optimized "for around-town performance," while fifth and sixth are overdrive gears for the highway "letting you cruise with reduced engine revs for better fuel economy, less noise, and lower wear." I found the shifts a tad jerky during as spirited acceleration as you can get from the Rav, but it wasn't a big deal.
No manual transmission is offered and while the "sport" mode of this automatic does offer better control it doesn't add a lot of fun. It appears this transmission is more about economy than fun, and that's okay if that's what you're into. And I must admit that I'm seeing far more of the new Rav4 on the roads than I expected from a model this new, so plenty of people are finding the vehicle a fine choice.
You can equip a Rav4 with front or all wheel drive. The optional third row seat is no longer available but I don't think that's a big deal either, since the larger Highlander (a new version of which is coming soon) offers that and would be a better choice for such a configuration anyway.
Rav4's suspension is up to snuff. It dances the MacPherson Strut up front (with coil springs and a stabilizer bar), while the rear gets a double wishbone setup (with coils and stabilizer). Brakes are power-assisted discs (ventilated up front, solid "outback") with the usual ABS, brake assist and brake force distribution aides.
Other safety-related nannies include Vehicle Stability Control (VSC), Traction Control (TRAC), and there are three drive modes (Sport, Eco and Normal). Eco, as is its wont and mandate, pretty well sucks the fun out of life and while Sport isn't particularly exciting, it does offer a bit more "joie de conduire."
The sample Rav4 provided by Toyota Canada was a pretty low end model and didn't even come with such common features as seat heaters or automatic headlights. The lack of bun warmers is okay, but not offering auto on/off headlights is a real oversight, because it's actually a pretty important safety features in an era when vehicles with daytime running lights end up being driven around with no tail lights on because their owners figure they're okay because there are lights on up front.
It did come with Bluetooth capability, however – an equally important safety feature – and a rear view back up camera I'd have gladly given up for automatic headlights.
The new exterior doesn't do a lot for me, but the interior is fine. It's roomy and comfortable and pretty flexible. Gauges and controls are straightforward and everything works well except the audio system, which in my tester was typically low end Toyota weak.  You can upgrade to a premium JBL system if such things are important to you. Or bring along a boom box and plug it into one of the power outlets.
If you want to option up your Rav4, you can add stuff like navigation, back up sensors, automatic high beams for the headlights, a blind spot monitor, rear cross traffic alert, lane departure warning and voice recognition. Piling on stuff like this can raise the Rav4's price from the basic $23,790 to just shy of $35,000 (taxes and other pounds of flesh not included).
The standard wheels are 17 inch steel units with full wheel covers (LE models), but you can opt for 17 inch five-spoke alloy wheels (XLE models) or 18 inch multi-spoke alloys on the AWD Limited model.
The new Rav4 is undoubtedly a typically fine Toyota, but it left me wanting. Perhaps part of the problem was that I had recently driven the new Mazda CX-5 with its upgraded Skyactiv engine (mentioned above). Its base model starts at about a grand less than the Rav4 (though that's with the anemic 2.0 liter Skyactiv engine that sucks all the "Zoom-Zoom" out of it).
Loaded, the CX-5 with the much more satisfying 2.5 liter Skyactiv is about $3,000 more than the Rav4, which is a significant chunk of change. But if it were me looking for a cute ute in this range, I'd save up the extra loonies and get the Mazda; it's a much more interesting vehicle to drive. On the other hand, that's a bit of an apples-to-oranges comparison as well, because the CX-5 I drove was a higher trim level than this Rav4.
The lesson here? Compare comparable trim levels when you test drive! That way you'll get a fairer comparison.
Copyright 2013 Jim Bray
TechnoFile.com