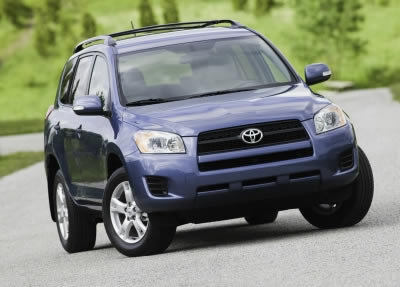 Toyota RAV4 a Fun, Roomy Cute Ute
By Jim Bray
April 14, 2010
Sport. It's a word familiar to car nuts worldwide and it's generally an indication that the vehicle associated with the word is a little more, well, interesting and fun, than the run-of-the-mill vehicle.
According to my digital copy of Webster's Unabridged, while the word "sport" can mean "an athletic activity requiring skill or physical prowess and often of a competitive nature, as racing, baseball, tennis, golf, bowling, wrestling, boxing, hunting, fishing, etc." it can also mean "a flashy person; one who wears showy clothes, affects smart manners, pursues pleasurable pastimes, or the like; a bon vivant."
Maybe Toyota's marketing folks merely looked at the wrong dictionary definition, because it seems as if – at least when it comes to the 2010 RAV4 – the word "Sport" means "appearance package", and has nothing to do with horsepower, or torque, or handling, or anything like that!
What a darn shame, because the RAV4 is a very nice SUV and if they'd actually sported it up a bit, as its badging would indicate they did, it could be even more interesting and fun.
That doesn't prevent it from being a very compelling vehicle in this market niche, however. "RAVs4" have sold well over the years, and deservedly so, undoubtedly because they offer customers quality and reliability coupled with a reasonable driving experience.
None of that has changed for 2010.
RAVs4 are available in either two or four wheel drive, and with either four or six cylinder engines. My test unit split the difference: it was a four wheel drive four banger. I daresay the V6 would have added a bit of sportiness to the vehicle, but in practical use during my week of almost exclusively urban driving the smaller engine was more than adequate.
That four banger features 2.5 liters with dual overhead cams, 16 valves and dual variable valve timing w/intelligence (Dual VVT-i). Its horsepower and torque are rated at 179 and 172, respectively, and during my time with the RAV4 that power plant moved it forward with as much acceleration as I intended it to – and no more. Who'd have thunk?
And I may get struck by lightning for saying this but, as much as I love power, the optional 3.5 liter V6 and its 269/246 horsepower/torque output may just be a case of gilding the lily, because this four banger is great. This is a trend I've been noticing increasingly with the current generations of cars and engines and it's a win-win for consumers – more power and less fuel paid for.
I imagine that lovely and torque V6 is plenty of fun, though!
RAVs4 also feature an independent suspension up front, with MacPherson struts, stabilizer bar and hydraulic shock absorbers; the rear gets a double-wishbone coil spring suspension with trailing arms, hydraulic shocks and a stabilizer bar.
Needless to say, the vehicle is quite nimble. It's no sports car, of course, but in this market category it competes well with such entries as the VW Tiguan, Honda CR-V, Nissan Rogue and the like.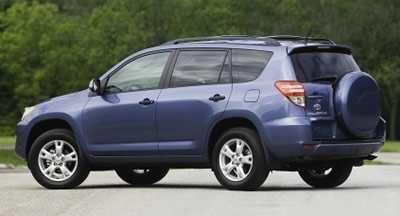 The "Sport" appearance package adds such exterior "tweaks" as multi-reflector halogen headlamps with blackout sport trim and auto-off feature (my test unit also had auto-on headlights, which every vehicle these days should have), integrated fog lamps and – here's something sporty! – a limited slip differential  and "sport tuned" suspension. You also get 18 inch, five spoke alloy wheels, color keyed door handles, fender flares and stuff like that.
Decidedly unsporty is a four speed automatic transmission; six cylinder versions get a five speed, though both versions should. My test unit's four speed tranny didn't even have a manual shifting mode!
The V6 Sport model also gives you a unique rear door from which they've spared the spare tire that hangs off of it on other RAV4's, making for a much cleaner rear end. To make up for the lack of a spare, run flat tires are included.
I like the idea of moving the spare off the RAV4's bum, though it's still on the four cylinder Sport model. Alas, the spare isn't the biggest problem with the vehicle's tailgate: Toyota really needs to revisit the way it opens. The company still insists on hinging the RAV4's tailgate on the right hand side, rather than making it open upward, and that means if you're parallel parked by the curb the door opens right into your way. That seems kind of dumb from a company as smart as Toyota. Perhaps they have other things on their minds right now…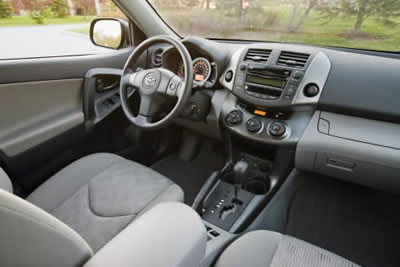 Brakes are power-assisted discs with ABS, electronic brake force distribution (EBD) and brake assist (BA) . Goldilocks would love the pedal feel, which is just right – neither grabby nor mushy. Steering is electric rack and pinion with variable power assist and it also feels just right.
Inside, the RAV4 is very comfortable and efficient, with a clean and well-designed cabin. About the only complaint I had with it is that the tilt/telescoping steering wheel really needs to telescope an extra half inch to make the driving position perfect.
Gauges, switches and the like are right where they should be and, other than Toyota's penchant for making LCD displays that don't work well with polarized sunglasses, they're all clear and usable.
The seats are comfortable and reasonably supportive and there's plenty of room for four people. A third row "split and stow" seat is available as well, though my test car didn't have it. There's plenty of storage space, especially in the rear and, as usual, you can increase it by folding down the rear seat(s).
The base audio system with which my test unit was inflicted features a fairly anemic AM/FM CD/MP3/WMA Player, with six speakers and, fortunately, an auxiliary input jack. 
Convenience features include power windows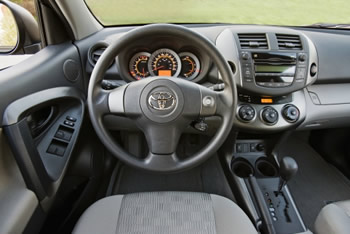 (with driver's side auto up/down) and power door locks, cruise control, a good selection of cup holders and other storage bins, cargo tie downs and the like.
Safety equipment includes dual-stage driver and front passenger airbags, front seat-mounted side airbags, roll-sensing front and rear head/side curtain airbags (though they didn't seem to notice the roll I carry around my midsection) and active front headrests with whiplash protection, the latter of which I assume are for people who are concerned about being attacked by Indiana Jones.
Quibbles aside about how sporty – or not – the Sport appearance package is, I liked the RAV4 a lot. It's comfortable and efficient, pleasant to drive and with a very good greenhouse that gives you an excellent view of the world outside.
Since it's a Toyota, chances are it'll probably run forever. So despite my disappointment in the "truth in advertising" implication of the "Sport" trim level, the RAV4 is still a very good entry into the "cute ute" segment of the marketplace.  And that ain't bad.
The Toyota RAV4 (two wheel drive) starts at $21,675 U.S./ $24,595 Canadian. The "Sport" trim level starts at 23,375 U.S./ $28,345 Canadian.
Copyright 2010 Jim Bray
TechnoFile.com