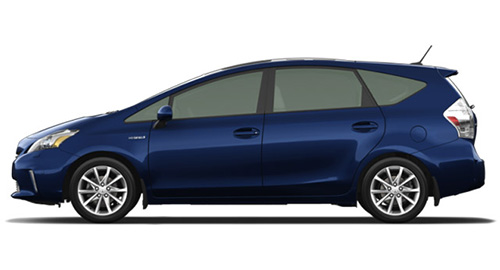 Honda Civic Coupe upgraded nicely; Prius v not so much
By Jim Bray
April 18, 2014
They may not have a lot in common with each other, other than being popular small cars, but the Honda Civic coupe and Toyota Prius v are interesting examples of their respective species. And each has been tweaked at least somewhat in ways their makers hope will make them even more interesting to the public.
Sales stats will undoubtedly tell that tale, but in the meantime, if you like Prii and/or little coupes, there's a lot for you to love here. Well, with the Civic, anyway.
Prius engagement…
I spent a week with the Prius v (click the image to open a slide show) last fall, at which time I opined that it was a great way for insomniacs to get some rest because driving one is sure to put you to sleep. That may be a tad unkind - and the fact that I see Prii v's all over the place (including many taxis) shows that I may not be preaching to the choir - but I still don't particularly like this little wagon.  
After all, there are more interesting little wagons to be had for less money and even though the Prius may save you dough at the gas pump, you'll pay through the proboscis initially. And for the privilege of saving the earth - despite the fact that hybrids use a lot of rare earth elements and other stuff the obtaining of which is  hardly the things of enviro-dreams - you'll be saddled with a vehicle that's not only boring to drive, but which insults your intelligence and makes you suffer with a cheap-looking interior.
So other than that, Mrs. Lincoln, how did I like the Prius v? Well, I love wagons (I own one, too) and I love little cars, but I seem immune to the Prius v's supposed charms.
Maybe it's because I can see through the enviro-hype perpetrated by the "warm-mongers" (hat tip to Mark Steyn) - er - "climate changelings" who'd rather we just offed ourselves collectively (or let them do it for us) and left the world to them so they can live in pristine purity with Parent Nature, building the socialist paradise of their dreams - with them in charge, of course.  Screw that. And them.
On the other hand, there are some pretty great hybrids out there, but they're usually higher end models that don't sacrifice the joy of the drive on the altar of Gaia. Porsche makes some, including the new 918 supercar and models of Cayenne and Panamera, all of which can make you forget you're driving a hybrid. Heck, even Toyota can do it better. I've driven Camry and Highlander hybrids, and several from Lexus, and all of them (with the possible exception of the Lexus CT 200h) offer much better experiences than the Prius.
Oh, well, to each his own - and if you have the extra cash burning a hole in your pocket that purchasing a hybrid requires, it's your business. Just know going in that you can do better, even if you're trying to save the world. Besides today's clean diesels, modern gas engines are so clean it isn't fair to consider them as pollution-spewing evildoers. They may not be as clean as hybrids, but they ain't dirty.
Anyway, the 2014 Prius v (Toyota says the "little v" stands for "big versatility") comes in four trim levels and the company says it offers 50 per cent more interior space than the original Prius hatchback. All are "powered" by a 1.8 liter four cylinder Atkinson cycle engine nailed to a high-torque electric motor, the combination of which delivers 134 "net system horsepower" and shifts seamlessly between gas engine, electric motor or a combination of the two. There are four power modes (Normal, Power and ECO, plus Electric only, which works over short distances at low speeds, if you don't mind having your doors blown off by pedestrians) but the only one that's even marginally acceptable if you care about the driving experience is "Power."
Otherwise, this car oozes gently away from traffic lights and can make things such as handling crowded freeway on ramps challenging.
The "power" (the Civic coupe I write about below has only nine more horses, but it feels like a lot more) gets to the front wheels via an obnoxiously loud and whiny continuously variable transmission that's about as fun as a wet noodle. Toyota claims the result of all this technology is fuel efficiency of 4.5 liters per 100 kilometers  city/highway combined, and tailpipe emissions that are "a fraction of those from a conventional crossover." I note they didn't say what the percentage is.
Standard features include  a six-speaker, 6.1 inch display audio system, with Bluetooth connectivity for phone and tunes. You also get steering wheel-mounted controls, a back-up camera and the Toyota Smart Key System with push button start/stop, power windows (with auto up/down function on all windows, which is nice), a tilting/telescoping steering column, lots of storage nooks, LED taillights and more.
And of course you get Toyota's suite of safety features that includes a bunch of airbags, ABS with Brake Assist and Electronic Brake Force Distribution, Vehicle Stability Control, Traction Control and Smart Stop Technology.
Three upgrade packages are available for the base Prius v that move it from being merely overly expensive ($27,480) to "What is this, a Porsche option package?"
The Luxury Package adds stuff like fake leather on the steering wheel and seats, front seat heating, integrated satellite radio, display audio with navigation, a touch-sensitive front passenger door handle and rear hatch lock/unlock feature (which are very handy), and more. It starts at $30,475. Up the ante to the Touring Package and you get all that plus stuff like 17 inch aluminum alloy wheels, panoramic sunroof, automatic, levelling LED headlights with washers and fog lamps. That'll cost you $33,505.
Still have disposable income? The Touring + Technology Package adds an eight speaker Premium JBL audio system, voice-activated DVD navigation system, adaptive cruise control, parking assist and Toyota's Pre-Collision System. All for $37,175.
And you can bask in the knowledge that, when you shift into reverse, the car will beep a warning like many big trucks do when they back up. Except it only beeps INSIDE the car. What's with that? Does Toyota think Prius drivers are so stupid they need that much hand holding?
On the other hand, if you're looking for a small wagon that's efficient and much more interesting to drive, Toyota's own Matrix starts at $17,895, and you can get the loaded version starting at $23,735. That isn't an exact apples-to-apples comparison, since trim levels and stuff differ, but you can buy a lot of gas for the nearly 14 grand price differential between the top line Prius v and the loaded Matrix.
Of course, you'll burn in Hell…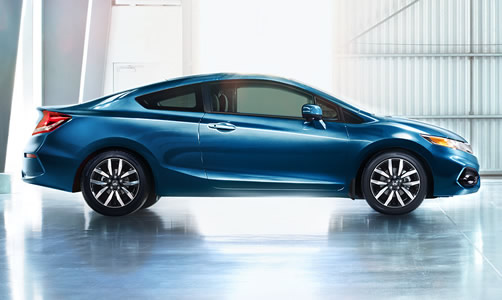 Slick Civic…
On a more positive note, the Honda Civic coupe (click the image to open a slide show) is a heckuva great little car - even (and here I duck so lightning doesn't strike me down) with its new CVT.
Yessiree! While you can order your 2014 Civic coupe with a five speed manual that, if it's like the rest of Honda's manuals, is undoubtedly a peach, the automatic offered now is a CVT (continuously variable transmission) - a technology I usually despise because it's usually loud and whiny and sucks the joy out of the driving experience. And why else would you buy a Civic coupe other than to get a great little car that's great to drive on a budget?
But here, just as with the CVT Toyota has put on its new Corolla, the transmission just works and works well. Sure, it feels like a CVT when you're driving along normally, but it's quiet - so quiet I had to pay closer attention to it to see that it was, indeed, a CVT.
And that's only the beginning. As with the Corolla, the paddle shift-activated manual mode gives you seven pretend gears - and in the case of the Civic you can shift into Sport mode and the CVT will hold its virtual gear until you tell it to change. In normal mode, paddle shifts still work fine, but it "goes back to sleep" quickly if you don't keep shifting manually - kind of like Porsche's magnificent PDK dual clutch automanual does.
So here's a CVT that proves to be the exception rather than the rule. If companies keep this up, I may have to revisit my aversion.
Honda's 1.8 liter inline four cylinder engine only puts out 143 horses (and 129 lb.-ft.), but even with the CVT it feels like more. In fact, this car's nearly as much fun to drive as the Mazda3, a car that (with the larger SKYACTIV engine) had me swooning during a couple of encounters and which I named as TechnoFile's 2014 Car of the Year.  So Honda has definitely done that part well.
Honda Canada's sample came equipped with a new feature for this year: the LaneWatch blind spot monitor that adds a camera to the right side rear view mirror enclosure. When you activate the right turn signal (or push a button on the end of the turn signal stalk) the LCD screen changes to show you a view down the right side of the car. It's a great idea because it means you can aim at bicyclists better! Most of the people I've shown it think it's wonderful - but I find it obtrusive because it grabs my attention, taking it off the broader view around. To each his own, I guess.
Honda's sample also had keyless entry and push button start/stop, which is always nice. It works fine, but Honda should swap the button's location with the one for the four way flashers, which is more at hand but which you won't use nearly as often. That's a pretty nitpicky complaint, though.
Other new features this year include a seven inch capacitive touch-screen display and the HondaLink Next Generation connected-car technology, an application-based platform Honda says "allows a seamless integration between a user's smartphone and the car, providing access to online and cloud-based content and information." In other words, more opportunities for you to take your eyes off the job at hand, driving.
Honda says the Civic's ride is sportier and "even more fun than last year's model," thanks not only to its boosted horsepower but also to a re-tuned suspension, and it has hit the mark really well. The suspension treads the line between comfort and sportiness very well, leaning to the sporty side in just the right amount without becoming jarring.
I've had a soft sport, er spot, for the Civic since I owned one back in the 1970's. It's grown in size, technology (and PRICE!) since then - like every other car whose heritage extends that far back - but it still offers an excellent blend of price and performance, the things that made it such a great deal back when I bought mine new for about 3,500 1976 dollars.
Today, it's going to cost at least $18,895 to sample the Civic's delights, and while that's a far cry from the 1970's sticker, it's competitive in its niche today. And you can spend a lot more! A fully loaded Civic coupe (the EX-L Navi trim level) starts at $27,291 and you can up the oomph and enjoyment ante even more with the si version, which starts at $28,346.
Ah, but what a great little car you'll have! It's no wonder the Honda Civic has been the best selling car in Canada for some 16 years in a row.
Copyright 2014 Jim Bray
TechnoFile.com