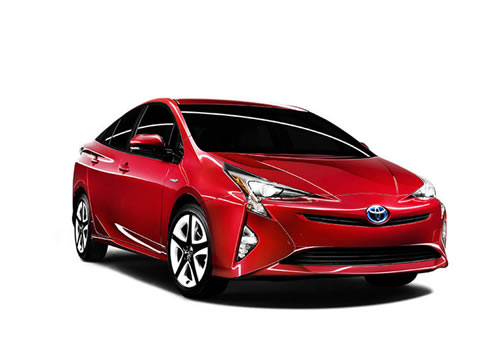 Toyota Prius a surprisingly driveable hybrid
By Jim Bray
April 20, 2018
Who'd have thought a Toyota Prius could be an engaging vehicle to drive?
I never did, until this current generation came along a year or so ago, and after having a second kick at the car a couple of weeks ago I came away liking the Prius even more. Heck, if it didn't have a loud and obnoxious continuously variable transmission, and such a strange-looking exterior, I might even think about putting one in my garage.
Click on the image to open a slideshow.
Oh, I'd come to my senses long before plunking down after-tax lucre on a Prius, but at least now I can see why people would buy one other than as a way to save Parent Earth and/or save gas, the latter of which the Prius does very well. Heck, I drove the car mostly as if it weren't a hybrid (and as if it were a Porsche!) and I still managed to get about 5.4 litres per 100 kilometres which, given my lead foot, is a bonus. 
What we have, then, as I mentioned in my first review of this generation of Prius, is "a hybrid that gets better gas mileage than ever and is more interesting to drive than ever. If it were priced around the same as a reasonably loaded Corolla, which is sized approximately the same, I'd call it a win-win."
On the other hand, a reasonably loaded Corolla, according to Toyota Canada's website, will set you back about $26,000 CAD, whereas the Prius starts at about $27,700 and the top line Touring trim level starts at 30,890. I think the Corolla is a nicer car, to drive and to own (even with its damn CVT - and you can get a real manual if you want!), and you can buy quite a bit of gasoline for that Prius premium. On the other other hand, that Prius premium seems to be only about half what it was when I first reviewed this generation two years ago. So that's progress.
 The 2018 Prius comes with power adjustable and heated outside mirrors, alloy wheels, LED lighting (headlights, taillights, high mounted stoplight and daytime running lights), and a rear spoiler.
You don't have to suffer without modern amenities, either, which is as it should be. The Prius includes Bluetooth connectivity, air conditioning with automatic temperature control, heated front seats, power door locks, a 60/40 split/fold rear seat, multi-information display and ECO drive monitor, power windows with auto up/down function, chrome inner door handles, tilting/telescoping steering column, cruise control, Smart Key with Push Button Start, 12-volt power outlets, and more.
Prius' Hybrid Synergy Drive is centred around a 1.8 litre four-cylinder Atkinson cycle engine, the electric stuff, and that damn continuously variable transmission. There are selectable drive modes: Normal, ECO and Power - and you can also operate the car for short distances on electric power only, as long as you don't ever step on the gas pedal. Okay that last crack is a bit of an overstatement, but not much. Full electric mode is suitable for parking lots; if you try it on a street you might get tired of all the horns honking from the drivers that you're holding up behind you.
The front wheel drive Prius also features electric power steering and integrated regenerative braking, the latter of which recharges the hybrid system's batteries.
Inside, the Prius continues its penchant for oddness, including an instrument pod that's mounted in the middle of the dashboard. This might be nice for Toyota because they don't have to change it for left or right hand-drive areas of the world, but I've never liked it – and isn't that what counts? The audio system is nothing to write home about sonically, though it works fine and is easy to use. 
Alas, for some reason Toyota continues to insult its Prius owners' intelligence with a weird and annoying beeping noise when you're in reverse, like those beeps commercial trucks emit when they're backing up, except that it only beeps inside the Prius, so it's useless for warning anyone outside! What's with that? I've been driving for decades and never had an issue with knowing I was in reverse – and in the Prius, you not only get a readout on the dash telling you you're in reverse (assuming you never noticed shifting physically into reverse when you did it!) but you can also tell because the rear view camera fires up and – better sit down for this - the car starts going backwards!
I got quite hoarse from yelling at the car to shut up!
The 2018 Prius also gets loaded with safety stuff, including Toyota's Safety Sense P, which includes a Pre-Collision System with Pedestrian Detection, Lane Departure Alert with (annoying) Steering Assist, Automatic High Beams, and Dynamic Radar Cruise Control. Also standard on the 2018 Prius is the Toyota Star Safety System of eight air bags, a back-up camera (something every car these days should offer), front seats with whiplash injury-lessening headrests, etc.
The 2018 Toyota Prius is offered in a selection of models and trim levels. For that $27,480. base price, you get a 6.1 inch display audio system, 15 inch alloy wheels, fabric seating, illuminated entry, a driver's side door handle touch sensor lock/unlock, and more.
Stepping across market to the Technology trim level (Starting at $30,120), you get a Prius stuffed with stuff like a seven inch display audio system with integrated Satellite Radio and navigation, wireless charging for your personal electronics (if the devices are compatible, of course, like mine aren't), touch sensor lock/unlock function for both front door and the rear hatch. You also get a power tilt/slide moon roof, 15 inch alloy wheels, fabric seats, synthetic leather-wrapped steering wheel, illuminated entry with step lamp, and more.
The Prius Touring ($30,720) ups the ante with Softex-clad seating, that seven inch display audio system with integrated Satellite Radio and navigation, synthetic leather-wrapped steering wheel, illuminated entry, wireless charging, 17 inch alloy wheels, touch sensor lock/unlock function for both front door and the rear hatch, fog lamps, etc.
There's also an Advanced Package (Starting at $32,795), which adds a Blind Spot Monitor and very handy rear cross traffic alert system, the Intelligent Clearance Sonar with Intelligent Parking Assist system, a Heads-Up Display, rain-sensing wipers, integrated garage door opener, auto-dimming rear view mirror, eight-way power adjustable driver's seat, Softex-clad seating, a tire repair kit, and more.
Pairing my smart phone was a piece of cake, just like it is with most Toyotas. The voice recognition is quite annoying with its interminable prompts, but you can shut a lot of them down and this helps somewhat. This isn't Prius-specific, and to be fair Toyota's voice recognition system isn't anywhere near the worst that I've tried.
The brake feel is decent, as is the steering, and I even liked the suspension, which was more interesting than I expected from this type of "eco-econobox". As I said when this generation was new, "you'll never confuse the Prius with a Supra…but if you found previous Prii to be wanting, you may be as gobsmacked as I am" with this fourth generation of the hybrid.  
Toyota has done a remarkable job with this Prius. While I'm still not enough of a fan to even think about buying one for more than a few seconds, I will admit that this is a huge step forward in the driving dynamics department.
You can save the world and still have some fun doing it!
Copyright 2018 Jim Bray
TechnoFile.com
Jim Bray is a member of the Automobile Journalists Association of Canada. His columns are available through the TechnoFile Syndicate.