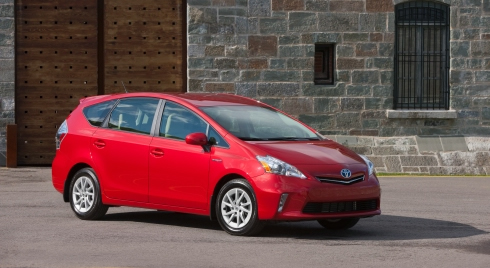 Prius V an insomniac's savior
By Jim Bray
November 21, 2013
Toyota's Prius V (click the image to the left to open a slideshow in a new window) continues the Japanese company's success at selling hybrids that make people feel good about their environmental impact. It's a wagon version of the popular Prius hybrid, so you can haul even more stuff than before, as long as you don't mind doing it excruciatingly slowly.
Toyota is arguably the most successful company at making and marketing hybrids, with a lineup of the gas/electric cars long enough to turn a tree hugger's hair green. Besides the Prius - its first hybrid - they now offer hybrid versions of the Camry, the Highlander and various Lexi (can't wait for a hybrid Scion FR-S!), so there's pretty well a model for well-meaning folk in just about every income group.
The Prius V is also typically Toyota hybrid, in that it's great if you're having trouble sleeping; spend an hour behind the wheel of this baby and if you aren't asleep already you're ready to curl up and nap. I wonder if that's a safety feature…
The V is longer than the basic Prius, so when you fold down the seats, you can just about carry railway ties as long as you don't plan to take them up any hills. The wagon is also nearly 800 pounds heavier than the smallest Prius, so even the limited get up and go of most Prii has gotten up and left.
Obviously this is not a car for people who love cars. Rather, it's a car for people who think of cars merely as a way to get from place to place with as little fuss, as little gas, and/or as little impact on Gaia, as possible. And as far as the fuss and gas parts are concerned, it accomplishes its mandate really well.
What power the Prius V provides comes from a 1.8 liter four cylinder engine that combines with the electric stuff to let 134 horsepower meander reluctantly to the front wheels through a continuously variable transmission. The CVT isn't as noisy as some, but it is as entertaining as most, which means it isn't.
The independent front suspension features MacPherson struts and a stabilizer bar, which is good and common stuff but here. It, and the Prius V's torsion beam-type rear suspension, is soft enough to let a not to wake you up after the car puts you to sleep, and quiet enough to lets somnambulists wander on their nightly rounds without the danger of being awakened by engine noise.
Prius V's roll on 16 inch wheels wearing P205/60 tires that feel like they were taken from a clown car, since the handling is laughable. Of course, you can't just blame the tires for that. Everything in this car - power train, suspension, brakes (discs all around, with regeneration of course), and steering combine to make driving a particularly uninteresting  experience.
You do get different driving modes, from EV (electric only - and good luck with that!) to "Power," the latter of which belies its own name.
But you'll feeeeeeel so good!
Or will you? The seats are okay, but the whole interior of this car looks as if it were conceived of as a George Jetson-type thing rather than something a driver would want to contemplate. So, like other Prii, the instrument panel is in the middle of the dashboard, which takes the driver's eyes off the view ahead and forces he, she or it to look down and across, instead of just down as with most cars.  
There's lots of eye candy on that digital instrument panel and it's pretty easy to fathom at a sideways glance. The rest of the dashboard looks as if Toyota's trying to make it look expensive, but it doesn't.
There's high center console storage box you can also use as an armrest. I thought it was too high and infringed on my space, but that's a personal choice. The steering wheel tilts and telescopes, though not enough, and it offers redundant controls for audio, etc.
Toyota Canada's sample Prius V also included the $2985 Luxury Package, which adds important stuff such as fake leather for the steering wheel cover and seats, integrated satellite radio, navigation, heated front seats, garage door opener, front passenger door handle touch sensor lock/unlock (the little spot you touch to lock/unlock the car w/o using the key), and an electrochromic rear view mirror.
The audio system actually isn't too bad, all things considered. It's hardly audiophile, but it sounded better than many basic Toyota audio systems. Maybe it's because the quiet car lets you actually exploit its minimal power...
Here's a real head scratcher: shift the Prius V into reverse (and this isn't the only Toyota product that does this) and you'll hear a beeping noise similar to what you'd hear when a big truck is backing up. Except that the beeping is only audible inside the car! So who's it warning?  
I don't know about you, but when I shift into reverse I can generally tell what's happening without a repeating audible alert. There's such evidence as the car's display showing "R," the rear view camera firing up, the car moving backwards when my foot moves from the brake to the "accelerator" - and the fact that I shifted it into reverse myself and therefore am quite aware of what's supposed to be going on. But that's just me.
Though it may not seem like it from the company's reputation, even Toyotas break down sometimes and wouldn't you know it happened to me, causing the Prius V to sit dead in front of my house for a day and a bit. It wouldn't start no matter how many prayers to Gaia I said, so I sallied forth through the owner's manual and went online to various Prius owners groups (yep, they admit it!) to see what could be done.
There was nothing online that I could find, but a second trip through the owner's manual hinted that if I took the key fob and touched its metal Toyota logo to the Prius' start/stop button, the car would leap into action.
Well, maybe "leap into action" is the wrong phrase, but that workaround worked around the problem and from then until the end of my review that's how the darn thing had to be started, every time. I'm sure a trip to the Toyota dealer would have it fixed quickly under warranty, but I was fortunate enough to be able to simply return the car. Now some other poor soul will have to deal with it.
The Prius V isn't unique in the market place. The Ford C-Max is probably its closest competition, and it doesn't suck to drive.
According to its Monronie, Toyota Canada's sample Prius V has a base MSRP of $27,425, so if you add the $2,985 of the Luxury Package you're looking at shelling out just shy of $31,000 (plus taxes and other pounds of flesh) for the little wagon that can't.
Compare that with another small Toyota wagon: the Matrix. It's a terrific little car whose estimated gas mileage, according to Toyota's website, is 8.1/6.3/ 7.3 city/highway/combined liters per 100 kilometres (which is competitive in this segment). The Prius gets a claimed 4.3/4.8/4.5 (which I never achieved), so it should definitely save you gas money.
The Matrix' 1.8 liter four cylinder engine puts out 132 horses without added electrical oomph, it has real transmissions (a five speed manual and an ancient four speed automatic that's still better to drive than a CVT), and you can get into one for about $18,000 (about $23,000 loaded).
That's nearly 10 grand you can save by opting for the Matrix, which will buy you a lot of gas to put into it. Plus, you'll have a better driving experience, still be frugal and still be kind to nature, since today's engines are so clean there really should be no comparisons made with old internal combustion engines.
Yeah, yeah, I know: the Prius is just that much greener. Or is it?
I understand why someone would want to be kind to Parent Nature and there's nothing wrong with that. But to get sucked into believing that you're saving the earth because you chose to live with a gutless little gas engine augmented by batteries whose production and eventual disposition belies the green agenda is a sign of a mind unconfused by facts. Or a lack of homework.
I like some hybrids. Porsche makes a couple of sweet ones, including their upcoming supercar the 918. But for a combination of driving pleasure and economy - with cleaner performance than at any time in history - I'd rather have a diesel. Take the Volkswagen Jetta. I love the sporty GLI and that would probably be my heart's choice. But my head would opt for the TDI diesel. Ditto with the Porsche Cayenne (though in that case my heart's with the GTS but my wallet would be with the diesel).
The Prius V represents the worst things about hybrids. It's an absolute bore to drive, with the performance and handling of a riding lawn mower. It treats its owners like idiots (how else can you explain the beeping inside - but not outside - when you shift into reverse?). And it's expensive.  
Here's one more thing to think about. What happens when it's time to put those batteries out to pasture? And when will that be? And just how environmentally responsible is it to build a car that, like wind turbines, requires the extensive use of rare earth elements whose production requires DIGGING UP THE EARTH TO EXTRACT THEM?  
My goodness! Where are Neil Young, Robert Redford and Algore? Oh, yeah, they're flying or driving around, pillorying Alberta's oil sands for DIGGING INTO THE EARTH.
Hypocrites.
Copyright 2013 Jim Bray
TechnoFile.com