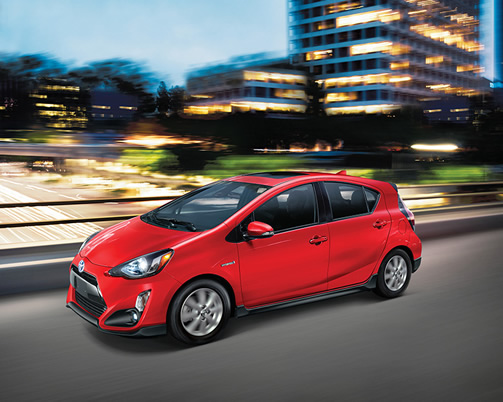 Toyota Prius C a cheap and cute way to save gas
By Jim Bray
May 25, 2017
It's pretty Spartan, all things considered, and it's about as much fun to drive as a hobby horse, but Toyota's 2017 Prius C hybrid hatchback is still a decent little car that does a lot with a little. And, at a starting list price of $21,975, it doesn't cost a huge amount of cash to save the Earth.
Click on the image to open a slideshow.
On the other hand, you could buy a gas-fueled 106 hp Yaris SE five door hatch with an automatic transmission for about $19,510, sans taxes, fees and other kilos of flesh. The Yaris probably won't get the excellent 4.5 litres per 100 km that I achieved in the Prius C (despite my lead foot), but Toyota claims 7.9/6.8 (City/Hwy) for the Yaris, which is still darn good. And the Yaris is a heckuva lot more fun to drive, if only because it doesn't come with a whiny continuously variable transmission.
Sure, you'll be poking the Al Gores, David Suzukis and "Science Guys" of the world in the eye, but how is that a bad thing?
Toyota Canada's sample Prius C, which is "designed for the city," according to Toyota's website, wore the Technology moniker, which adds to the mix stuff like a backup camera, Toyota Safety Sense C (Pre-Collision System, Automatic High Beams, Lane Departure Alert), a power moon roof, heated front seats and a smart key system with push button start/stop. The Technology raises the Prius C's base price to $26,980 CAD.
On the other, other hand, The Prius C Technology is equipped better than the loaded Yaris hatch, which is about the same size and market niche. I checked out Toyota's Canadian website and it looks like you can't get a moon roof or rear view camera at all on the Yaris, which is a darn shame. I think a rear view camera is a more important safety feature than air bags (you'll use the camera every day, but the airbags will hopefully never be used) and while I can live without a moon roof I certainly wouldn't want to.
A real looker…
On the other other other hand (I think I'm running out of hands!), in my never humble opinion the Prius C is a great looking vehicle, its hatchback mien reminding me of what a Honda Fit should look like. I loved its exterior - and its interior, while as plain as one would expect at this end of the market, is comfortable and efficient. Heck, I couldn't even whine about the central location of the instrument panel on the dashboard because it's wide and the data I want to see is presented close enough to the driver's side that it's easy to take in at a glance.
The Prius C moves along about as well as can be expected from this type of car, especially one with only 99 horses. I had no trouble keeping up with traffic, and even passing when appropriate, though of course you have to plan your moves more than with a road rocket. And the Prius C is actually more fun to drive than I expected, but be warned that - as with many CVT-infected cars - when you tromp on the gas the cabin will sound like the hounds of Hell have been released.
Okay, maybe it isn't quite that bad…
The Prius C's power plant includes a "super-efficient" 1.5 litre Atkinson cycle engine and if you eschew heavy metal boots you can partake of ECO and EV modes, though don't expect to out run pedestrians in EV mode.
The seats are comfortable and everything is at hand and works well. The audio system is merely okay, but this is a low end car and so that's only to be expected. The central screen is a 6.1 inch unit and, as should be these days, there's USB and Bluetooth as well as air conditioning with automatic temperature control. There's a 3.5 inch LCD multi-information display on the instrument panel (which will, for example, display the audio system's volume control when you use it, in case you have no feeling in your fingers.
You also get the usual outside temperature gauge, and there are steering wheel-mounted controls for the audio and HVAC systems.
It's a pretty flexible package in all, thanks to the hatchback design and fold down rear seat that creates up to 484 litres of hauling space. Toyota says that's enough to stow four golf bags or a stack of snowboards. I used it for beer, and lots of it!
I question the presence of automatic high beams when the little critter doesn't even come with automatic headlights (which I think are important in these days of mandated daytime running lights up front), but as usual no one asked me. The Prius also doesn't get that three blink "lane change setting" for the signal lights, which I believe puts it in a tiny minority these days. Not a big deal, but I've grown to really like that feature, though a friend and associate of mine - and he may be right - thinks that three blinks aren't nearly enough to get through the mental fog of many oblivious drivers.
The rest of the new nannies, such as the lane departure warning, can be shut off and they stay off. I hated these things until they became "shut offable and stay offable." Now I can ignore them with wild abandon.
The base Prius C can be upgraded via the Upgrade Package (starting MSRP of $23,470), which gets you two more speakers for the still unremarkable audio system, plus extra adjustments for the driver's seat, a 60/40 split rear seat, premium cloth seat coverings, cruise control, variable intermittent windshield wipers, synthetic leather on the instrument panel, a tonneau cover, extra storage spaces, and a back-up camera.
Some of this is also found on the Technology package, though Tech also ups the audio ante via integrated satellite radio, navigation, Gracenote music database access, voice recognition and the stuff - like push button start/stop - I mentioned earlier.
The Prius C also comes with seven airbags, LED brake lights, and a tire pressure monitoring system.
Toyota has now discovered the folly of having the car beep when it backs up, the way commercial trucks do, except that Toyota's beeps were only audible inside the car - perhaps to remind people who are too stupid to realize they've just shifted into reverse. Now, there's no intelligence-insulting beeping, which I guess means you can now back over pedestrians to your heart's content if you decide not to bother with the rear view camera or mirror.
I make fun of hybrids regularly, but they've come a long way since the Honda Insight first assaulted our sensibilities. And though I'd probably still not buy one, I can see why people do. Heck, if you're on a budget and are more interested in saving fuel than in driving enjoyment, hybrids like this Prius C can be a good choice.
But if you do care about the driving experience, the same cash outlay can get you something like the Hyundai Elantra Sport, which won't be as economical to drive, but will put a big smile on your right foot. Or you can go with that Yaris I mentioned above, which is more fun than it has any right to be.
Copyright 2017 Jim Bray
TechnoFile.com