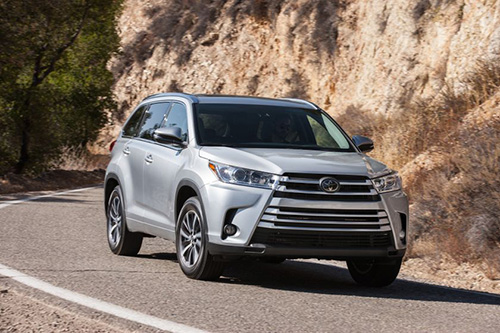 Toyota's 2017 Highlander a handsome and comfortable SUV
By Jim Bray
February 24, 2017
The popular Highlander SUV/Crossover is about mid-way through its current generation and Toyota has enhanced and upgraded it for the 2017 model year, making it an even more pleasant vehicle to be in.
In fact, I'd reckon that, after my week in Toyota Canada's sample Highlander XLE AWD model that it's an even nicer vehicle than its up market cousin, the Lexus RX 350. That's because, while it isn't as luxurious or, ahem, prestigious as the Lexus (which rides on the same basic platform), the sample was plenty luxurious enough, more handsome inside and out (with the usual "eye of the beholder" caveat) and easier to operate.
The ease of use comes mostly from Toyota's decision to put a touch screen in the centre stack and mount it within reach of even short people. And it's easy to fathom and to use. The Lexus has its screen mounted high and out of reach, forcing the company to put one of those damn mouse-like Remote Touch devices on the centre console, and as nifty as that sounds it's actually counterproductive if you're just trying to get stuff done because you're fiddling with the knob and menus all the time instead of just poking and choosing.
Your mileage may vary, of course, but I prefer a well-designed touch screen to any kind of knob and/or pointer. So props to Toyota for eschewing such systems on the Highlander.
As for the changes, for 2017 Toyota has given the Highlander freshened styling, added new safety stuff, and put in a revised 3.5 litre V6 that, while it sure won't set the world on fire when it comes to burning out (not that I'd ever try that!), is likely to offer more interesting performance than the four cylinder model that's still offered in the U.S. market.
I have to admit I thought initially that the sample Highlander was a four banger because it didn't feel like the torquey V6 I'm used to from Toyota. Yet there it is under the hood, a direct injection unit cranking out up to 295 horsepower, which is surely more than adequate even though it isn't particularly gung ho to go in this application. The engine gets its power (to all four wheels in Toyota's sample) via a new eight speed automatic transmission that's actually quite good. Since the sample had AWD, it also had Toyota's Stop and Start Engine System that lets you have the engine shut off when stopped (such as at stop lights), with it starting up again nearly instantly when you lift your foot off the brake.
This is hardly unique to Toyota and the Highlander, of course - and it can be a tad surprising when you first notice it in action - but it's designed to save fuel and reduce emissions, and that may be important to you.
Hybrid Highlanders get an updated, 292 peak horsepower (with 263 torquey things @ 4,700 rpm), 3.5 litre direct injection V6 that's mated to an electronically controlled continuously variable transmission, so be warned about the transmission if you care about driving feel.
The driving experience is surprisingly good for a big and "non-sporting" vehicle such as this, though despite the Highlander's MacPherson struts up front and double wishbone buttocks it does tend to wallow a bit - but it's only a bit. Steering feel is fine and the brakes (discs all around, with ABS etc.) do their job without fuss.
Exterior changes include tweaks to the grille (and they've actually made the big cowcatcher a tad more attractive this time around, and each trim level supposedly features its own grille treatment - so people familiar with the vehicle will know how much money you spent). There are also new LED Tube design headlights and LED taillights. XLE and Limited models get a chrome trim garnish on the rear bumper as well.
Inside, the Highlander is done marvellously well. There are new trims and an abundance of USB and power ports. The XLE trim level features handsome leather (you can get perforated leather on higher trims)  and the sample came with the optional "SE Package" ($1,595), which gives such niceties as second row captain's chairs (a bench is standard), 19 inch' Black Alloy Wheels, a sport grille, black roof rails, "sport" interior trim and ambient lighting.
Is it worth 1600 loonies? I think the captain's seats are worth that by themselves; they're comfortable and easy to fold flat and move out of the way so (smaller) people can access the rear bench (which also folds flat for hauling stuff).
The XLE AWD trim level of the sample (Starting price of $43,995 CAD), ups the ante from the base LE version (which is available either in front or all-wheel drive) by adding an eight-way power adjustable driver's seat and four way power front passenger seat, Blind Spot Monitor and Rear Cross Traffic Alert Systems - two newish nannies I've actually made my peace with since they're actually more handy than annoying - unlike stuff like lane departure warnings.
Other standard stuff on the XLE AWD includes a reasonable display audio system with that nice touch screen (it measures eight inches, which makes it big enough for people with thick fingers and thumbs). It also had a navigation system, reasonably advanced voice recognition, three-zone automatic climate control (with second row controls), a power moon roof, keyless entry with remote hatch release, push button start, power tailgate with jam protection and more.
For 2017, all Highlanders come standard with Toyota Safety Sense, a suite of stuff that helps keep you alive via such technologies as forward collision warning and automatic emergency brake, plus pedestrian detection, lane departure alert with steering assist, automatic high-beams, and adaptive cruise control.
That's all over and above Toyota's Star Safety System of eight airbags, a back-up camera, new rear seat seatbelt warning system and more. Depending on the trim level, you can also partake of a Bird's Eye View Monitor, parking assist and rain sensing wipers.  
Toyota offers the Highlander in six models, including two hybrids, so there should be a model for everyone who's looking for this type of vehicle.
Toyota's website claims the Highlander XLE AWD achieves 12.0/8.9/10.6 litres/100 km (city/highway/combined) - which translates to 24/32/27 mpg - and I was gobsmacked to discover that I very nearly achieved their published figures during my test. I rarely get close to the published figures because I was born with a lead foot, so this really turned my head.
Here's a quick rundown of the gasoline-powered Highlander's trim levels and their starting MSRP's: LE FWD ($35,500), LE AWD ($37,995), SE AWD ($45,590), Limited AWD ($49,995). The hybrids are the Hybrid XLE AWD-I (Starting MSRP of $49,985) and the Hybrid Limited AWD-I (Starting at $55,990). That's starting to get up there when it comes to price, and it's about the same price as the entry level of the Lexus RX 350, sans options - and the Lexus doesn't offer a third row, which may or may not be important to  you.
Other vehicles in this niche? There are quite a few three row (standard or optional) competitors, including the Mazda CX-9, which I actually preferred (can't beat "Zoom-Zoom!"), as well as the Kia Sorento LX V6, Hyundai Santa Fe XL, Nissan Pathfinder and Honda Pilot. Moving up market, there's the Audi Q7, Mercedes-Benz GLS, Acura MDX, Infiniti Q80, Lexus GX 460 and Lincoln MKT - among others.
Lots of choices, and how can that be a bad thing?
Copyright 2017 Jim Bray
TechnoFile.com