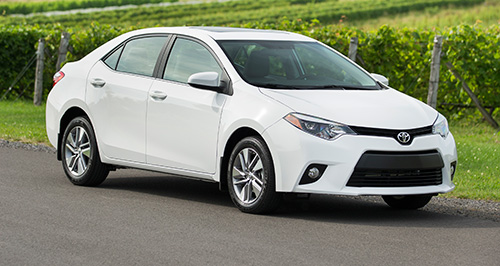 Toyota Corolla S - a new game for 2014
By Jim Bray
February 20, 2014
There's a reason Toyota's Corolla has earned its place as one of, if not the, top selling cars in history: throughout its many generations, it has offered consistent value and quality for those whose idea of a great car is reliability and economy. (Click here or on the photo to open a slideshow in a new tab)
Corollas have never been the most fun (though Toyota used to offer some pretty sporty versions back in the 1980's) but imparting fun isn't its mandate - er, persondate.
On the other hand, I've owned two Corollas in the past (a 1985 and a 1992), both of which were bought used and came with manual transmissions - and both were excellent cars that served us very well. Sure, they were no Porsches (heck, they weren't even Scion FR-S's as far as fun factor is, well, factored) - but thanks in part to their stick shifts, they were actually more fun to drive than they had any right to be, all while remaining true to their task of being first and foremost economical family sedans.
Now there's a brand new Corolla for 2014, one that continues Toyota's tradition of offering a great car at a good price. Toyota says this 11th generation of the Corolla includes "dramatically amplified elements of style, design, quality and craftsmanship," while building upon the car's well-earned reputation for reliability and efficiency. Besides new engine and power trains, it wears a new suit of clothes inside and out and both of them are big steps forward.
Outside, the car looks kind of like a little Avalon, at least from the front. And the S trim, which used to consist mostly of stuck on fake aero components, now eschews that stuff in favor of LED headlights as standard equipment, a new audio system with steering wheel-mounted controls, and even more airbags to make the car heavier and more complex. Oh, and safer. Oh, and like most cars these days, with a thicker "A" pillar that makes it harder to see outside (though I've seen plenty that are worse than this one!).
The 2014 Corolla has a longer wheelbase than before, and its schnozzola displays sharper, more pronounced details above the Avalon-like trapezoidal grill.
Inside, you get all the tech you need, thanks to stuff like automatic headlights and Bluetooth for audio and phones. The dashboard is a tad plain and not particularly rich-looking, but it does (at least in the S) offer an LCD touch screen that works well.  
That longer wheelbase means Corolla's interior offers more space for those in the rear seat now. Toyota also created more leg room back there by reducing the thickness of the front seat's back; the floor has also been flattened thanks to a re-routed exhaust and other tweaks.  
Corolla are available with two 1.8 liter four cylinder engines, the base one being offered on the CE, LE, and S trims. All but the LE ECO CVT's version claim 132 horses @ 6,000 rpm and 128 lb.-ft. of torque @ 4,400 rpm. The LE ECO CVT "sports" 140 horses and 126 torquey-like thingies. These are reasonable and reasonably competitive specifications, though not spectacular. On the other hand, the car does a lot with the 132 horses Toyota's sample put out.
Standard on the LE, S and ECO models are a back up camera and if you opt for the Technology Package (Corolla LE or S), you get stuff like a power tilt/slide moonroof, automatic air conditioning, satellite radio (subscription required), navigation, push button start/stop, and more. Really, while you can find cars that have more stuff in them, there isn't a lot that you need that isn't available here.
Brakes are discs up front and you can upgrade to rear discs if you want. The independent suspension is about what you'd expect: tipping the sport/comfort on the comfort side, but not excessively so. Sixteen inch wheels are standard, but you can up that to 17 inchers. You can also add options such as power adjustment for the driver's seat.
Alas, I did the new Corolla a disservice after my first, all-too-brief encounter with it at the Canadian Car of the Year TestFest last October. Then, after about a half hour behind the wheel, I proclaimed the new Corolla the biggest disappointment among the dozens of cars I drove there. That particular example was the newly-CVT-equipped version (CVT's rub me the wrong way right off the bat), and I had the bad timing to drive it shortly after my seat time in the fantastic new Mazda3, the Sport version of which I named TechnoFile's 2014 Car of the Year. Despite the fact that they both competed in the same category, there's no comparing the two other than market segment.
But after a week in the S version of the Corolla - even though it was infected by a CVT - I've changed my mind and I now think this is a terrific new Corolla, a good continuation of the line. I certainly wouldn't buy the CVT version (fortunately, there are other transmission choices offered) but even the darn CVT turned out to be surprisingly interesting once I spent some quality time with it.
In the "normal" drive mode, the CVT is pretty much what you'd expect: noisy and boring. But if you put the Corolla into Sport mode, via the button on the center console, the transmission actually mimics the characteristics of a conventional automatic, with honest to goodness "shifts" (they sure feel like it, anyway) through seven virtual gears - and with a fun to drive factor reminiscent of my earlier Corollas even without their stick shifts! Heck, I might even choose this transmission over the regular four speed automatic that's also offered (though I haven't driven it), thereby risking a lightning strike.
On the other hand, why can't Toyota just offer a six speed automatic like is becoming common in the industry - including some of the Corolla's competition?
But still, wow! This is a Corolla that's surprisingly interesting once you unshackle it and let it drive like it can. And if that isn't what you want in a Corolla, leave it in normal mode, where its "eco" setting can help ensure you don't enjoy yourself in the slightest.
Toyota Canada's sample Corolla S even had paddle shifters! Paddles in a Corolla (following Toyota's addition of them to the current Camry and Avalon generations) is one indication that the world's largest car maker is, indeed, interested in making interesting cars again. And they work well in the Corolla, making the CVT (which Toyota says has "intelligent shift") seem almost like an honest to goodness auto/manual. Sure, it's no PDK, but what is?
It actually made me miss my old Corollas!
All in all, this new Corolla is a terrific car, and that's something I didn't expect to say considering my first kick at Toyota's classic little can. But the thing won me over!  
The 2014 Toyota Corolla starts at $18,300 for the base CE trim level. The S starts at $19,215, while the ECO Premium CVT starts at $22,250.
That's a lot of car for a not-unreasonable price.
Copyright 2014 Jim Bray
TechnoFile.com