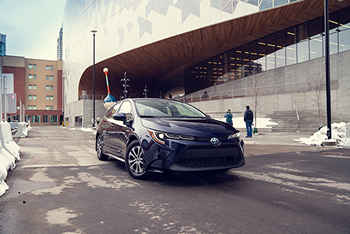 Toyota's all-new Corolla goes hybrid for the first time
By Jim Bray
August 23, 2019
One of the most classic Japanese sedans is back with a new set of clothes, and it's not only a darn fine car, it's also quite comely, eschewing as it does some of the recent Japanese design trends that makes many of that nation's cars as full of ugly creases and weird-looking stuff as possible.
And if you want to save some gas over what you can already expect to spend on fuel with a compact economy car, you can even get a hybrid version for 2020.
Click on the image to open a slideshow.
If you've read the title to this piece you know I'm talking about the new Toyota Corolla, the new hybrid version of which I got to spend a week with recently. And it's a fine car, a handsome car, a car that's undoubtedly cheap to run and that will possible outlive you.
Full disclosure: my wife and I have owned two Corollas in the past, a 1985 and a 1992 (both bought used), and both were fine cars. So, I'm disposed to like Corollas anyway. But as has happened so often in recent years, I was deathly afraid I'd be writing a "more in sadness than in anger-type of piece" bemoaning that a car I've loved has been screwed up by overzealous designers, made particularly annoying via obtrusive nannies, or had important interface items pried off the centre stack (such as volume and tuning knobs for the audio system).
But no! This new Corolla is terrific, and I'm so glad Toyota didn't ruin it like they did the Camry and the new Supra (styling), the Prius (styling and "knoblessness") and some of their Lexi (particularly the RX and IS, thanks to bizarre styling and stuff like trackpad interfaces).
What we have, then, is an exquisite new Corolla that's just what it should be, yet it's also kind of luxurious (at least in the hybrid trim level) and pretty decent to drive (damn CVT transmission notwithstanding).
In short, it's just what it should be. And if you want to opt for the hybrid that's all-new for 2020, you can get the economy of a Prius in a nicer car for less money. How's that for a win-win?
In fact, I liked the Corolla hybrid better than the Prius I'd driven about a week before. The cars are in the same basic market niche, but the Corolla (as tested) was about five grand less than the Prius (though that Prius offered an all-wheel drive option not available on the front drive-only Corolla) and though I drove both of them as if I were trying to escape a police chase I managed to score about 4.5 litres per 100 kilometres, which I would rate as remarkable considering the lead footed driver.
But the new Corolla isn't just nicer than the Prius: it's appreciably better than the outgoing Corolla, too. It actually looks kind of like a little Lexus (without the awful "spindle grille), is a more dynamic vehicle to drive than the previous version, and is comfortable and attractive inside.
The car now rides on Toyota's New Global Architecture (TNGA) platform and though its wheelbase is the same length as before, the new architecture should increase the car's stiffness, which should also help its handling (and I believe it does). And the rear suspension is now multilink instead of basically having a wheel on each end of an I-beam, which also helps make the little Corolla handle better.
Toyota says the Corolla's new hybrid system blends a 1.8-litre four-cylinder gas engine with two motor/generators "through an electronically controlled planetary-type continuously variable transmission (CVT) transaxle". That CVT is typically noisy and feels as if you're stretching an elastic band when you stomp on the gas, but it's no worse than most others. In fact, I think the rubber band feel was less obtrusive on this car than in some other CVT-afflicted vehicles I've driven. Toyota says the hybrid stuff combines to create a system output of 121 horsepower, which won't set the world on fire – but then again, this is a Corolla.
Here's some more of Toyota's info about the hybrid stuff: "the nickel-metal hydride (Ni-MH) battery pack employs a newly developed technology called Hyper-Prime Nickel to boost battery performance in a smaller and lighter package. The battery's smaller size and flatter shape allow it to be packaged under the rear seat, rather than taking up trunk space, and also allowing a 60/40 split folding rear seatback to expand cargo capacity. The battery location also contributes to the vehicle's lower centre of gravity, a boon to agility."
It seems to work.
As with the Prius and other hybrids, the Corolla version has EV mode, which Toyota says "allows the vehicle to be operated as a pure electric vehicle for short distances, depending upon certain conditions, such as battery charge level." In practice, as with most hybrids, it's pretty useless because you have to drive it so gently you might be better served walking if you're trying to maintain a schedule.  
You also get Normal and Eco drive modes, as well as a "power" mode that almost makes the Corolla feel like a sports sedan. Almost. Well, nearly almost…. It's still a Corolla – and there's nothing wrong with that.
The hybrid Corolla comes with 15-inch aluminum alloy wheels wearing low-rolling resistance tires. "Lesser" trim levels still get 15-inch wheels, but they're steel, with "hubcaps."
If you really want to drive your Corolla, Toyota still makes a manual transmission available (and it rev matches!) – though not on the hybrid. And, though also not available on the hybrid, you can opt for a two-litre engine that cranks out a healthy (for a Corolla) 169 horses, and there's even a sport-tuned suspension available. On a Corolla!
Inside that attractive new exterior is a cabin that's almost Mazda3-level in quality and design – and in some ways is better. Seats are comfortable and supportive, and Toyota Canada's sample hybrid's (which also included the $2000 Premium Package) are leather, with the driver's offering power adjustment. You also get heated rear seats with that package, as well as wireless charging and a leather-wrapped and heated steering wheel.
The instrument panel includes a seven-inch Multi-Information Display that shows the speedometer and the hybrid system indicator/real-time battery charge status indicator, and more – including a tachometer if you configure it that way.
Multimedia magic starts with the standard Entune 3.0 audio system with its eight-inch touchscreen display, six speakers, Apple CarPlay compatibility (no Android Auto, though) and various other connectivity stuff.
Naturally, all 2020 Corollas come standard with Toyota's Safety Sense 2.0 integrated active safety stuff. It includes a Pre-Collision System that automatically activates the brakes to help you prevent mowing down those oblivious oafs who walk out in front of you. The suite also includes Dynamic Radar Cruise Control,
Lane Departure Alert with Steering Assist, Lane Tracing Assist that can help you keep the vehicle in its lane (or you could just pay attention to what you're doing). Wrapping up the suite is Automatic High Beam headlights, which can be handy. 
The new Corolla starts at $18,990, according to Toyota Canada's website. The hybrids start at $24,790, and Toyota's sample's optional Premium Package brought that up to $26,790. That's about a grand less than the base Prius ($27,990) and for that money you get – in my never humble opinion – a car that's nicer than the Prius in every way other than proclaiming that it's a hybrid via its exterior styling and thereby triggering "smug emissions" in some owners who purchase them for just such a purpose.
And it doesn't beep inside when you back up, unlike the Prius!
I don't think it's as fun as a Mazda3 or VW Jetta, but it's easily the best and the most modern Corolla I've driven. Were I shopping in this niche I'd now include the Corolla on the test drive list (the manual!), whereas before this new generation came along, I wouldn't have done that despite my own happy history with early incarnations of the sedan.
Well, done, Toyota!
Copyright 2019 Jim Bray
TechnoFile.com
Jim Bray is a member of the Automobile Journalists Association of Canada. His columns are available through the TechnoFile Syndicate.