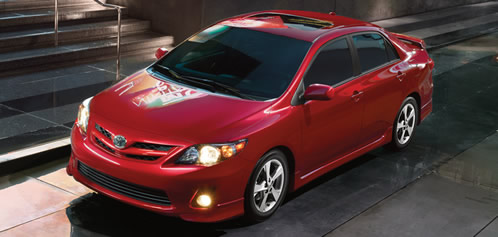 Toyota Corolla S: safe, secure, bulletproof, bland
By Jim Bray
November 16, 2012
The 2013 Toyota Corolla is pretty much like the 2012, the 2011, and the 2010, but with a little more stuff.
You get the picture. This isn't a new generation of Corolla, it's more like the last hurrah of the current generation – and there's not a lot that's wrong with that, depending on what you're looking for and as long as you don't check out the competition too closely.
Being a Corolla means that if you're looking for a particularly innovative, sporty, or otherwise involving ride, you're probably looking at the wrong car. But if you're looking for a "little car that could," one that runs when you want it to, won't break the bank at the gas pump, and will probably keep going until the sun goes nova (okay, that may be a bit of an exaggeration), then you should probably put this one on your list of cars to test drive.
Toyota's Corolla has been around forever and is, in fact, one of the cars that first put Toyota on the map – along with the Corona that kind of morphed into the Camry, and of course its pickup trucks and Land Cruisers.  
I've owned two Corollas – a 1986 and a 1992 model – and both of them were terrific little cars that never let us down and lasted us as long as we needed them to. We even passed the '92 model on to one of our sons several years ago and he still talks to us.
As perhaps a bit of even fuller disclosure, I sold Toyota Corollas proudly during the 1978-79 model years, when they were still rear wheel drive. It was a tough sell then, because the soaring Japanese Yen made them rather pricey compared to the era's domestic junk that was, if nothing else, more affordable. But the Corolla sold anyway, because it was a good car.
A lot has changed since then. Corolla, like most cars of the era, went front wheel drive about 1984, adopting the transversely-mounted engine/FWD configuration pioneered, if memory serves, by the Austin Mini even longer ago. That may have bothered some rear wheel drive purists, but Toyota hasn't looked back and the Corolla has been a top seller almost every year.
The competition never sleeps, however, and they're breathing down Corolla's neck – and some have even leapfrogged it. Despite that, however, the Corolla is still a darn good car. But the current generation is long in the tooth and ready for replacement, which I understand will be happening before long.
Is it still the best in the class? I'm not sure. If I were looking in this class, I'd be hard pressed not to lean toward the Hyunda Elantra, Kia Forte or VW Jetta, because they're newer designs that offer such things as six speed automatic transmissions (the Corolla's is only a four speed). That doesn't mean fans of the tried and true will go wrong with the Corolla, however.
My test car was a bright red Corolla S provided by Toyota Canada and it was pretty loaded.
The Corolla's 1.8 liter four cylinder engine features a double overhead cam, direct injection, 16 valve, dual variable valve timing with intelligence (VVT-i), electronic throttle control system with intelligence (ETCS-i), and a stainless steel exhaust system. That high tech stuff didn't exist (or, not affordably, anyway) when Corollas were first spawned and it lets the car benefit from 132 horsepower at 6,000 rpm and 128 lb.-ft. of torque at 4,400 rpm. That's competitive, if not breathtaking.
The oomph doesn't feel as impressive through that four speed automatic as it undoubtedly would with the standard five speed manual transmission, however. Both of the Corollas we owned were manual and, even though they had appreciably fewer horses and torqueish thingies than the current generation, they were a lot more interesting to drive. So opt for the stick if you want a dash of derring do in your economy car drive.
I assume the "S" in the Corolla S stands for "sport," because this one has what appears to be aerodynamic cladding and stuff stuck onto it, and a little wing on the trunk, stuff that can often mean "go faster" if it also meant power and suspension upgrades and the like. That hasn't happened here, but it does look kind of cool. For a Corolla.
Corolla's suspension leans, no pun intended, to the comfort side of the ledger, which is to be expected. It's independent up front, with MacPherson struts, coil springs and a stabilizer bar – while the rear is a torsion beam type, with coil springs and a stabilizer bar. 
Brakes are ventilated discs up front, with drums in the rear, and with ABS, Brake Assist and Electronic Brake Force Distribution. The car also features stability control and traction control, more stuff we wouldn't have even thought possible back when we bought our first Corolla.
The wheels of the Corolla S (and the LE trim level) are 16 inchers (the base car gets 15 inchers) and while the electric power steering works well, it's pretty unremarkable. Let's face it, this isn't a car designed for tearing through twisty bits!
Corollas also feature power adjustable, heated and foldable outside mirrors, intermittent or variable intermittent (depending on the trim level) wipers, and halogen headlights.  
Inside, the Corolla S is appointed quite nicely. It features sporty-ish seats (manually adjustable), a split/fold rear bench, and the moonroof package of my sample also included a surprising amount of other stuff, for example a leather-wrapped steering wheel that includes audio and Bluetooth phone controls. The car also streams music via Bluetooth to its typically mild Toyota stereo (which in the S also features auxiliary and USB inputs, and a touch screen).
My sample also had heated seats up front, keyless, push button start/stop, power windows (with driver's side auto down) and cruise control.
It didn't have a navigation system, but you can get one if you opt for the Technology & Leather Package.
The Toyota Corolla, according to Toyota Canada's website, starts at $16,450. The Corolla S with the four speed automatic transmission starts at $21,650, with the moonroof package listing at $23,305 and the technology and leather package priced at $26,155.
It's definitely time the Corolla got a major update, but if you need a dependable car right now, this one could still fit the bill easily.
Copyright 2012 Jim Bray
TechnoFile.com