Reborn 2009 Toyota Corolla Still Screams "Value"
By Jim Bray
March 26, 2008
It has an all-new body, more room inside, and many other upgrades, but at heart it's still a Toyota Corolla. And that should please millions of people.
The tenth generation of Toyota's longest-lived vehicle has been blessed, or at least designed, with a leaner, more muscular shape that still manages to look like a Corolla, as well as a set of more powerful, yet still economical, four cylinder engines.
This journeyman people carrier also comes with an all new chassis and suspension designed to make the Corolla even more attractive to its customers and competitive against its challengers.
But it hasn't lost its "Corolla-ness" at all. I know the Corolla well. My family has owned Corollas since 1984 and a 1992 model still gets my son around, if not in style then at least with an efficiency and economy that comes in handy in a big city during times of high gas prices.
I'm not sure it's a car I'd buy today, since I lean toward vehicles that are more fun and, of the cars in this class that I've driven, the Mazda3 turns my crank the most. But that's no aspersion on the venerable Corolla, which continues to be a great little car that will undoubtedly prove pleasant and (figuratively if not virtually) bulletproof for many years.
It's kind of like the difference between a nice comfy pair of jeans and a Speedo.
Undoubtedly, this has helped contribute to Toyota selling more than 30 million Corollas worldwide since its introduction in the 1960's.
The new Corolla is available in a variety of models, from the "garden variety" Corolla (a.k.a. the Corolla CE in Canada), to the Corolla S, XRS, LE and, in U.S. livery only, the XLE. My tester was the base unit with a few options.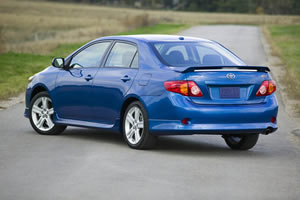 Corollas can be had with two engines, which must make for an awfully crowded engine bay! The standard 1.8 liter four banger oozes 132 horses (at 6000 rpm) and 128 lb-ft of torque (at 4000 rpm) onto the pavement. I imagine the 2.4 liter four, which generates up to 158 horses and 162 lb-ft of torque, would be more interesting for those with feet of lead, but my test car had the base engine, and I'm forced to admit it's a more than adequate power plant for the little bugger.
To put these power figures into perspective in an age when anything less than 300 horses seems anemic, I used to own a 1983 Toyota Supra that had a whopping, for the time, 150 horses. It was a fast car. Today's Corolla may not be fast like the Supra was but, for a car that pretends to be nothing more than basic transportation, it certainly isn't lacking in oomph.
You can also choose from three transmissions: a five speed stick, a four speed automatic and a five speed auto with sequential "multi-mode" shifter. My Corolla was saddled with the optional four speed "slushbox" and it works fine as long as you don't expect to go racing.
An upgraded suspension (MacPherson struts up front and a torsion beam buttock, with stabilizer bars at both ends) and electric rack and pinion power steering makes the Corolla handle a little more spryly than before.
Brakes are power-assisted discs up front with drums in the rear (up market models have four wheel discs), with ABS and electronic brake force distribution and brake assist to sweeten the stopping. Pedal feel is just right, not too mushy and not too grabby; Goldilocks will be happy.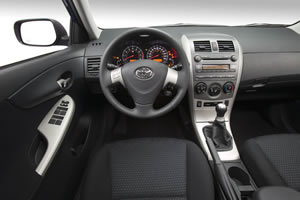 Inside, the cabin still looks very basic, but there's more headroom and the flat rear floor will make the unfortunate soul stuck in the middle back there a little less quarrelsome than in vehicles that still have a "transmission tunnel".
The other four occupants will be reasonably comfortable in the Corolla. The front bucket seats (with three way driver and two way passenger adjustments) have active headrests with whiplash protection (how kinky!) and the rather erect but not excessively so rear seat splits 60/40 and folds down
I was pleased to find the standard equipment list now includes a tilt/telescope steering wheel and power outside mirrors. My test car's mirrors were heated as well.
There's plenty of storage space, including an upper and lower glove box (though the upper one's pretty small), driver's coin case compartment, front and rear cup holders, map pockets and the center stack includes an auxiliary input jack for MP3 players.
The sound system features AM/FM/CD with MP3/WMA capability and title display, and it's pre-wired for satellite radio. Alas, it's anemic, muddy and bass heavy at the same time. And the rear speakers hang down into the trunk, not so far as to be real obstacles, but far enough that you should be careful when putting big things into the otherwise quite spacious trunk.
The climate control system features rear seat heater ducts and side window defoggers, and my test unit also had air conditioning.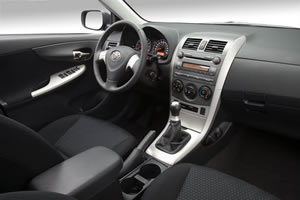 My sample car also came with keyless entry, including the ability to open the trunk remotely, which is really handy when your arms are full of grocery bags as long as you remember to have the fob in your hand as you approach the car. It also had power windows, with driver's side auto down, which made me feel a lot less cranky.
Cruise control is available.
The instrument panel is simple and straightforward, though the only clock is part of the multi-function digital display mounted on the tachometer. I didn't mind this, but passengers griped about it on more than one occasion.
The "B" pillar is too close to the left shoulder for my taste. It didn't bother me for lane changes, but it got in the way of my view when looking around in parking lots.
The windshield wipers have an intermittent setting and they do a good job of clearing the glass; the washers spray a nice wide area as well.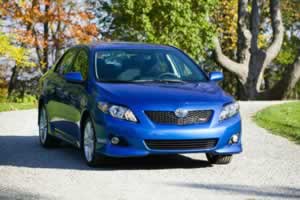 Toyota hasn't scrimped on the safety aspects of the '09 Corolla. Besides the new, impact-absorbing structure, all models come standard with six air bags, including dual-stage driver and passenger air bags and front and rear side/curtain air bags. Vehicle Stability Control (VSC) and Traction Control are available, and all passenger positions get three-point seat belts. The front passengers get seatbelt pretensioners and force limiters and, a feature I love (since I'm short), adjustable "B" pillar shoulder belt anchors.
Toyota says the base 1.8 liter engine with the five speed manual stick is EPA rated at 26/35 (City/Highway) MPG so, between that and Toyota's reputation for durability, it should be reasonably cheap to live with.
Corolla isn't a car to stir the hearts of the boy racer wannabes, but it's a fine vehicle with a long history of providing excellent service to millions of owners. The new version builds on that foundation to offer a small, economical sedan that should continue, and perhaps enhance, that reputation.
The most basic configurations of the 2009 Toyota Corolla start at $15,250 U.S./ $14,565 Canadian.
Copyright 2008 Jim Bray