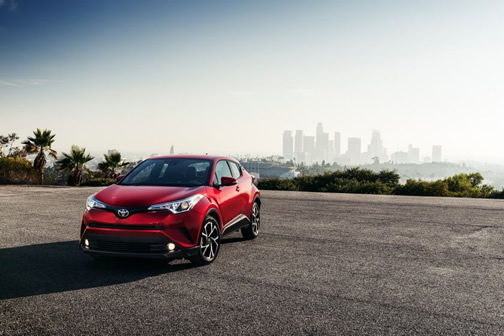 Toyota's 2018 C-HR plows smaller fields with a new crossover
By Jim Bray
June 1, 2017
Think of it as a Juke that's less a joke, or as a little sibling to the RAV4 - but however you choose to gaze upon its little fullness, Toyota's latest SUV/Crossover is definitely an interesting little vehicle.
Whether or not it's blazing a new sales trail for Toyota will be known somewhere down the, er, road, but in the meantime, this is definitely - well, reasonably - another compelling vehicle from the land of the rising sun.
Just don't sit in the back!
Toyota, not surprisingly, hypes the C-HR as something really new and exciting (and they'd be pretty lousy marketers to do otherwise!). Here's how their PR stuff describes it: "When a deputy chief engineer who is passionate about motorsports is put in charge of turning a high-style concept model into a road-ready compact crossover, great things happen. Great things like the 2018 Toyota C-HR – an all-new, coupe-inspired crossover hitting the streets across Canada this spring."
And hit them, it did! I got to spend a week and a bit behind the wheel (and in other seats) of a premium painted ($255 extra, thank you) C-HR, the first one I and - judging from the reaction I got - many others had ever seen in the "flesh" since its introduction on May 1 of this year. And while I came away a tad underwhelmed with its performance (hard to love a vehicle with a CVT even if, like this one, it can pretend to be a seven speed automatic), I have a feeling we'll be seeing a lot more of these things around before too long.
Here's some more Toyotaspeak: "When Toyota unveiled the C-HR concept model in 2015, it broke the conventional language of compact crossover design – and the production model remains true to that concept's avant-garde physique, its modern yet comfortable cabin, and its bold, outgoing character," said Cyril Dimitris, Vice President, Toyota Canada Inc. "Deputy chief engineer Hiro Koba and his team also built in a ton of driving fun, with a punchy engine and exceptional responsiveness and handling that makes every trip in the C-HR a springboard for adventure."
Yeah, well there's still that Continuously Variable Transmission thing. To be fair, however, this one doesn't whine like a banshee as much as others I've experienced and even though it feels mostly like a CVT to drive, it does offer more "manual" control (via a manual mode, though it's one that doesn't come with paddle shifters) that makes it at least a little more interesting.
Fortunately, there's more stuff on the C-HR to interest those who enjoy driving.
Toyota says the new CVT features a "world-first coaxial two-port oil pump system that modifies oil pressure in response to various driving conditions." Well, any port in a storm, it's said, so I guess the C-HR doubles the potential safe harbours. There's a sport mode, too, that you can access from the tweaks you can make to the vehicle's settings and while it does seem to tighten things up a tad, you'll never mistake a Toyota C-HR for a Mazda CX-3 when it comes to driving dynamics. Of course you could say that for nearly every Toyota compared to nearly every Mazda. "Zoom-Zoom" ain't just hype!
The C-HR is designed around the theme of "distinctive diamond," which combines "style and strength." The exterior has a coupe-like and quite athletic-looking upper body which, as mentioned earlier, kind of reminds me of a Nissan Juke on steroids except that, where the Juke looks like a legless frog on a skateboard, the C-HR is actually a pretty nifty looking ride. Its rear end is aggressively cute as well, and features a lip spoiler with a supposedly functional rear wing. It's quite cool.
The C-HR uses Toyota's New Global Architecture (TNGA) - which the company says gives it a low centre of gravity, high strength and body rigidity, and low weight. These factors should contribute to great handling, and despite my CVT angst I have to admit I enjoyed zipping around town in the C-HR.
Helping all this is a newly-developed MacPherson strut front suspension system with an all-new double-wishbone bum that includes what Toyota says is the company's first use of shock absorbers with urethane upper supports "to improve passenger comfort, cabin quietness and vehicle agility."
Toyota stresses the C-HR as being an "urban-savvy vehicle," which I take means you won't want it on that trip to Antarctica, and during my time with it the "car" acquitted itself very nicely in our savvy urban environs. It also has an impressively tight turning circle. 
C-HR's get their motivation from a two litre four cylinder engine that generates 144 peak horsepower and 139 pound-feet of torque. Toyota says the engine is new to North America and comes with the company's latest engine technologies, including Valvematic continuously variable valve timing. Toyota says the C-HR is rated a city/highway/combined fuel efficiency rating of 8.7 / 7.5 / 8.2 litres per /100km. As usual, I didn't approach that whenever I forgot to leave my lead boots home (hat tip to the late John Entwistle), which was most of the time, but I was still impressed with how little I spent on gas.
CH-R's come standard with 17 inch alloy wheels – though Toyota Canada's sample's optional Premium Package ($1,600) upped the diameter to 18 inches. The package also added a Blind Spot Monitor System with Rear Cross Traffic Alert, push button start, smart key system, power folding mirrors and even puddle lamps so your local puddles don't have to lie there in darkness. How thoughtful is that?
Inside, there's a modern cabin that's quite roomy up front, with decent quality of materials and everything you really need to find in a modern vehicle. Rear seat passengers, once they find and then get past the odd rear door handles, will find themselves in a tight spot with limited outside view. Best leave that area for small kids or people you don't like very much. My wife wanted me to sit back there all the time…. 
The dashboard is angled toward the driver and though I couldn't get the seat quite as low as I like, the driving position is fine overall. Seats are comfortable (and heated up front), and if you want to put that rear one to good use, it splits/folds 60/40 and, thanks to a low lift over in the hatch, it's easy to slide your cargo into it.
There's no rear view camera in the centre stack LCD, but Toyota's solution - while not unique - is quite cool: they've put the camera's output right onto the driver's side of the rear view mirror! The display that results is quite small, but it's also right where you look when you check your rear view mirror (and it only shows up when you're in reverse, so it isn't obtrusive when you drive).
Toyota Canada says the 2018 Toyota C-HR comes in only one "generously equipped trim level" - the XLE Starting MSRP: $24,690 - which as noted above can be enhanced with the Premium Package. The base model is still equipped quite well, though, with such goodies as a rather anemic (but okay, sonically) Display Audio system with a seven inch screen. It also has Bluetooth connectivity for phones and tunes (etc.), voice recognition, the Gracenote music database, and steering wheel-mounted audio controls.
Other standard features include dual-zone automatic climate control, a 4.2 inch full colour multi information display on the instrument panel, illuminated vanity mirrors, keyless entry, tilting/telescoping steering column, LED daytime running lamps, a leather-wrapped steering wheel, leather and metal-trimmed shift lever, tonneau cover, and more.
C-HR's come with plenty of safety features as standard, including a Pre-Collisions System with pedestrian detection function, forward collision warning and automatic emergency braking. You also get lane departure alert with steering assist (shut offable, fortunately), automatic high beams and adaptive cruise control.
And of course you also get Toyota's six other active technologies they call the Toyota Star Safety System, including 10 standard airbags, hill-start assist control, the backup camera, tire pressure monitoring system, and more.
Personally, I think I'd rather have a RAV4 but I can see why people looking for something smaller, a little less "generic" and a little more "interesting" would opt for the C-HR. It drives well, it's efficient and, since it's a Toyota, it's probably bulletproof.
Copyright 2017 Jim Bray
TechnoFile.com