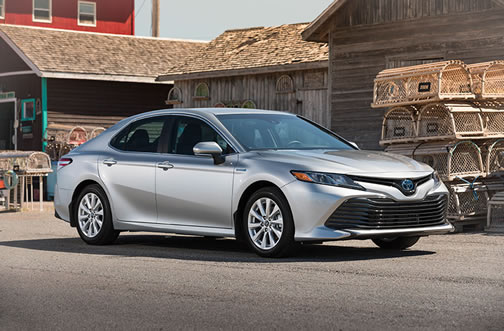 All-new Camry aims to please everyone - and it just may!
By Jim Bray
December 15, 2017
Toyota's all-new 2018 Camry is quite a revelation. It's not only a great mainstream "bread and butter" car, it's also a car an enthusiastic driver could - well, if not exactly "lust after" then "learn to love and not be ashamed."
Sure, it'll never go head to head with such sporty sedans as the Audi A6 or BMW 5 series, but those are also higher end vehicles and the Camry doesn't pretend to be in their league (that's why Toyota has Lexus). In its own market niche it faces such worthy competitors as the all-new Honda Accord (which is pretty tough competition on its own), Nissan's Maxima, the Mazda 6, Volkswagen Passat, Hyundai Sonata and Kia Optima, and others such as the domestic competitors from the once-Big Three (i.e. Ford Fusion, etc.).
Clearly, the Camry has its work cut out for it. On the upside, the car has sold well traditionally anyway, so all they really have to do is not screw up (and/or not lose ground to the competition) and they should be fine.
To Toyota's credit, they also took some risks with this new generation Camry. The car has traditionally been considered boring by some - I've called it "vanilla" in the past, stating that I'd rather have "butterscotch." But I also remember writing in my review of the last generation Camry that it was "an extraordinary ordinary car," calling it "a fabulously designed and rendered sedan that gives a driver everything needed and most of what could be wanted - in an unassuming but handsome package that's as state-of-the-art as most people could want."
I really liked that Camry. Some versions were even pretty decent to drive, and I didn't think there was any need to reinvent the wheel with the new generation. Naturally, Toyota - like virtually every other carmaker for whom I've had unsolicited (and perhaps unwelcome) advice - ignored me completely and came up with this clean sheet redesign.
According (sorry, no Honda joke there) to Cyril Dimitris, Vice President, Toyota Canada Inc., "The eighth-generation Camry is completely transformed around the Toyota New Global Architecture – resulting in sleeker, sportier styling, a lower centre of gravity for more dynamic handling, and improved fuel efficiency. We've then added an impressive cabin, with premium materials, features, and technologies – including Entune connected technology – to create a truly outstanding sedan."
It seems to have worked. I've read several reviews of the new Camry from folks who got to try them before I did and they seem united in praising its nice new suit of clothes, nice new suite of features, and nicely, newly sweetened driving characteristics. Then I looked at the interior and exterior pictures and became afraid, very afraid.

Why? Well, the new Camry, at least in its "S" configurations, has a puckered grille that looks like the car just sucked on a lemon (L models just look angry); they also feature creases on the hood that make it look as if they peeled the forehead off of a Klingon and, just to ensure the rear end wasn't missed, the kind of "Bangle butt" that so ruined BMW's a couple of generations ago. And inside there's this artsy-fartsy centre stack with a big cutaway that'll prevent passengers from accessing stuff on the driver's side.
Then I saw it in person, and drove it. Yeah, it puckers, yeah it's Klingonesque, its butt definitely Bangles and yeah, that cutaway is really there - but you know what? It's not bad in person and none of my pre-quibbles really matter. In fact, if you opt for one of the sportier Camrys you'll even get a little bum spoiler that actually make Bangle's butt look kind of cute. And sporty!
Knock me over with a feather.
Spoiler: I've never actually seen Mr. Bangle's butt.
Okay, I'm still not a fan of how that cutaway in the centre stack looks, but at least it makes sense - and it works. It still looks a tad artsy fartsy, but it actually puts the power/phone/connectivity stuff out of the way, in a little kind of bin, yet it's accessible easily by both the driver and the front seat passenger - the best of all worlds.
I've been fortunate enough to drive three new Camry models in relatively rapid succession, a V6, a hybrid, and a four cylinder Sport version. All three have things to recommend (fuel economy, mainly, in the hybrid) and all left me itching to drive the V6 sport version. Which, of course, hasn't happened.
First up, I got to sample the V6 in the Camry XLE. Toyota Canada's sample had no options and carried a MSRP of $42, 532.50. It's a darn nice car and I love the silky V6 as compared to the rather buzzy four banger that was in the sample SE model that was my third kick at the Camry can.
The $42,832.50 XLE Hybrid was also very nice if you don't mind CVT transmissions (otherwise it's pretty much a regular four cylinder Camry, with better fuel mileage). But the "S" model is just a bit more fun to drive, and it even comes with paddle shifters for the eight speed automatic that, while they do shift in a rather leisurely manner, add some control and "interest" to the driving process.
The four cylinder engine is a new one, a 2.5 litre unit Toyota says puts out 203 horsepower and 184 lb.-ft. of torque at 5,000 rpm. If you opt for the XSE models, you get an extra three horses and two lb.-ft.. The four has reasonable acceleration and in the SE trim level didn't really have me wanting a lot more oomph - just more quiet.  
The V6 is a 3.5 litre unit Toyota says puts out 301 hp @ 6600 rpm and 267 lb.-ft. of torque at 4,700 rpm. I enjoyed the extra oomph and smoothness of the V6 XLE, which is typical of Toyota's 3.5 litre V6's.  
Toyota says the hybrid is good for up to 52 mpg, which is pretty remarkable. Its power comes from the base 2.5 litre Atkinson-cycle four cylinder engine with the electric stuff and CVT attached. Get up and go seems a bit better than with the four banger alone, though the CVT saps any extra driving enjoyment you might get from that increase.
Part of the new Camry's increased driving pleasure comes from the double wishbone suspension in its rear. Combined with the independent, strut-type suspension up front, the Camry shows little wafting tendencies and is nicely tight without sacrificing comfort. Opt for an S model (the L designations are more "classic Camry" versions) and the difference is even more noticeable because their suspensions are "sport tuned." You won't forget it's a Camry, but you might not mind that it's a Camry.
The eight speed transmission you get in non-hybrids is a good one. Shifts are smooth and quick and I noticed in the sport model that you can pretty well redline the engine before it'll shift.  Yep, you can redline a Camry!
It isn't all steps forward with the new Camry, alas. The new infotainment system has gone back to the era of "lawyer's screens" and it's just so 2000's. Most of today's vehicles I've driven that still insist on these warning screens at least turn them off after a few moments. Not the Camry. You can ignore the actual lawyers' screen but it's followed by a "feature announcement" one that you have to physically click past before you can access the features it announces. What's with that?
I was also appalled to note that I couldn't shut off the lane departure warning completely - it wouldn't fight me if I brazenly crossed a painted line (which sometimes happens when I'm apexing with wild abandon - yep, even in a Camry) but it would still express its disgust. There may be a way to completely shut these things off via the customization menus, but I didn't find it.
The new LCD interface is also a step backwards. The last generation's was a model of simplicity, with big physical buttons surrounding it that you could use easily while wearing gloves. Those big buttons are now little chrome highlights - though they work fine - while the LCD itself is busy and the virtual buttons are small and require more concentration from the driver than they should. There's plenty of connectivity and app stuff, though.
I also had more difficulty pairing my cell phone to the new Camry than I've had with any other Toyota I can remember. I don't know how much of this is the cars' and how much is my phone's (I'm nearly ready to throw my phone at a wall, for other reasons as well) but it was very un-Toyota-like (I usually have issues like this with Hondas, though the new Accord was great in this regard).
One thing you can't get with a Camry is all wheel drive; it's strictly a front driver. Like most of its competition…
All this said, the Camry is a wonderful vehicle. It's comfortable, with more luxurious materials than one might expect (it's quite Mazda-like in this regard), it features all the equipment one could want these days, and even offers a good driving experience.
It's priced competitively, too. The 2018 Camry starts at $26,390, which is $100 less than the new Accord. The Mazda 6 starts at $24,695, the Hyundai Sonata has a kick off price of $24,799 and the VW Passat starts at $26,195. These are all base prices culled from the respective companies' Canadian websites, so blame them if I'm wrong.
However you slice it, the new Toyota Camry is a great car. It's pleasant, comfortable, attractive, surprisingly luxurious, and it drives very well. And, being a Toyota, it'll probably run forever.
Methinks the Japanese company has another winner on their hands.
Copyright 2017 Jim Bray
TechnoFile.com