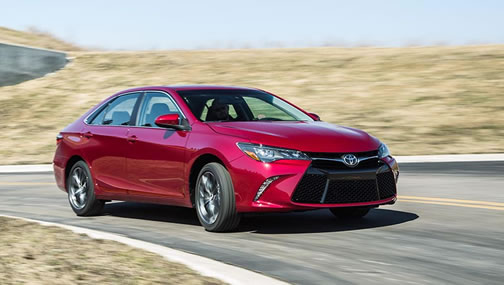 Toyota gives Camry a refresh that gives one pause
By Jim Bray
March 13, 2015
Talk about a mid-cycle refresh! The 2015 Toyota Camry looks and very nearly feels like a brand new generation, even though a new generation is still over the horizon.
And you know what? It's great!
(Click here or on the image to open a slideshow)
There are good reasons the Camry sells so well, including the fact that it's a Toyota – which means it's built well – and it's a car that people who aren't car nuts can buy and then pretty well forget about other than regular maintenance. As a bit of a car nut, however, I've often referred to the Camry as being vanilla – highly popular and used many places, but not exactly exciting to a fan of butterscotch.
Then the folks at Toyota sat down and dreamed up this new one, which still has all the stuff Camry owners love but which is also – and this is the surprising part – quite interesting to drive.
Toyota says this refreshing actually consists of a "bumper-to-bumper redesign" and says its "striking new design, new model grades, and more dynamic handling" make it Toyota's best Camry yet. And though I never drove the really early Camrys, this new version is definitely the best and most stimulating bland family sedan they've made in recent memory.
According to Larry Hutchison, Vice President at Toyota Canada Inc., "For 2015, we stripped down Camry to the chassis, and then re-built it from the ground up. The result is more style, more comfort and more driving fun." Hutchison also talked about the new trim levels, saying that "with a new, sportier Camry XSE and XSE V6, plus the permanent addition of the sporty and efficient Camry Hybrid SE to the line-up, we're delivering more of what Canadians asked for. This really is a new Camry, from the new Toyota."
It's hard to argue the fact after spending two separate weeks with the new Camry – one with the hybrid SE and one with the new XSE trim level. I'll concentrate most on the XSE because other than creature comforts and the power train, the hybrid isn't a lot different from the gas-powered car. And that's a good thing. Toyota has still inflicted a fairly noisy continuously variable transmission (CVT) onto the Camry hybrid, but this isn't just a Toyota thing; plenty of hybrids – and some non-hybrids as well – use this type of transmission to supposedly increase efficiency and fuel economy.
Toyota says they "re-imagined" nearly every exterior surface of the car which, other than the big gaping maw of a grille, is darn attractive in a "this isn't your father's Camry" kind of way. The body has a more aggressive look than before, and the car itself is a bit longer (just shy of two inches) and about half an inch wider. The resulting vehicle manages to look classy and dynamic at the same time. And how can that be a bad thing?
The front end gets sleek new headlights and integrated LED daytime running lights; you can also order LED low and high beams. Out back (oops, sorry for the Subaru joke), the rear end also looks more modern and aggressive.
You can choose from two gas engines, either a 2.5 liter four cylinder version or Toyota's lovely 3.5 liter V6 gas engine. Both pair to a six speed automatic transmission. Toyota Canada's sample Camry XSE had the four banger, and it's very good. I'd love to have tried the V6 but have to admit there were few times tooling around the Rocky Mountain foothills that I really, really needed the extra power.
The Camry hybrid, by the way, uses a 2.5 liter four cylinder Atkinson Cycle engine with Toyota's Hybrid Synergy drive, power getting to the road via the above-complained-about  E-CVT.
The company claims it beefed up the driving dynamics by using more spot welds in the door opening flanges and upping the car's rigidity, as well as a tweaking of its combination of Macpherson struts up front and multi-link buttock. The electric power steering has also been tuned to offer better on-center feel and straight line stability. One shouldn't expect sports sedan handling but, as mentioned undoubtedly ad nauseam, for a Camry, this is quite the revelation. Rather than putting you to sleep, this Camry can keep you interested.
Inside the front wheel drive sedan is a very nice cabin that's extremely well thought out and easier to use than much of the competition. Soft touch materials abound, there's plenty of room, comfortable seats, and all the technology we've come to expect from today's cars. Toyota has even rejigged the center console tray to make it hold more, as well as putting power there for your electronic devices – and there's even a new enclosed bin ahead of the shift lever that offers power, USB and even wireless charging (assuming your smart phone is compatible; mine isn't).
The instrument panel features a 4.2-inch LCD screen between the main gauges (on SE, XLE and XSE models) and it can display various vehicle functions, including audio, navigation, warnings and communications. This is hardly unique, but it's nice.
They've even given a more premium look to the cabin, including stuff like handsome stitching and a satin chrome finish. Seat upholstery choices range from "premium cloth" to leather and "untrasuede."
I love the great, big, simple controls on the center stack. Rather than bombarding you with buttons and switches, Toyota has gone for simplicity, surrounding the central LCD with only a few buttons whose labels are big enough to be legible without me having to put on my reading glasses. They're also simple enough to be operated without a university education, and they're easy to use while wearing gloves.
Toyota's sample XSE featured 18 inch aluminium alloy wheels, disc brakes all around (with ABS etc.), dual zone climate control and a pretty unremarkable audio system. It also featured premium paint which added $255 to its base price of $27,990 – a figure that seems pretty reasonable considering what you get.
It also had a navigation system, Bluetooth for phone and tunes, and the front seats were heated and adjustable via power (eight ways for the driver, four for the front passenger). It came with a backup camera and the rear seat folded/split 60/40 for extra storage. I had issues with the voice recognition and it took a couple of tries to pair my phone to the car, but these are common complaints that go far beyond merely being a Toyota thing. Voice recognition is great in concept, but often not as great in execution for a variety of marques.
Other than the CVT's feel and  sound, the hybrid is pretty much like the XSE, though I did notice Toyota's sample had no seat heaters and the overall HVAC system was quite weak. That said, it was a lot colder in my week with the hybrid SE than during my week with the XSE, so that may have contributed to it. 
Camrys are available in six models for 2015, from the base LE (starting at $24,100) to the top line Hybrid XLE (starting at $34,800). You can option them up from there, but the cars are equipped pretty well right out of the box.
I've always given Camrys grudgingly good reviews because I recognize the overall excellence of the car but realize that it isn't aimed at me. But with this newly tweaked model, Toyota has come up with a Camry that even enthusiasts can drive reasonably happily, without resorting to wearing a paper bag over their heads. Who'd have thunk!
Copyright 2015 Jim Bray
TechnoFIle.com