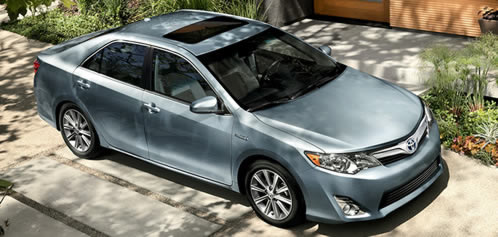 Toyota Camry hybrid: cheap to drive, but not the best driving experience
By Jim Bray
October 11, 2012
Toyota's new generation Camry can be a surprisingly nice ride, but it appears that the quality of the driving experience may depend on the trim level.
The Camry SE I drove earlier this year was a fantastic car, a real surprise. I've always liked and respected the Camry as a mainstream sedan that will probably satisfy its owners for many years, but never really looked at it as a particularly compelling vehicle to drive. I've called it vanilla – as in (as I noted in my review of the new Camry SE earlier this year) that it was "unthreatening and ubiquitous, a fixture in kitchens where it fits in beautifully in any number of applications."
That was in the context that, while there's nothing wrong with vanilla, I'm a butterscotch kind of guy and so I like a dash of élan in my cars.
But the SE model left me absolutely gobsmacked with its unexpectedly and relatively "élan-filled" ride compared to other Camrys I'd driven. I mentioned in my earlier review that I was surprised I didn't get struck by lightning for praising the car as much as I did – praise that included the assessment that the Camry was finally near the top of my list for cars in this price range, rivaling my other faves, the VW Passat and the Kia Optima.
I write this to put into perspective my impressions of the Camry hybrid Toyota Canada provided for my driving pleasure. This, despite a lot of things to really like about the car, is definitely not the same driving experience as the Camry SE.
In fact, the Camry hybrid is loose and sloppy, its front end bobbing over road irregularities like a floating buoy and otherwise handling like a 1970's land barge. I was afraid it was going to rock me to sleep while I drove it…
It's too bad, because even despite my aversion to hybrids this is a very nice car – and the hybrid aspect of it meant I spent very little on gas during my week with it. I never bother tracking my gas mileage because I was born with a lead foot and you really need to drive a car gently to get the most out of its mileage (hybrids are supposed to be great in the city, but with not so much advantage on the highway). I got with the program a couple of years ago and drove a Toyota Highlander hybrid as gently as I could stand it (actually, I drove it even more gently than I could stand it) and still didn't approach the posted mileage.
So much for stats. But I did notice in my week with the Camry hybrid that I spent far less than I spend normally (all things, including type of car and price of gas) being equal. So that was pretty amazing.
And while you sometimes have to give up such things as acceleration with a hybrid (depending upon the hybrid) I really had no problem with the Camry's ooomph. It's more than adequate.
But that suspension! Yikes!
The "Camrybrid" is available in two trim levels, both of which Toyota says start at lower initial prices than they did last year. The Hybrid LE kicks off the sticker at $26,990 Canadian, while for an extra two grand you can get into the Hybrid XLE, which is what Toyota's sample car was. The company says its $28,990 entry price is $2,320 less than the 2011 model's, yet it's stuffed with $745 worth of extra standard equipment.
The lower price also hides a larger, 2.5 liter four cylinder gasoline engine as the eco-raping part of Toyota's "redesigned Hybrid Synergy Drive." When you include the electrical stuff, Toyota claims an output of 200 horsepower (up 13 from the previous model), which isn't bad. As mentioned, I had no issues with the car's acceleration.
Yet you apparently don't pay a penalty for this extra oomph, because Toyota estimates the new hybrid power train improves city fuel economy by 39 percent, delivering what they trumpet as "class leading fuel efficiency of 4.7 l/100 kilometers combined for the LE model and 4.9 l/100 km combined for the XLE." Those are pretty skookum specs and I have no reason to call BS on them.
The engine, as is often the case with hybrids, is mated to a continuously variable automatic transmission and it is definitely quieter and nicer than some others I've tried, though no more interesting. The front wheel drive hybrid also comes with stability control and traction control, as well as the usual braking aides such as ABS.
The brakes are power-assisted discs all around and pedal feel and brake performance are just fine.
Toyota's press release trumpeting all this goodness also says their engineers "paid careful attention to the suspension system in the all-new Camry Hybrid to maximize ride comfort and control," which I guess means they've never driven the non-hybrid Camry SE. Perhaps we just define "comfort and control" differently because, while the ride is definitely comfortable, the control is such that I found the car wandered all over the lane when I was driving it despite the Macpherson struts up front and dual link independent suspension in the rear, with stabilizer bars at both ends.
My test XLE was pretty well the base model of that trim level, but it still included such niceties as a power driver's seat and dual zone automatic climate control. And you can add the optional Moonroof Package, which includes an upgraded audio system (and upgrading from standard Toyota stereos is rarely a bad idea), navigation, glass breakage sensor, power moonroof, integrated garage door opener, back-up camera, dual illuminated vanity mirrors and more. It adds about two grand to the base price, which isn't bad for all the stuff you're getting.
You can upgrade it even more with the Leather and Premium Audio Package, which adds everything from the Moonroof Package and ups the ante with such stuff as an even more upgraded audio system and leather seats (heated up front). This one adds nearly five big ones to the tab, but Toyota says it's actually more than $2,000 lower than the 2011 equivalent's price while adding $1,755 in additional standard equipment.
My more Spartan Hybrid XLE featured a handsome and comfortable cabin with nice seats and straightforward control. It also featured Bluetooth, but without voice control, which kind of defeats the purpose. I had to pull over and stop before I could dial a phone number via the LCD screen, though it did remember my call history, which cut out a few pokes at the screen on subsequent calls.
Voice activation angst aside, the Camry's cabin is still full of modern design and technology, and it's executed very nicely. As I said about the Camry SE, I'd almost expect to find this interior in a Volkswagen, the company I consider to be the model for how to do such things.
So other than my incessant whining about the ride, which may not matter to lots of people (neither the ride, nor the whining, I daresay), this is still a very nice car. I expect it will serve its owners faithfully at least until the battery pack needs to be replaced.
Copyright 2012 Jim Bray
TechnoFile.com