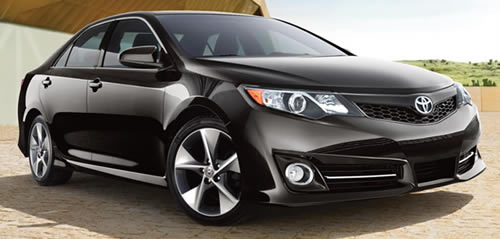 Toyota Camry takes a huge leap forward
By Jim Bray
May 23, 2012
Toyota has raised its own bar with its "bread and butter" sedan, and in the process brought butterscotch back to its lineup!
Butterscotch?
Well, the Camry, which is supposedly all new for 2012, has been a top seller for years and deservedly so. It's a fine vehicle, well built and comfortable and offering that bulletproof reliability that has been Toyota's hallmark. Alas, despite its excellence, the car has also tended to be quite ordinary, even bland, not the sort of car that people who take driving seriously would embrace wholeheartedly – despite the car's tremendous sales record.
In 2007, I said the Camry reminded me of vanilla because, like that popular flavor, it was "unthreatening and ubiquitous, a fixture in kitchens where it fits in beautifully in any number of applications." And while there's nothing wrong with vanilla, who orders a vanilla sundae? Not me; I'm a butterscotch kind of guy and that put me at odds with the Camry, as excellent as it has been in its assigned tasks.
Ah, but now the Camry has taken a big leap forward, at least in the SE trim that Toyota Canada's review car wore. The car blew me away!
I thought I was going to get struck by lightning for liking it so much – and after driving the new Camry SE home the first time, I had to see how it stacked up financially against my favorite sedans in the category, the VW Passat and Kia Optima. I also checked out the comparable Honda Accord and Ford Fusion, which isn't really a fair comparison because both are about to be replaced.
Trying to compare apples with apples as much as possible, I started at the top of the line, which had the Camry XLE V6 (the SE test car was one trim level down), coming in at just under $34,000 Canadian (about $33,375 U.S.), loaded, before taxes and the like. The loaded Optima tips the fiscal scale at just under $35,000 Canadian, the Accord pulls just a few hundred more from your wallet and the Fusion's about a hundred dollars more than the Accord.
The Passat is nearly in another league, at just over $39,000 for the top line trim, six cylinder model optioned up to the nines. All figures are in Canadian dollars except where noted and culled from the "build and price" sections of the respective automakers.
What you lose by "only" getting the SE V6, as opposed to the XLE described above, is stuff like dual zone automatic air conditioning, leather seats, power for the front passenger's perch, a four spoke steering wheel, simulated wood and leather trim, and a bunch of stuff that's optional on the SE V6.
Using the same "build and price" tool on Toyota's Canadian website, the Camry SE test car would come in at just over 32,000 loonies as it sat. That seems like a really good value.
My only concern about not getting the top line XLE, with its leather upholstery, was that the SE's handsome, supportive and comfortable seats might turn out to be pet hair magnets, a common problem with non-leather seats. But the handsome, leather trimmed "ultrasuede" perches were actually pretty good that way. They also look classy and are quite cool.
Or hot, as it may be; the fronts seats – both of which were power adjusted in the test car – also feature bun warmers.
Powering the Camry SE V6 is Toyota's ubiquitous 3.5 liter engine that puts out 268 horses @ 6,200 rpm and 248 lb.-ft. of torque @ 4,700 rpm. It's a fine engine, powerful and torquey and refined. This particular configuration doesn't give you the most power you can get from a V6 these days (indeed, not even from this V6, as offered in some other Toyota products), but it's competitive in this class and (though I might get struck by lightning for saying this, too) the Camry doesn't need any more power anyway.
As it was, the front tires chirped a few times when we were taking off from a standing start and, front drive cars being what they are, she'd start heading toward the ditch as the torque steer kicked in – not that the torque steer was any worse than that of many other powerful front drivers these days.
The 2.5 liter four cylinder, with its 178/170 hp/torque, is undoubtedly adequate; it certainly was in the last generation of Camry I tested. But the V6 is such a peach that I can't imagine settling for the four unless I really, really wanted to save gas and didn't live in the shadow of the Rocky mountains, with its wonderful driving roads.
Another reason to opt for the V6 is that there's some neat stuff you can't get with the four – such as the "ultrasuede" seat material, a 10 speaker JBL audio system that's the best I've heard on a Toyota since maybe forever, a backup camera, anti-theft system, front seat heating and power for the front passenger seat.
Unlike previous Camrys, the SE doesn't try to rock you to sleep gently every time it hits a road irregularity. In fact, this one very nearly rocks – well, comparatively. The sport tuned suspension features MacPherson struts up front, with coil springs and a stabilizer bar (kind of like a Margarita bar, but much more driver friendly). The independent rear suspension dances the Macpherson Strut, and also partakes of coil springs and its own stabilizer bar.
The car's actually a lot tighter than I would ever have dreamed for a Camry - dare I say it's very nearly sporty? Unfortunately, I didn't have a chance to take the Camry onto my favorite tight and twisty highway, because I have a feeling it would have been very interesting to toss the new Camry around a bit under those circumstances. I'm willing to bet it would have surprised me there, too.
And here's something interesting: you can get paddle shifters for the SE's six speed Super Electronically Controlled Transmission (Super ECT), with sequential shift mode.
Paddle shifters on a Camry? Yep. And they work. Oh, they shift a tad more "Camry-like" than the twin clutch auto manuals that are out there, but it's far, far better than I expected to find in this car. Bravo to Toyota for making a family car that's actually fun to drive. It's been a while.
The Camry SE's cabin is a model of modern design and technology, executed flawlessly. The materials look and feel classy, the dashboard design is attractive without being artsy fartsy, and the center stack is a great example of how it should be done. I'd almost expect to find an interior like this in a Volkswagen, which to me is the model of how to execute such things. Except the Camry's innards look more like that of a Kia than a VW, and that is not meant as a criticism: Kias are very, very nice.
The list of equipment goes on: there's keyless entry and push button start/stop, a navigation system that's easy to use and a Bluetooth phone voice interface that's one of the best to date. The LCD doubles as a touch screen, and Toyota has designed an excellent volume/cursor control system for the left side of the steering wheel that looks intimidating but which is actually very good and not hard to get used to at all, unlike some competitors'.
Now, I can't speak for the other Camry models, which I haven't driven yet, but this new SE V6 is terrific. Toyota has clearly been watching and learning, and if this interior (the exterior's also a step forward, especially on the SE, but still nothing to write home about) is any indication of where Toyota's heading with other new vehicles that are coming, we should be in for a very interesting treat.
Copyright 2012 Jim Bray
TechnoFile.com