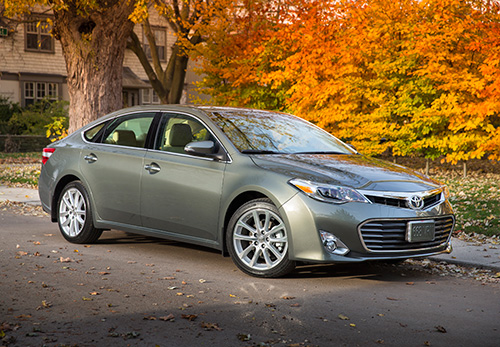 Click the image for a slideshow
New Toyota Avalon more flagship than ship
By Jim Bray
June 20, 2013
Ah, the S.S. Avalon, Toyota's biggest sedan and the car that is arguably the most like "your father's Oldsmobile" – or might be if GM hadn't screwed up so badly it had to let Oldsmobile die.
Avalon was the only Toyota car – and one of the few cars in recent history – that was available with a bench seat, though that configuration appears to be as dead as Oldsmobile in this new iteration. That's fine; crowded, three person bench seats are silly in an era of minivans and three row SUV's.
Available in XLE and Limited trim levels, Avalons start at $36,800 Canadian, and you can option them up to around $42,000. While that's a healthy chunk of change, it seems competitive considering what you get and what else is out there. A loaded VW Passat 3.6 liter V6, for example, comes in at about $38,525, the Ford Taurus Limited AWD costs $45,303, and if you're looking for something a bit more up market, Toyota's own Lexus ES 350 (which is very similar in demeanor and intent) will set you back just under 40 grand without options and nearly $52,000 loaded. Or you could choose a Hyundai Genesis sedan, which starts at just under 40K and goes up to about $45,000 loaded.
Now, all of these cars are very different and not all trim levels and features (for example, Fords AWD) are equal, but they're all full size sedans competing against each other, priced from the manufacturers' various websites, ensuring there'd be a choice from Europe, North America, Korea, and Japan.
That's a cornucopia of cars and they're all fine choices – so Toyota clearly has its work cut out for it in this niche. Fortunately, the Avalon seems up for the job. Sure it's the blandest of the bunch, but it's surprisingly nice to drive, equipped well, and undoubtedly features Toyota's legendary quality.
It would be easy to come up with "Titanic" jokes about the Avalon, or lines about how the car wallowed like "your father's Oldsmobile" did, but darned if the car doesn't kind of win you over – and judging by the new Avalons on the roads around here in the short time the car's been available, people seem to be diving in. Toyota may have just crafted a winner here.
Okay, it can wallow more than a tad if you let it, but there's a sport mode that tightens it up quite acceptably and if you insist on going green there's an eco mode that should help the Avalon achieve better gas mileage, as long as you don't mind being lulled to sleep as you do it.  
Horespower junkies will find plenty of power on hand, thanks to Toyota's 3.5 liter V6 engine which, in this iteration, puts out 268 horsepower @ 6,200 rpm and 248 lb.-ft. of torque @ 4,700 rpm. That's plenty to get this big sedan up and running, and even passing. Power gets to the front wheels (an all wheel drive version would be nice) thanks to a six speed Super Electronically Controlled (Super ECT) automatic transmission with a pretend manual mode and – get this – paddle shifters! Paddle shifters on an Avalon!
Kudos to Toyota for the paddles. While they may pale in comparison to the paddles in something like a Porsche 911 (well, duh!), they're a legitimate safety feature because they let you keep your hands on the steering wheel. Heck, paddles, Bluetooth and automatic headlights (all of which the Avalon also has, of course) is actually a more usable safety feature than than an abundance of airbags; they're things you'll use every day, while airbags are only used once, if you're unlucky.
The soft suspension features MacPherson struts, coil springs and a stabilizer bar front and back.
Brakes are discs all around (ventilated up front, solid in the rear), with the usual ABS, Brake Assist (BA), Electronic Brake Force Distribution (EBD) nannies. Pedal feel and performance of the brakes is just fine. The steering, power-assisted rack and pinion, is about what you'd expect from a boat, er, car like this, in that it definitely does not feel hard wired into your brain, but it works fine – and the Avalon even has a decent turning circle.
Toyota says the Avalon features the world's first "double-eye Projector Ellipsoid System (PES)," which combines both high and low beams into a single unit. They're also nice and bright HID's that light up the way ahead very well and, as is common now, the car also features LED daytime running lights and tail lights.
Inside, the Avalon is comfortable and laid out well, though some of the center stack stuff is a long reach for the more diminutive among us. Fortunately, there are plenty of redundant controls on the steering wheel, plus voice recognition technology to get around that.
The Avalon's center stack controls are really nice, treading the line between buttons and touch surfaces nicely. It's reminiscent of an old Mitsubishi TV remote control from a couple of decades ago, which (like the Avalon) offered nice tactile feel from a flat, "non touch screen" surface.
Three dedicated color screens populate the interior as well, one that gives you driving information, one for the audio system and another for the climate control.  
The audio system is typically Toyota, in that it offers all the features you'd want, including Bluetooth capability with audio streaming, and you also get text-and email-to-speech capability. But like most Toyotas, it's hardly the stuff of audiophile dreams – though you can also opt for a premium package that offers a JBL Synthesis system.
Standard equipment includes a nice power moonroof and the Premium Package adds a power rear sunshade to the mix.
The seats are very comfortable, and there's so much room in the rear seat you could practically stage a major Occupy protest back there. The driver's seat features eight way power adjustment (and four way lumbar support). The front passenger seat offers four way power adjustment and of course they're both heated.
Opt for the Limited package and the seats get even more whiz bang, with premium leather, more adjustments and cooling (as well as heat for the rear seats).
Standard climate control is dual zone automatic, and the abovementioned Premium package adds a third zone for the Occupy folks.  
There's plenty of storage spread around the cabin, as well as USB and auxiliary audio jacks and power outlets.
The trunk is huge – you could probably put a Fiat 500 in there – and a fold down centre arm rest in the back seat includes a pass through that lets you carry skis and other long stuff like that.
Toyota claims the big Avalon will get you 9.9/6.4/8.3 liters per 100 kilometres (city/highway/combined) and has "an extremely low emissions rating." They also say the car's low rolling resistance tires help as well in using less fuel, though they don't do a lot to add any joy to the driving experience.
That said, the Avalon obviously isn't about the driving experience. Yet as mentioned above, it drives better than you might think.
Obviously, the Toyota Avalon isn't for everyone, but if you're looking for a car in this niche, you really ought to give it a test. You may be pleasantly surprised.
Copyright 2013 Jim Bray
TechnoFile.com