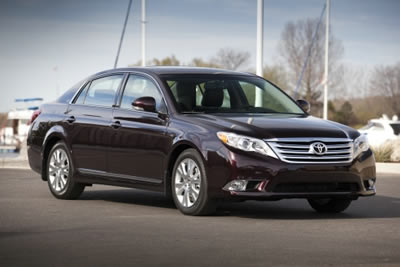 Toyota Avalon A Comforting Cruiser
By Jim Bray
August 25, 2010
Remember the Oldsmobile commercials from years ago that said the models current then were "Not your father's Oldsmobile?" Well I've found a car that is: the Toyota Avalon.
Toyota's flagship sedan is a big, family-friendly sedan that offers lots to like as long as you don't care about the drive itself. It's comfortable, well-appointed, and features stuff like reclining rear seats and most of the technological treats you could want these days.
It also rides like a boat, so if you've always wanted to go on a cruise but were afraid of getting wet, this may be your opportunity.
Toyota says the redesigned 2011 Avalon evokes "A time when travel was sophisticated, elegant and comfortable." Fair enough; I remember days like that, when the Big Three dominated the marketplace with full sized vehicles that were nice in a straight line, their noses nodding agreeably as they passed over frost heaves or expansion gaps.  
Maybe Toyota's just taking a new tack on the retro craze that's brought us cars like today's Ford Mustang and Dodge Challenger, except that instead of offering a car that looks like a blast from the past, they decided to offer a modern car that drives like it's from those good old days.
Anyway, the new Avalon has been given a freshened exterior and a restyled and rich-looking interior and I have a feeling it'll probably do quite well with its target market. Toyota says the Avalon "Remains true to the idea that comfort is honest and uncomplicated, and 'Traveling Avalon Class' is rich in simple, familiar pleasures."
From the outside, the Avalon still looks like an Avalon – which is basically a gigantic Camry, though I think the Camry is better looking – but the Avalon does look a tad more interesting than before, with a fresher grille, projector headlights, and even LED's on the taillight units. And, perhaps in an effort to cash in on that "old time family car" mien, Toyota has added more chrome trim, though (fortunately) they stopped short of chroming the bumpers.
Avalon's bum now features twin exhaust pipes integrated into the lower bumper and the taillights integrate stop, turn and side marker lighting functions.
The front wheel drive Avalon gets its power from Toyota's ubiquitous 3.5 liter, 24 valve, double-overhead cam V6 engine, in this case producing 268 horsepower at 6,200 rpm and 248 lb.-ft. of torque @ 4700 rpm. Toyota says the engine has the latest version of its dual VVT-i electronic valve-control mechanism, providing a broader power band while using less fuel and emitting less crud.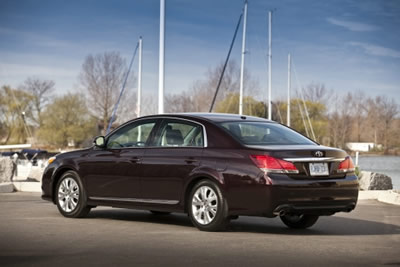 It's a fine engine, too. Power is more than adequate and it comes on very smoothly.
The transmission is a "multi-mode" six-speed automatic, with manual mode. I suspect most Avalon owners will leave it in automatic mode, but the manual works well and comes in handy when you want to take advantage of engine braking situations such as going down hills.
Avalon's suspension is up to date, but you'd never know it. There are MacPherson struts and coil springs at all four corners, but it's tuned so softly it's like driving a water bed – and that's bad news if you hate making waves!
The rack-and-pinion steering feels fine, and the steering works well, but instead of the car carving up corners, it more or less floats around them – and if you get the least bit aggressive the thinly bolstered sides of the front seats will let you slide into the door at the first curve.
Ahoy, me hearties!
Still, there's a lot to like here if all you're looking for is a pleasant and reliable way to get from Point A to Point B.
Inside is an upgraded cockpit with a touch-screen navigation system and Bluetooth hands free phone (with music streaming to the audio system if your Bluetooth device supports it).  The car also comes with satellite radio capability built in (a subscription is required), and both USB and auxiliary jack connectors for iPods and other audio players.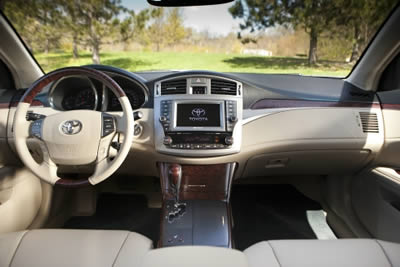 The steering wheel includes controls for the hands-free phone, audio and climate systems, and the information center.
The big LCD touchscreen works well but, as is Toyota's habit, the image keeps defaulting back to the map, which always rubs me the wrong way. I don't need a map when I'm driving around my home area and would rather the screen stay on the audio or HVAC system displays, things that I use more often than the darn map.
But no! If you want to check out your radio presets you have to keep pressing the "audio" button on the center stack and then use the touch screen before it slips back into map mode.
A thoughtful feature is the inclusion of a back up camera, something that's always a handy tool.
My sample Avalon included a 12 speaker 660 watt JBL Premium Synthesis audio system with enhanced two-coil sub-woofer. It's okay, but I've heard a lot better – it doesn't come close to matching the ELS systems in Acuras, nor even in big brother Lexus models, let alone a lot of mainstream German stuff.  
You also get stuff like dual zone climate control with nine air-flow modes and a clean-air filter to remove pollen and dust. The doors have three "stop positions" (detents at which the door will stop when you open them) instead of two, which can help make it easier to get in our out, especially in a crowded parking lot. Depending, of course, on your girth.
Thoughtful touches include a front-console box with a sliding armrest that accommodates a variety of driver positions – and which also contains a 12 volt outlet and the USB and auxiliary audio terminals.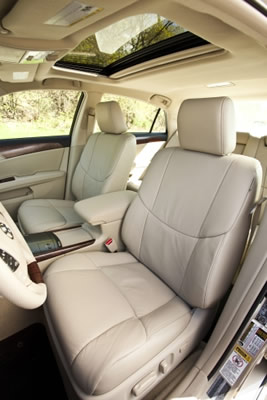 The rear seats are wide and comfortable, with plenty of room for three reasonably sized adults, and lots of knee and leg room. As mentioned, the rear seats recline, too, which means they'll be a great place to relax and get rocked gently to sleep by the suspension.
Conventional safety stuff includes seven airbags, including a driver's knee bag and front side curtain airbags for both rows of seats. Other standard safety stuff includes Vehicle Stability Control (VSC), anti-lock brakes (ABS) with Electronic Brake force Distribution (EBD), Brake Assist, and TRAC traction control system. Toyota says the TRAC and VSC functions can be disengaged if you get stuck in muck or snow (and really, really want your wheels to spin wildly!).
The huge trunk also includes a full sized spare tire, which is a nice touch.
Okay, the Avalon is obviously not my cup of tea, but that doesn't prevent it from being a fine car that may be perfect for those whose automotive needs extend more toward quiet and elegant driving at sane speeds.
So what if it doesn't get your pulse going? It's comfortable, has plenty of room, performs very well – with no fuss or surprises – and will undoubtedly be at your beck and call for many years, like a loyal and loving dog.
My wife loved it.
The 2011 Toyota Avalon starts at $32,245 U.S./ $41,100 Canadian.
Copyright 2010 Jim Bray
TechnoFile.com