Toyota's Avalon a Big and Smooth Ride
By Jim Bray
December 11, 2007

It's a full-figured car, with ample room and plenty of power. And it's soft and comfortable.
Toyota's flagship Avalon features some nice freshening for the 2008 model year, but if you're looking for driving passion you'd best look elsewhere.
Fortunately, many people don't care a whit for driving passion and are more than happy with a reliable vehicle that will take them where they want to go, efficiently and dependably. And for them, this Avalon may be just the ticket.
For 2008, the big sedan has been given a six-speed automatic transmission and some revamped styling that differentiates it from previous years. It isn't a huge difference (though the extra gear in the tranny is nice), especially since last year's Avalon was a pretty good starting point anyway. The only real improvements I could think of from my previous time in an Avalon would be a more stirring suspension and a less sterile interior.
Alas, Toyota hasn't addressed these quibbles, so I guess it'll have to wait until I'm Emperor of all that exists..
Avalon is a straightforward front engine, front wheel drive five passenger sedan, big brother to the ubiquitous Camry. It's a classic configuration and there's plenty of competition for the dollars of consumers looking for this type of vehicle. The Ford Taurus comes to mind immediately, if only for recent TV commercials comparing the two - and the fact that I drove a Taurus for a week last summer and it seemed to me then that the Avalon was its natural target.
This year's addition of six speed automatic is a nice complement to Toyota's powerful 3.5 liter V6 engine that's shared across the carmaker's line. The power plant features an aluminum block, dual overhead cams, 24 valves, dual variable valve timing with intelligence on the intake and exhaust cams and an electronic throttle control system with intelligence. It now cranks out (though cranks is probably a misleading word for an engine that goes about its business virtually invisibly) "up to" 268 horsepower @ 6,200 rpm and 248 lb-ft of torque @ 4,700 rpm, while qualifying as an emissions-friendly Tier 2 Bin 5 vehicle. This is plenty of power.
The transmission, which has a manual mode, is equipped with a lock up torque converter.
While the Avalon resembles a sports sedan about as much as I resemble Brad Pitt, that engine and transmission combination is lovely. If you want to accelerate onto a freeway (those ramps are called acceleration ramps, after all) or pull out to pass someone, the Avalon will be there for you, bright eyed and bushy tailed.
Preferably if you're going mostly in a straight line.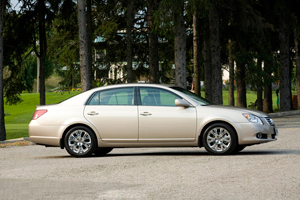 It isn't that the Avalon can't handle. It can. It's just that the suspension is so soft it feels as if it's taken Nytol. It was the same complaint I made about the Taurus - and there's that comparison cropping up again.
Neither of these cars appear aimed at the middle aged boy racer wannabe..
Still, the underpinnings are sound.  The suspension features MacPherson struts up front with offset coil springs and a stabilizer bar; Avalon's buttocks feature a dual-link independent MacPherson strut suspension with offset coil springs and a stabilizer bar.
Brakes are power-assisted discs with ABS, of course, and Electronic Brake-force Distribution (EBD). Brake feel is just a tad grabby, but nowhere near as bad (or good, depending on how you like your pedal feel) as in some vehicles. You can also get Toyota's Traction Control and Vehicle Stability Control systems to help keep you on the road.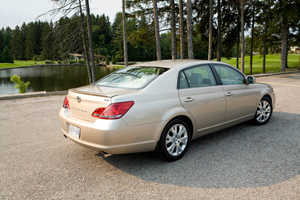 Avalon rides on P215/55 series tires on 17 inch aluminum alloy wheels with wheel locks and you get a full-size spare tire on an alloy wheel.
The 2008 Avalon has been given a new front bumper, chrome grille, headlamps and chrome door handles on the outside. Inside, there's MP3 capability with an audio auxiliary input jack for the stereo, a wood and leather wrapped steering wheel and optional Bluetooth capability.
Speaking of blue, the middle of the dashboard features a display screen that's a bright blue if you don't opt for the navigation system and the toys that come with it. It gives you readouts for time, radio, HVAC and the like, but I found it kind of disconcerting because it looks suspiciously like the Microsoft Windows' "blue screen of death" that means something awful has happened to your PC, and I kept thinking I was about to be left on the side of the road - Toyota's reputation for bulletproof reliability notwithstanding.
It never happened, of course.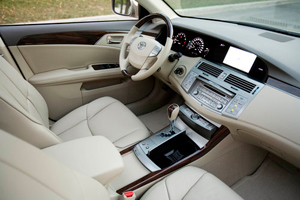 My test unit wore the XLS trim level, which included all the power toys (windows, door locks, etc.) you'd expect. The seats are comfortable, the Optitron instrumentation clean and easy to read. The stereo is about what you'd expect from Toyota: it's okay but it won't make your ears bleed.
Front seat passengers are greeted by what seems to be acres of brushed aluminum trim, including a door that closes over the audio system and another one just forward of the transmission selector (that in my test unit didn't like to stay closed). This contributes to the sterile atmosphere.
The seats are comfortable, though, including the reclining rear seats, which offer incredible leg room and are blessed with a flat floor in front of them that'll make life a lot more pleasant for the person stuck in the middle of the bench.
The HVAC features automatic air conditioning with dual zone control, soft-touch heater controls, a deodorizing air filter for dust and pollen, and rear seat heater ducts; the seats are leather covered, and up front they come with bun warmers. The driver's seat is power adjustable eight ways (16 if you use your other hand on the controls); the front passenger's seat features four way power adjustment, with eight way adjustment optional.   
My test unit also featured rain-sensing wipers and they worked quite well, though once when it had snowed overnight I made the mistake of firing up the vehicle with the driver's door open (so I could get out again and brush off the snow) and the wipers jumped immediately to attention and devotedly dumped a bunch of snow onto my left leg.
So remember to turn them off if you want to avoid turning the air as blue as the central screen.
Standard safety systems include dual stage driver and front passenger airbags, front seat-mounted side airbags, a knee airbag for the driver, and front and rear head/side curtain airbags. The belts are of the three point variety in all five passenger positions, and include adjustable "B" and - a nice touch - "C" pillar shoulder belt anchors.
If you're looking for a full size car that'll transport you in comfort and with no fuss, the Avalon may be your ticket. On the other hand, and as a long time fan of Toyota I may get struck dead by lightning for saying this, I enjoyed my week with the new Ford Taurus more. The driving experience isn't much better, but I preferred its interior and exterior design.
The base Avalon starts at $27,075 U.S. The XLS trim level of my test vehicle starts at $31,375 U.S. and the top line Limited starts at $36,245. Canadian consumers only get the XLS trim level, which starts at $41,840 Canadian and can be optioned up from there.