Ford's New Taurus is No Bull
By Jim Bray
What's in a name? Well, if you're Ford it could be a lot.
After the company announced that last year's Five Hundred would be this year's Taurus, a name hearkening back to what they undoubtedly thought were better days of the 1980's and 1990's, I had to chuckle.
"Yeah, that'll fool 'em!" I never drove a Five Hundred, but I thought it was a nice-looking vehicle. I drove a Taurus once, a rental, many years ago and thought it made a nice rental. But it was Ford's bread and butter car for a number of years and, since everything else seems to be going retro these days (checked out that great-looking current Mustang lately?), why not come up with a retro name?
If it had been me, I'd have kept the Five Hundred connection and gone back to real glory days – calling it the Galaxie or Fairlane, with 500 indicating the upper trim levels. But nobody asked me.
So it's the Taurus, a well-loaded Limited All Wheel Drive version of which I got to drive around the freeways and backroads of southern Ontario for a week. And I liked it very much, except for the ultra soft suspension to which North American carmakers seem addicted.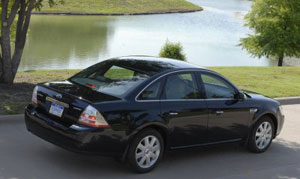 Ford says there have been more than 500 changes made to the Taurus (including the name), to make it "more distinctive, quieter, faster and safer." Highlights include "new exterior styling, a new powertrain, a new all-wheel-drive system, more standard safety features and structural upgrades to further enhance crash protection."
That new exterior styling seems to these eyes mostly limited to a new razor-like grille such as you find on Ford's Fusion (it's nicer than the Five Hundred's grille, too) and new taillights that also seem quite Fusion-like.
Taurus is moved on down the road by Ford's 3.5-liter Duratec V6 that cranks out a competitive 263 horsepower (up nearly a third from the previous engine, the company says) and 245 pound-feet of torque. This isn't as much as you can get from an increasing number of V6's these days, but it works fine. Power is smooth and more than adequate, whether you're tooling through the boonies or speeding up for an on ramp.
The engine gets its power to either the front or all four wheels through a smooth shifting, 6-speed automatic transmission that's shared with the Ford Edge. It's a nice tranny; it didn't have a pretend manual setting, but this isn't a sporty car and I didn't miss it.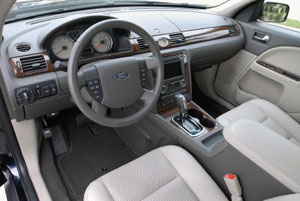 To sweeten the deal, the company says the 2008 Taurus delivers "nearly a 10-percent fuel economy improvement (compared to) the outgoing Five Hundred and an increase of approximately 2 mpg on the highway."
The car handles well for something as large as a container ship (my tester's all wheel drive and AdvanceTrac electronic stability control system undoubtedly didn't hurt), as I discovered on a particularly juicy piece of twisty secondary road through the Rideau Lakes. The speed limit on Ontario highways is normally a measly 50 mph, but here the road was so tight and twitchy it was a putterin' along-like 30 mph that cried out for a Porsche or such vehicle. It was a very entertaining drive and the Taurus acquitted itself much better than I had anticipated.  
But, jeez, that soft springing's enough to put you to sleep. This is obviously more of a cruiser than an apex carver, but it doesn't pretend to be anything else.
Other than the yawn-inducing ride, I couldn't find anything that really bothered me beyond the usual niggling nits that come from me not having built the car myself….
One of the first things I noticed upon getting into the Taurus was its well thought out interior, from outside mirror controls mounted helpfully on the A pillar (the same way Porsche does it), well-placed buttons and switches, instruments  and gadgets and very comfortable seats.
The attractive and uncluttered dashboard includes a pair of big, round gauges (the speedo and odo meters) with the car's digital display between them and fuel and temperate gauges above. A classy-looking analog clock sits atop the center stack, below a pop up storage compartment and above the audio system and LCD screen. Below that are the dual zone, automatic HVAC controls, seat heater buttons, etc.
The steering wheel tilts (instead of telescoping, the pedals can be adjusted) and feels just right in the hands, as if it's designed for a driver and not someone who just wants to steer for a while. It also has about a thousand buttons on it for auxiliary stereo and cruise controls, as well as to activate the voice recognition system that, as with every other one I've tried so far, needs to go back to school for a couple of generations. It's more annoying than practical, but this isn't a Ford thing – it's a "current state of the art" thing.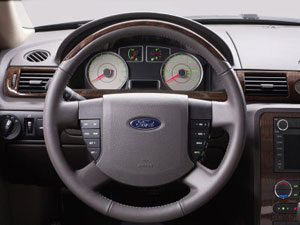 I liked the 6 disc CD/MP3 stereo a lot and exploited the preview subscription to SIRIUS satellite radio that's included in the price. I love satellite radio (I use a portable SIRIUS device all the time, moving it from test car to test car) and I love the way Ford integrated it into the existing stereo. It shows up as just another choice between the usual AM, FM and CD and gives you channel/track readout, etc. (as it should). Audio quality is very good.
The little person who sits inside the navigation system and barks out commands is an idiot, though. Granted, we spent a lot of our time on obscure back roads, but if I'd followed the car's directions I'd be driving still. One time, once it realized I was ignoring its "advice", it freaked out and barked at me to "Make a Legal U turn" back the way we came, to somewhere presumably within its comfort zone. It would plead "Make a legal U turn" every few seconds until I got tired of the nagging and shut it off. I almost expected the LCD screen to display "Abandon hope all Ye who enter here…"  
Heck, if I wanted to be nagged like that I'd have travelled with my wife!
Again, though, this sort of navigation system non-Nirvana isn't exclusive to Ford.
As for the experience of living with the Taurus, I can think of a lot worse fates. The seats are very comfortable (my tester's came with leather and memory), though on tight right turns it sometimes felt as if I were about to be tossed into the driver's door. And the car came with a decently-sized one touch open/close sunroof, though I thought it was mounted a tad too far to the back (to heck with those rear seat passengers!), another common nit to pick with a variety of manufacturers.
Those rear seat passengers have nearly enough room to pitch a tent in the space behind the front seat backs. Foot room under the front seats isn't liberal, but my stubby little tentacles never reached that far forward anyway. There was even plenty of room for me to work with my notebook computer on my lap while parked outside a coffee shop with an Internet Hot Spot (Yep, I'm too cheap to pay $7.50 for a caffeine hit).
Speaking of roominess, the Taurus' trunk appears big enough to support a robust smuggling operation.
In all, I liked the Taurus quite a lot – more than I had expected to. It seems like a very nice offering from the folks at the blue oval and I hope it does well for them.
So what's in a name?  Well, if the change from Five Hundred to Taurus was designed to get Taurus fans into the dealership to take a look, it may turn out to be a stroke of genius (though time and the profit and loss sheet will tell). Someone at a dealership told me former Taurus owners who wouldn't give the Five Hundred a look are showing up to check out the new Taurus, and, apparently, they're liking what they see.
Sounds like these people's priorities might be a little out of whack, but I can't blame them for liking what they're seeing, now that they're actually bothering to see it.
The Ford Taurus starts at about $23,000 U.S./$31,000 Cdn. The Limited AWD starts at just under $29,000 U.S./$37,000 Cdn. Options such as the moonroof and nav system can push the price up from there.