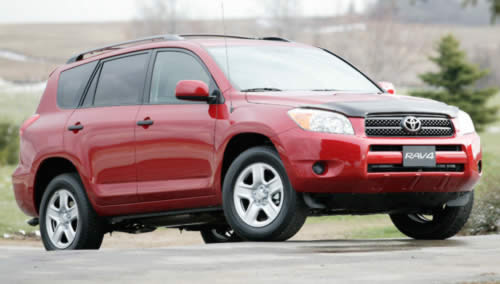 Toyota RAV4 V6 – power and comfort in a cute ute
By Jim Bray
June 7, 2012
The crowded small sport utility/crossover market is good news for consumers because it gives them many good choices in this niche. And one that definitely should be on your test drive list is Toyota's RAV4.
Available in seven different versions, and now nearing the end of its second generation, the Canadian-built RAV4 is a very nice vehicle, comfortable and with good performance. It's quite popular, too.
"The Toyota RAV4 delivers a winning combination of driving fun, functionality that fits busy modern lifestyles, safety, comfort and style, and the fuel efficiency and quality that Canadians demand," said Tony Wearing, Senior Managing Director, Toyota Canada, who also noted that "As one of Consumer Reports Top Picks for 2012, Canadian drivers can have confidence that they're driving a vehicle that leads in safety and reliability."
Well, Toyota has certainly earned a reputation for reliability and safety – despite the subsequently debunked "accidental acceleration" media kerfuffle of a while back – so that doesn't really make the RAV4 any different from the rest of the company's inventory.
Nothing wrong with that! You can do a lot worse than have a vehicle that lasts as long as you want to keep it! Heck, I kept my '83 Supra for 20 years and probably put over 300K on it, though I can never say exactly how many klicks it tallied because the odometer packed it in at about 200,000 and I was too cheap to get it fixed. But I digress…
For the 2012 model, year, the RAV4 Limited and V6 Limited trim levels now come standard with leather seats, including heated ones up front, plus an LCD display-controlled audio system and navigation system. That's a nice thing to have thrown in this year because, even if you don't care about a nav system, an LCD touch screen is a wonderful way to interact with a vehicle – assuming the interface makes sense.
Toyota's does.
All RAV4's also come with an upgraded audio system as standard equipment, which includes Bluetooth capability, a USB audio input and steering wheel-mounted audio controls. The upgraded audio system still isn't anything to write home about if audio is a priority to you, but I've listened to a lot worse, including from Toyota. So this is also welcome, especially as standard equipment.
Hopefully it won't be long until Bluetooth will be standard on every car as well, at least for cell phone connectivity (though music streaming is really nice, too); it's an important safety feature. Heck, I'd rather have Bluetooth than ABS.  
RAV4's now come with all season floor mats as well which, as my son says, should help you make good thyme on your road trips.
Add all this new standard equipment together and it's not a bad bit of added value.
This particular incarnation – incrossovernation? – of the RAV4 came with the 3.5 liter V6 engine that powers a lot of Toyota and Lexus vehicles today, and that's not something about which to complain. This lovely, smooth and torquey engine, as configured here, puts out 269 "peak" horsepower and up to 246 lb.-ft. of torque. It's plenty.
A five speed Super ECT automatic transmission is standard and there's nothing really wrong with it, but it needs to be replaced by at least a six speed to keep up with the technology – and the market.
Base RAVs4 come with a 2.5 liter four cylinder engine with "up to" 179 horsepower and 172 lb.-ft. of peak torque that's paired with a merely four speed automatic Super ECT transmission that.
Those are specs for garden variety RAVs4. Toyota Canada's sample RAV4 was the 4wd Sport model, a designation one might think means it'll offer additional oomph. One would be wrong, though.
Toyota's marketing humorists are trying to get away with a whopper here. "Sport" is more like it. Oh, the power and torque from the V6 are more than adequate, and the vehicle handles well, too – it's a very nice little ute to drive. But there's nothing that sucks the "sport" out of a vehicle than an automatic transmission with no manual mode at all, not even a crummy, "pretend shift" one.
At least it isn't a CVT – so a hearty thank you to Toyota for that!
Four wheel drive RAVs4 feature Toyota's Active Torque Control system with Four-Wheel Drive Lock Switch that's supposed to help its all road capability when traction is low, such as snowy, icy or just plain icky conditions. Torque is delivered to the front and rear wheels as needed, and you can switch on the fly between front and four wheel drive as your mood, or conditions, warrant.
The front suspension dances to the MacPherson strut, while its parson's nose features "an exclusively designed trailing type double wishbone suspension, with the rear shock absorbers located to maximize the rear cargo area," according to Toyota, while "Sport" models get a specially tuned suspension to enhance road feel and feedback.  
The handling is fine as long as you're not heading for the tightest twisties with evil intent; the RAV4 "sport" balances comfort with firmness well – tight enough to be interesting without rattling your innards but not so loose that it rocks you to sleep. A nice little runaround for running around in. How's that for high praise?
V6 models also get Hill-start Assist Control (HAC) and Downhill Assist Control (DAC), the former of which applies pressure to the brakes automatically when you're starting on an incline, so you don't roll back into the oaf who pulled up too close behind you. DAC helps keep you from reaching terminal velocity going down steep hills.
Brakes are power-assisted discs all around, with ABS and the other usual acronyms such as EBD. The sample RAV4 came with a nice set of 18 inch aluminum alloy wheels, too.
The cabin is a bit bland, but it's well thought out and functional. Comfy, too. The front seats are fine for long runs (long drives, too!) and although three people in the back seat may learn to like each other more than they'd expected, there's decent leg and head room back there.  
The silver brushed metallic-trimmed interior includes stuff like manual air conditioning, power windows with driver's side auto up/down, a three spoke tilting/telescoping steering wheel, illuminated entry, cargo and map lamps, and some neat in-cabin storage.
One thing I really wish they'd change is the tailgate, which hinges on the right instead of the top. It's no big deal if you're in a parking lot, but if you're parallel parked you have to open the door toward the curb, which blocks you from getting at the interior.
Other than that quibble, though, and the questionable "Sport" trim level, there's very little not to like about the RAV4. It's capable and comfortable and, at $32,565 Canadian as tested, it's priced well.
Copyright 2012 Jim Bray
TechnoFile.com