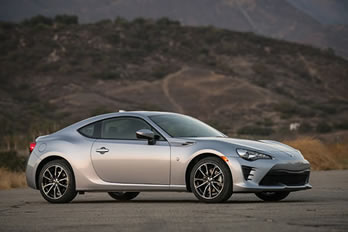 Toyota sports coupe a relatively cheap way to have fun behind the wheel
By Jim Bray
November 9, 2017
Toyota, please don't even think about 86ing this great little smile generator!
(A tip of the pun-dit hat to my friend Harry for that one, though the rest of the groaners in this piece are all mine.)
Click on the image to open a slideshow.
The Toyota 86 - the Scion FR-S before Toyota said sayonara to the Scion era - and its virtual twin from Subaru (named after a Business Revitalization Zone or something) are relative rarities in this era of high tech gadgetry: they're raw and unsophisticated, but they also hearken back to the days when cars were simpler, more direct and, dare I say, visceral.
Not that the 86 is primitive. Indeed, it comes with everything that someone who enjoys the act of driving needs. Sure, it could use a little more oomph and better rubber, but like its chief rival in the marketplace (Mazda's little bundle of joy MX-5, of course!) it's so much fun in which to zip around that I'm surprised it hasn't been banned yet.
And in Toyota's case, it's shining proof that the company can still make an exciting car as well as ones that'll run like watches for 1,000 years. Heck, when the next sportiest model your line is a Camry, or a Yaris, there's room for a little smilemobile. And this is a fine one!
The 86 is a front engine, rear wheel drive two seater. Well, it's effectively a two seater: there's a vestigial back seat but like that in the Porsche 911 it's best used as a place to store stuff. Its power comes from a two litre "horizontally opposed" four cylinder engine, also known as a boxer because instead of the cylinders being in a V or a straight line, they lie flat and fire at each other like boxers duking it out in the ring.
This boxer loves duking it out, too, and the car makes great use of its 205 peak horsepower and 156 lb.-ft. of torque. Those specs compare with the 155/148 hp/torque in the little Mazda, though the Mazda's 1,058 kilogram curb weight undercuts the Toyota's 1,252. Call it a power wash: I thought both cars made great use of their motivation and would be happy driving either. The Mazda's power may have been a bit smoother through the rev band - I wish I could have driven them back to back! - but it wasn't a huge deal.
You can choose from two six speed transmissions, and fortunately, Toyota Canada's sample came with the manual stick, which shifts with good authority and has a clutch that feels just right.  Another reason to opt for the manual is that the power and torque are down (though minimally) in the automatic.
All 86's have been had increased handling stability bestowed upon them via a combination of improved aerodynamics, revised shock tuning and a change to the spring rate. Toyota has also recalibrated the stability control system and added a "Track Mode" designed for obvious reasons. If you're so inclined, or new to a manual transmission, you might enjoy the Hill-start Assist Control, which helps prevent you from rolling backwards on inclines.
The car's styling has been classic from day one, but for 2017 Toyota has made it a tad more aggressive and added reconfigured LED headlamps and turn signals. 86 bums now get LED taillights as well, and the bumpers fore and aft have been tweaked. They manage to take a car I thought looked great already and make it even more appealing.
I hope they'll offer some power/torque upgrades someday to go with the slightly more aggressive mien, but if they don't, that's okay; I love this car the way it is.
If you're the type who would consider a car like this you'll undoubtedly appreciate its tight handling and suspension. This is definitely a sports car, with all the good and bad (rough ride, relatively cramped) that entails. To be fair, I think the 2017 86 rides a tad less harshly than the FR-S I drove when the car first came out, but I don't think it's any less fun.
By the way, 86's are slung via Macpherson gas struts up front and its buttocks feature double wishbones - with stabilizer bars at both ends.
The 86 is quite loud inside. It's mostly from road noise and the clatter of the boxer, but it also seems like it could be exacerbated by a lack of sound deadening stuff. I didn't mind it, though, because I found the song of the boxer to be rather tuneful and I'd rather it had as little weight to push around as possible.
Standard on 86's is a rather anemic and overly bassy eight speaker audio system with a 6.1 inch LCD. You also get Bluetooth, air conditioning, a passenger side rear walk-in assist I hope you never have to use, aluminum sport pedals with rubber inserts, a leather wrapped steering wheel and shift knob, cruise control, power adjustable and heated exterior mirrors, and a whole pile of safety stuff including six airbags, the Toyota Star Safety System, a backup camera, high-mounted LED stop lamp, and more.
So while it isn't a hedonistic delight to be in the cabin, you're hardly roughing it.
The driving position is very good and even with its minimal rear side windows I found the greenhouse surprisingly open. I missed a sunroof, though I don't know where they'd find room to put a sliding one. And of course if you want to drop the top you're out of luck with the 86 - I saw a convertible concept a few years ago that looked really great, but so far there's been no sign of one showing up in showrooms.
The cabin appears to be built well which, since it's a Toyota, should surprise no one, and the instruments and other gewgaws are positioned where they're accessible easily, and there's even a nice digital speedometer mounted inside the centrally located tachometer; you can't reconfigure the panel like you can with some other, and higher end cars, but since Toyota got it right on its own, there's no reason to change it.
The brakes, discs with ABS all around, stop the 86 well, but the stepping on the pedal felt as if I were stomping on a cinder block - there was little feel to it. Fortunately, that's the pedal I use the least.
Sure, the Toyota 86 is a toy, but so what? It's a toy you can drive every day and it'll put a smile onto your face while you do it.
How much does all this entertainment cost? Toyota's sample, which had no options, lists on its info sheet for $29,580. That's pretty good and I can't think of any non-performance-related options I'd want other than, perhaps, automatic HVAC and maybe a real audio system, which you'll get if you opt for the $32,555 Special Edition (you'll also get navigation).
So you really can have it all, and still not break the bank too badly.
Yeah, that's the ticket.
Copyright 2017 Jim Bray
TechnoFile.com