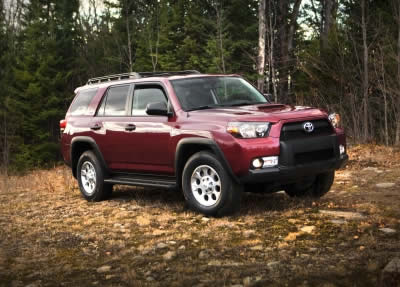 Toyota 4Runner Off-road Capable
By Jim Bray
March 19, 2010
Toyota's 4Runner was one of the first SUV's and its newest version is still a compelling vehicle for those who want four wheel drive stability coupled with serious off-roading capability.
I haven't driven the 4Runner for a few years, but I always liked it, so I was quite interested in trying the 2010 version – and not only I lived to tell the story, with nothing untoward regarding acceleration, brakes, steering, Divine Intervention or whatever, I actually enjoyed the vehicle. Go figure!
The 4Runner is an "old fashioned" truck-based SUV, as opposed to car-based models such as Toyota's own Highlander. This not only means it's more heavy duty so far as its off road capabilities are concerned, but that it can also tow more than the average car-based ute.
For 2010, the 4Runner enters its fifth generation and Toyota says it's redesigned "To be even more rugged and athletic, delivering more power, better fuel efficiency and packed with more safety features and technologies".
It definitely looks more rugged inside and out, which is a shame. I must admit I find the new, aggressive boxiness less attractive than most of the 4Runner's earlier incarnations. It's more "in your face" – while inside it has led to such things as the positioning of the power window controls up high on the window sills, where it takes a deliberate effort to reach them.
Also new for 2010, or at least renewed for 2010, is the inability for consumers to order their 4Runner with a V8 engine. The truck on which the 4Runner is based – now called the Tacoma, but once known as the Hilux – has been available traditionally with either four or six cylinders, but for the past few years an eight was optional. Now, the 4Runner comes only with a standard 4.0 liter V6, albeit one that features a healthy 270 horsepower, 34 more (with a five per cent improvement in fuel efficiency, according to Toyota) than the previous V6. Torque is rated at 278 lb-ft.
To take some of the sting away from people who may otherwise have hit themselves on the forehead and said they should've had a V8, the new V6 cranks out 10 horses more than the previous generation's V8 engine, while matching its 5,000 lb. towing capacity.
The engine gets its power to the corners via a five speed Super ECT-i automatic transmission. All 4Runners now come with the A-TRAC system to improve its grip; the system can distribute power to any wheel that's still in contact with the ground, which can come in mighty handy when you're navigating irregular terrain or slippery patches of asphalt. 
New technologies, including Crawl Control and Kinetic Dynamic Suspension System (KDSS), are aimed at off-road aficionados. KDSS (which is optional on base 4Runners) can disconnect the stabilizer bars so the axles have more travel, which can come in handy when the conditions off-road get particularly interesting.
Crawl Control (CRAWL, standard on the Trail Edition) is an electro-mechanical system that can be adjusted to match the terrain, through five speed levels. Toyota says that, when the transfer case is shifted into low range, Crawl Control "Regulates engine speed and output (along with braking force), to propel the vehicle forward or in reverse at one of the five low-speed settings.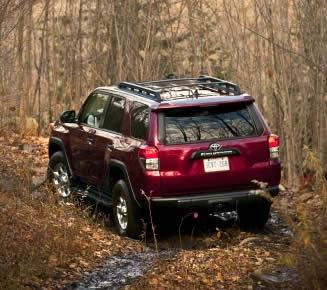 This allows the driver to maintain focus while steering over very rough level ground or steep grades, without having to also modulate the throttle, brake or pedals."
Sounds like cruise control for the boonies!
The 4Runner's suspension uses coil springs over gas shocks at all four corners. A double-wishbone suspension is up front, with a four-link fanny. This, combined with what Toyota describes as a new, variable-flow rack and pinion steering, makes the 4Runner quite civilized on roads, though you aren't likely to forget that it's a truck at heart. The tilt and telescoping steering wheel combined with the power seat adjustments, make it easy to find a great driving position.
On-road performance is also enhanced by such stuff as Vehicle Stability Control (VSC) with Traction Control (TRAC), four wheel Anti-Lock Brake with Electronic Brake-force Distribution (EBD) and Brake Assist (BA). Hill-start Assist Control (HAC) is standard equipment.
It's a good vehicle, and it drives well. I didn't do any off-roading – the late winter conditions offering enough challenges on their own – but have been in the back country in previous generations and found them to be very capable. Most people, I suspect, will spend the bulk of their time in "civilized" areas – depending on whether or not you consider urban areas civilized – and the 4Runner will also do a good job there.
Of course it isn't perfect, and I had a few quibbles. For example, I found the orange displays on the center stack, one for the information display and one for the audio system, very hard to read – and the audio one was nigh on impossible to fathom when I had my sunglasses on. The displays themselves have plenty of information on them, but what's the point if you can't read them?
The instrument panel and the control layout are fine, though.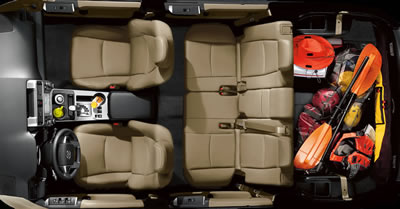 The rear wiper doesn't do a very good job of clearing the window, either, leaving plenty of real estate unexplored. And when the wiper parks, it goes to sleep up under the spoiler-like lip that extends back over the window slightly and that made it very hard to clear snow and/or ice away from it.
I also missed having automatic headlights, which I think every vehicle should have. My test unit didn't have seat heaters, either. Seems like a puzzling blend of high tech and low tech.
The display screen for the rear view camera is mounted right into the rearview mirror, which is a nice place for it – it's a bit small, but it works okay, and I like how Toyota has placed it right where I'd be looking anyway.
Second-row passengers are treated to a sculpted front seatback that gives them more knee room, while their own seats will recline individually up to 16 degrees.
My Salsa Red Pearl 4Runner came with the Trail Edition package, which included (among other things) the 4-Wheel Crawl Control, Multi-Terrain Select, Kinetic, P265/70R17 tires on "unique"  alloy wheels, Multi-terrain ABS, Bluetooth Capability, integrated satellite radio, USB audio input, water repellant Seat Fabric (which, I imagine, could come in handy when things get scary in the wilderness!), 120V/400-watt power outlets front and rear, a small power moonroof, hood scoop, running boards, and an auto-dimming rear view mirror.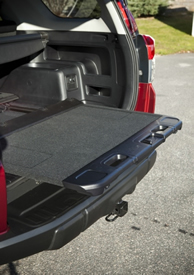 The Trail Edition's standard audio system (optional on "lesser" trim levels) is an AM/FM/MP3 CD player with eight speakers, integrated satellite radio, a USB port with iPod connectivity, and steering wheel audio controls. The audio quality is adequate.
Toyota has included a nifty convenience feature with the Trail Edition as well: a pull-out cargo deck capable of carrying up to 440 pounds of weight. Not only can this make loading heavy stuff easier, but I imagine it would also be ideal for tailgate parties.
Safety equipment includes eight standard airbags: front, side-mounted and knee airbags for the driver and front passenger, and side curtain airbags for the second and third row (if you get the third row of seats).
All in all, the 4Runner is a good vehicle that offers more flexibility than the average mainstream SUV/Crossover thanks to its sophisticated off-road capabilities. In that, it's a continuation of a theme the 4Runner has sung since its introduction in the mid-1980's.
The Toyota 4Runner starts at $27,500 U.S./$36,800 Canadian.
Copyright 2010 Jim Bray
TechnoFile.com