Titan and Tacoma: A tale of two tough trucks
By Jim Bray
April 5, 2012
Big or small, there's a Japanese truck for nearly all.
That's what the Japanese – in this instance, Nissan and Toyota – would have you think anyway. Both companies offer "compact" pickups and "full size" pickups, going head to head in both markets with the established North American manufacturers – in what has been at least one of their most lucrative niches traditionally. After all, the Ford F-150 has been a, if not the, top seller for years upon years, so it's no wonder others would want a piece of that action. And with Nissan's Titan (and Toyota's Tundra), that's exactly what they're doing.
On the other hand, even though they're relative newcomers to the full size market, the Japanese have been a fixture in the compact pickup niche. In fact, the one showcased here – the Toyota Tacoma – has a history that stretches back decades, to the nearly indestructible Hilux.  
Tacoma TRD…
The Tacoma provided by Toyota Canada came in the 4x4 Accesscab version, with the optional automatic transmission and the TRD offroad package. TRD stands for Toyota Racing Development and, while the company has a pretty good history on the track, they misuse the TRD moniker sometimes, making it out to be something it isn't. I last reviewed a Scion tC with the TRD badge and the TRD stuff added little or nothing performance-related to the basic car – consisting basically of cool trim pieces and the like. The last Matrix I reviewed was similar.
Here, TRD ups the Tacoma's off roading capabilities, which are pretty good to start with.
Tacoma's standard engine is a 2.7 liter, DOHC, 16 valve four cylinder with intelligent Variable Valve Timing (VVT-i), Sequential Multiport Electronic Fuel Injection, and stuff like that. The four banger puts out 159 horses @ 5,200 rpm and 180 lb.-ft. of torque @ 3,800 rpm, which is probably enough if you aren't hauling or towing heavy stuff all the time.
The review sample came with Toyota's 4.0 liter, DOHC, 24 valve six cylinder engine, with intelligent Variable Valve Timing (VVT-i), Sequential Multiport Electronic Fuel Injection, etc. It's rated at a more healthy 236 horses @ 5,200 rpm and an even more important 266 lb.-ft. @ 4,000 rpm. I didn't actually haul or tow anything with either of these trucks, but would imagine the V6 version will be more than adequate for most needs in this segment.
Tacoma's suspension features an independent, double wishbone-type up front, with coil springs and a stabilizer bar, which is good stuff even in a car. Its bed is supported by multi-leaf springs, which isn't good stuff in a car but which is fine for a truck. All four corners receive Bilstein shock absorbers.
The standard transmission in the four cylinder Tacoma is a five speed manual with overdrive; a four speed automatic is optional. The V6 comes with a six speed manual as standard equipment, but the test Tacoma was fitted with the optional five speed automatic, which features "Super Electronically Controlled Transmission (Super ECT), Overdrive" and a Lock Up Torque Converter. It works well, but the six speed manual is probably more rewarding and interesting, especially in a truck proclaiming TRD DNA.
Speaking of TRD, package adds five grand to the truck's price (bringing the test truck to $34,645.20 Canadian) including all the various fees except taxes. That's serious extra coin, but it brings you such niceties as 6,500 pound towing capacity, engine oil cooler, active traction control, rear differential lock, fuel tank and transfer case protective plates, downhill assist control, hill start assist, trailer sway control, and lots more – including more mundane but worthwhile stuff as an auto-dimming rear view mirror with integrated back up camera screen, water repellent seat fabric, variable intermittent windshield wipers, fog lamps and a 400 watt power outlet in the cargo bed.
The Accesscab means there's a pair of little jump seats in the back, which can fold up when you aren't using them so you can store stuff you don't want ripped off from the bed. It's reasonably roomy back there, all things considered – though your passengers probably won't like being back there longer than necessary.
You even get stuff like Bluetooth connectivity and air conditioning.
The Big Story…
Toyota was the first Japanese carmaker to jump into the "full size" truck market, with its T100, though it wasn't as big as the domestic competition and wasn't received as well as Toyota may have liked. They eventually corrected this with the current generation Tundra, which competes head to head with the Nissan Titan – of which the SL trim level, short wheel base, Crew Cab, 4x4 version was the sample provided by Nissan.
It's a capable truck, indeed. I know because I dragged along a friend who owns an older Titan (I tease him by calling it the "Loosen") and who says that after putting something like 265,000 kilometres on his truck that it's as tight as the day he bought it. That's a pretty good testimonial.

Toyota Tacoma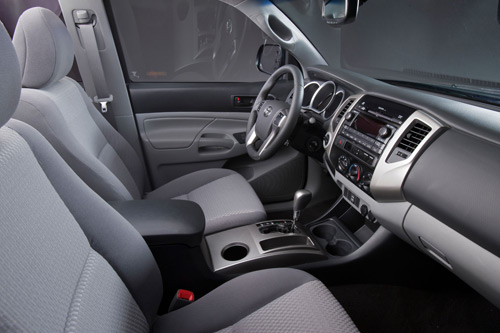 Toyota Tacoma

Nissan Titan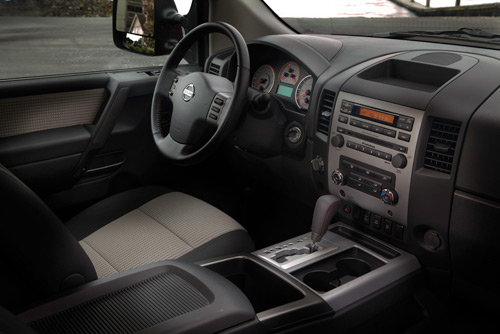 Nissan Titan
The Titan comes with a 5.6 liter, 32 valve V8 that puts 317 horses and 385 ft.-lb. onto the ground. That isn't a lot of either spec when you consider what you can get from a V6 these days, but it moves the truck along smartly. The transmission is a five speed automatic with tow/haul mode.
For 2012, the Titan once again offers King Cab and Crew Cab body styles, with a choice of two or four wheel drive and two bed lengths. 2012 models also get 20 inch SL aluminum-alloy wheels, which makes hopping into it a little harder for short people (fortunately, there are running boards!).
Nissan says Titan's rated at 9500 pounds towing and one ton hauling capability, and its electronic four wheel drive system, controlled via a dial on the dashboard, works well; it came in very handy when we had a sudden spring snowfall. There are underbody skid plates, too, as well as four wheel limited slip, off road shocks, and an electronic locking rear differential.
The Titan's suspension is configured similarly to the Tacoma's: double wishbone up front with a multi-leaf bum. You also get vehicle dynamic control and four wheel limited slip. A nice touch is rear back up sensors.
The test sample came with a $2,000 optional DVD entertainment system that features a ceiling-mounted, eight inch, fold down LCD screen that's great for a vehicle but which won't win any home theater awards (and why should it?). The player is mounted in the center console up front, but is accessible from the rear seat. I rode back there for a bit (this crew cab version features a full bench seat), and there was plenty of room – and the screen is visible clearly (depending on the ambient light) from either side.
Both the Tacoma and the Titan drive like trucks, not surprisingly, which means they bounce all over the place as you tool along. If you're looking for a smooth, car-like ride you'd be better served with something more car-like. Truck aficionados understand how trucks should ride, though, and this pair is a good representation of the species: they're built for utility, not cruising comfort.
Despite the bouncing, both trucks are quite comfortable up front, with supportive seats and well designed and executed instrumentation. Everything the driver needs is well at hand and labeled clearly.
Naturally, you get the full complement of safety stuff, bags and belts and ABS and the like. In the case of Nissan's test Titan, you get all this for a total price of $54,363 Canadian, including the rear seat entertainment system and metallic paint – but not including taxes. Titan crew cab prices start at $39,898 Canadian/$35,710 U.S.
These two trucks don't really compete with each other, of course, but they're both good representatives of the niches in which they do operate. So if you're in the market for either type of pickup truck, both of these are worth checking out as you do your due diligence.
Copyright 2012 Jim Bray
TechnoFile.com