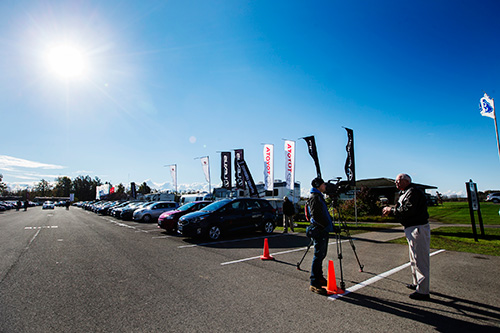 TestFest ferrets out the best of the 2014's
By Jim Bray
October 31, 2013
Niagara Falls, Ontario - What's the best new 2014 vehicle sold in Canada?
That's what some 80 Canadian car writers converged on this honeymoon paradise to find out, putting some 58 new cars, trucks and SUV/CUV's through their paces on city and country roads and a handling course. The occasion is the annual Canadian Car of the Year trials, presented under the auspices of the Automobile Journalists Association of Canada. (Click the photo to open a slideshow)
The venue was new this year; since I've been attending TestFest (as it's called), it has been held at nearby Niagara on the Lake, using the local airport for the handling course. Circumstances dictated the change, and Niagara's Legends golf course turned out to be an excellent choice.
Each of the writers on hand was assigned a certain number of vehicles, which were broken down into 12 categories, to drive and vote upon. Vehicles in each category had to be driven back to back, on the same day, to ensure a fair "apples to apples" comparison. Votes were made on a variety of parameters including acceleration, braking, dynamics and maneuverability, as well as stuff such as ride comfort, ergonomics, safety features and cargo capacity. We rated each parameter using a 0 – 10 scale.
It was pretty tough at times to judge one vehicle better than another, since it's hard to find a stiff these days, but we did it and the various category winners will be announced on December 3. The overall winners (not that they wear overalls!) and the Canadian Car of the Year will be announced at the Centre of the Universe (i.e. Toronto) Canadian International Auto Show on February 13th, 2014.
Once a writer finished his/her/its assignments he/she/it could drive pretty well anything no one else had scooped at the time, which gave us a chance to not only drive at least one vehicle in each category (also a requirement) but to seek out the ones that really turned our cranks.
In my case, I was lucky enough to be assigned most of the vehicles that really turned my crank. So I had the Sports/Performance (over $50K), Luxury Car (over $50K) and Family Car (over 30K) on my to-do list. When I finished that, I got assigned a couple more categories. Tough life, eh?
Here's a list of all the vehicles that, as per Rod Serling, were submitted for our approval:
Small Car (under $21K):
Mazda3
Mitsubishi Mirage
Nissan Versa Note
Toyota Corolla 1.8
Small Car (Over $21K):
Chevrolet Cruze Diesel
Ford Fiesta ST
Kia Forte Sedan
Mazda3 Sport
Family Car (Under $30K)
Fiat 500L
Kia Rondo
Kia Soul
Family Car (Over $30K)
Chevrolet Impala
Ford CMAX Energi
Honda Accord Hybrid
Mazda6
Volkswagen Jetta Turbocharged hybrid
Luxury Car (Under $50K)
Buick Regal AWD
Kia Cadenza
Lexus IS
Lincoln MKZ hybrid
Mercedes-Benz CLA 250
Luxury Car (Over $50K - one of my categories)
Acura RLX
Cadillac CTS
Hyundai Equus
Infiniti Q50
Jaguar XF AWD
Lincoln MKZ
Mercedes-Benz E 250 BlueTECH 4MATIC
Sports - Performance (over $50K - another of my categories)
BMW 4 series coupe
Chevrolet Corvette Stingray
Jaguar F-Type
Mercedes-Benz E 63 AMG S Model 4MATIC
Mercedes-Benz E 350 4MATIC coupe
Porsche Cayman
Prestige (Over $75K)
Cadillac XTS
Jaguar XJ
Mercedes-Benz S 550 4MATIC
Porsche Panamera S e-Hybrid
Range Rover
SUV-CUV (under $35K)
Buick Encore
Jeep Cherokee
Mitsubishi Outlander
Subaru Forester
Toyota RAV4
SUV-CUV ($35K - 60K)
GMC Acadia (Denali)
Hyundai Santa Fe XL
Jeep Grand Cherokee
Kia Sorento
Mercedes-Benz GLK 250 BlueTEC 4MATIC
SUV-CUV (Over $60k)
Acura MDX
BMW X5
Buick Enclave
Mercedes-Benz GL 350 BlueTEC 4MATIC
Porsche Cayenne diesel
Range Rover Sport
Pickup:
Chevrolet Silverado
Ram 1500
GMC Sierra
Quite a broad selection, indeed - something for everyone, really, short of the true exotics (maybe next year!).
I have no idea which vehicle is going to take its category, let alone the Canadian Car of the Year, but I can give you my choices in the categories I reviewed.
My favorite small car over $21k was easily the Mazda3 Sport. This is the hatchback of the species, in a fine trim level, and it blew me away. In fact, of all the cars I drove, this would be my choice for Canadian Car of the Year. That's probably the kiss of death to its chances…
The 3 feels like a car more expensive than it is, and the Skyactiv engine in this one pumps out enough horsepower to not require quotation marks around the Zoom-Zoom. Interior materials are very nice and the instrument panel is clear and high tech. There's an unfortunate heads up display that inflicts a weird vertical plastic rectangle upon the dashboard lid, but you can probably break it off with a good pair of pliers.
Favorite Family car under $30 is the Kia Rondo. I'd driven this before, but that didn't really affect my decision since the other two entries were decidedly weird inside and out and that made the Rondo an easy choice. It's a pleasant people and stuff hauler that doesn't try to be hip; it just does its job well. And it's about as attractive as a box can be.
My favorite Luxury Car (over $50k) is the Hyundai Equus. Not so much for itself (If I were to buy in this segment, which I wouldn't, it would probably be the Acura RLX). The Equus is a limo-like sedan that Hyundai intends to use as a statement to all competitors (and potential customers) that it can swim with the big boys. Think loaded Mercedes-Benz E class or the original Lexus LS 400.
It's big, its V8 puts out prodigious poop, smooooothly, and it's about as luxurious as you could want. Handles pretty well for a big sedan, too, though it's no AMG. Nor does it pretend to be, however.
Hyundai and its sister Kia have both made amazing strides in the past decade or so and they really do make good cars. It's kind of analogous to how the Japanese carmakers took on North America originally, though for the life of me I don't remember old Japanese cars being as junky out of the box as old South Korean ones. Still, if I were a Japanese carmaker today, I'd be keeping an eye over my shoulder.
Best Sports-Performance (Over $50k)? I want to say the Porsche Cayman because I've loved every Porsche I've ever driven and this new Cayman is just about perfect. Its new skin addresses my extremely minor concerns with the original generation, its interior - like all Porsches - is a model of comfort and efficiency, and it drives even better than before. I want one.
But I have to give the nod to the Jaguar F-Type, and this is a bit of a fudge because I didn't like driving it as much as I liked the Cayman (which feels as if they built a car to my measurements, like how I imagine wearing a fine suit would feel). Yet it's such a beautiful car, such a cool car, such a nice car to drive - and the main reason, because it's a long overdue sequel to the old E-Type of the 1960's and early 1970's, at least spiritually.
The E-Type was one of the most beautiful and lustworthy cars of its era - heck, it still is! - and the F-Type is a beautiful modern take on the theme. I have a feeling they're going to sell a pile of these things, and so they should. I wish they'd quit dumping on the 911 in their ads; there's enough positive stuff for them to tout without resorting to such cheap tactics, but I think this is going to be a significant car (and, yes, I'd still buy the 911).
I drove just shy of 40 cars all told, there only being so many hours in the day, and came away with some other impressions that may interest you (if not, skip down a couple of paragraphs). Remember, for most of these cars I got merely a quick first impression (up to 45 minutes of seat time), and it's true that my opinion about some cars has changed in the past after I've spent the usual week with them. So take these with a grain of salt.
Biggest surprise: How well the Kia Cadenza fit in its category, going head to head against Lexus, Lincoln, M-B and Buick. I don't think it'll win, but I think it'll sell.
Biggest disappointment: Toyota Corolla 1.8. I've owned two Corollas in the past and they were great cars. The new one undoubtedly is, too, but they've inflicted a CVT on it and that takes away any fun the company may have tried to put in this new generation - if, indeed, they intended to put in any in the first place. The sample Corolla had the CVT.
On the upside, possibly, you can get a six speed manual transmission, and that's nothing to sneeze at. And if you hate the idea of a CVT, you can opt for a four speed automatic - but that's a four speed in an age of six speed autos. And the interior is dominated by a big slab of a dashboard.
Oh, it's still a Corolla and that can't be bad. But I'd read somewhere that Toyota was trying to make their cars more exciting. Well, the as-tested CVT-inflicted Corolla ain't one. Sure, that isn't the car's mandate - but then how do you explain the Mazda3?
Heads up displays are becoming mainstream and are even appearing in color now. I hated these when they first came out but don't mind a subtle speed indicator hanging in space as long as it stays subtle. And simple.
Turbochargers and diesels are everywhere now and, judging from cars like the Ford Fiesta ST (which I also drove for a week shortly before TestFest), you can get a hot set of wheels for not a lot of loonies. This isn't exactly new (hello, GTI, STI et al!) , but the level of competition in the hotness department seems unprecedented. Isn't that great?
Tough to find a piece of junk these days. There are cars I don't like (you're undoubtedly the same), but that doesn't mean they're bad vehicles. Maybe we'll see some bad stuff arrive when the Chinese cars land, but who knows until they get here? I wouldn't be surprised if the Chinese manufacturers experience the same kind of teething problems and growing pains the Koreans, and the Japanese before them, did as they started their assaults on the North American car market. Or maybe they'll knock it out of the park on their first attempt.
Time will tell.
Watch for an upcoming piece on the category and overall winners, a.k.a. the "how could I have gotten them all so wrong?" column, shortly after they've been announced on December 3 and February 13 respectively.  
Copyright 2013 Jim Bray
TechnoFile.com