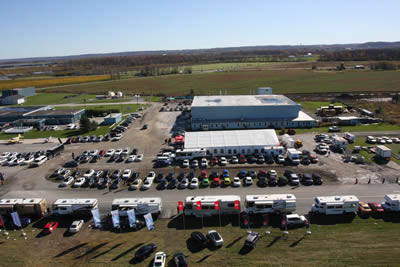 Journalists Invade Wine Country to Choose Canada's Best Wheels
By Jim Bray
November 3, 2010
(Photos by Barry Carson)
You might call the Canadian Car of the Year TestFest another "runway" success.
That's because for the past four years, the Automobile Journalists Association of Canada's annual event, which is designed to help consumers get the most from their automotive dollars, has been based at the Niagara-on-the-Lake, Ontario, airport.
Ah, but the airport is only part of the story. While its large, flat area is not only ideal for setting up a temporary road course that lets the assembled multitude of car writers test a vehicle's mettle, it's also an ideal staging area from which the vehicles can be driven over a series of real life roads under the real world conditions in which most people will actually use them – including, unfortunately, traffic and construction.
So it comes to pass that a gaggle of about 70 Canadian automotive journalists congregate here each autumn to wring out the new – or substantially updated – cars and SUV's and then vote for the ones they think are the best.
While each journalist brings his own special insight, experience and opinions to the task, each the vehicles are also subjected to objective testing that measures things like acceleration and fuel economy, stuff consumers can use to compare models in an apples-to-apples way.
Remember the old saw about a kid in a candy store? Well, the excitement for this writer  and car nut was to not only drive more wheels than you can shake a stick at, comparing similarly-classed vehicles back-to-back, but also to sample some – such as the outrageously gull-winged Mercedes-Benz SLS AMG – that fit clearly into the fantasy realm.
My actual assignments included judging Best New Small Car (under $21,000), Best New Minivan, and Best New SUV/CUV (Under $50,000), and whatever other categories I could fit in during the time allotted.
In the first category, the entries were the Ford Fiesta, Mazda2, Scion xD, Scion xB and the Volkswagen Jetta. Going in, I figured I'd like the Mazda and VW best but it was the Ford Fiesta that captured my heart and my vote, with the hearse-like (for small deceased people anyway) Scion xB second. Who'd have thunk?
As for the Jetta, the new body style is really nice and the car has a typically great VW interior, but the entry level version at TestFest was gutless and the suspension too soft for my liking. Fortunately, I got a chance to drive the Jetta TDI later and liked it a lot, which just goes to show what an extra ten grand or so will get you.
And as it turned out, the "bigger" Jetta snagged the award for its category.
As for minivans, it was between the Toyota Sienna and Honda Odyssey. Alas, it wasn't quite an apples-to-apples comparison; my sample Honda was tricked out better than the Toyota to the tune of nearly 20 grand, with things like power sliding side doors and an upgraded cabin, but despite that I liked its easier to fold rear bench seat – the best I've seen – and I liked its driving dynamics a bit better than the Sienna's.

The SUV under $50K category had seven entries, but my favorite was also a Ford, something I couldn't have imagined only a few years ago when Ford was in deep trouble. The new Ford Edge is a very nice vehicle to drive, with great visibility and a lovely interior – and Ford is upping its "Sync" technology ante with something called the MyFord "driver connect technology," a great new interface that includes dual 4.2-inch LCD screens on the instrument panel, nifty five-way steering wheel-mounted controls and an eight inch touch screen. The system offers a lot of information and functionality, and it's also easy to use.
My second fave was the Hyundai Santa Fe, which was the most fun to drive. It has a responsive V6 engine and plenty of easy-to-figure-out toys – er, important tools. Hyundai is definitely coming on strong. More evidence of that of the presence of the new Equus, a beautiful luxury car that shows the company can truly play in the big leagues.

Having done my duty, I moved on to more fun stuff, which included the new Porsche 911 Turbo S, and as the first car I drove on that day it set the tone beautifully! I'm a sucker for Porsches anyway, and the Turbo S proved to be the best car on the track that I drove. It was fast, stable, comfortable – a fantasy ride you can drive comfortably every day. This would be the one I'd buy if the Lotto Gods smiled on me.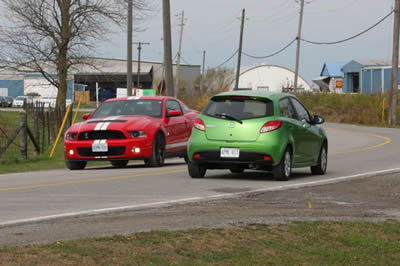 Mercedes' sexy gull-winger, the SLS AMG, had the nastiest engine note there, letting out a series of "blats!" when you ease off the gas that made me think of a communal latrine the day after a beer-and-baked-bean bender. Outrageous, indeed, but cramped inside (though gloriously luxurious) and – speaking as someone who aspires to being five feet seven – it needs a handle or strap hanging down to help occupants close that elevated door from inside. Heckuva vehicle, though!

By the time the testing was finished I'd driven 40 out of the 48 vehicles entered. Whew!
After our votes were tabulated and seasoned with the special sauce that's the objective data, TestFest culminated with the winners of each category being announced at a press conference. Here's how the votes went:
SMALL CAR (under $21k) – Ford Fiesta
(2nd place, Mazda2  – 3rd place Volkswagen Jetta)  
SMALL CAR (over $21k) – Chevrolet Cruze
(2nd, Honda CR-Z – 3rd Scion tC)
FAMILY CAR (under $30k) - Volkswagen Jetta TDI Clean Diesel
(2nd, Hyundai Sonata – 3rd Suzuki Kizashi; I would've given it to the Hyundai)  
FAMILY CAR (over $30k) – Buick Regal
(2nd, Toyota Avalon – 3rd, Mercedes-Benz E-Class Wagon)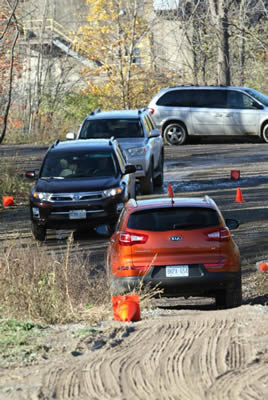 LUXURY CAR (over $50k) – BMW 5 Series Sedan
(2nd, Mercedes-Benz E350 BlueTEC Sedan – 3rd, Volvo S60
PRESTIGE (over $75k) – Porsche 911 Turbo S
(2nd, BMW 5 Series Gran Turismo – 3rd, Mercedes-Benz SLS AMG)
SPORTS - PERFORMANCE (over $50k) – Cadillac CTS-V Coupe
(2nd, Mercedes-Benz E550 Cabriolet – 3rd, Ford Mustang Shelby
MINIVAN – Toyota Sienna
(2nd, Honda Odyssey – there were only two entries)
SUV - CUV (under $35k) – Hyundai Tucson
(2nd, Kia Sportage – 3rd, Mitsubishi RVR
SUV - CUV ($35k-$50k) – Ford Edge
(2nd, Jeep Grand Cherokee – 3rd, Toyota Highlander Hybrid)
SUV - CUV (over $50k) – Volkswagen Touareg
(2nd, Lincoln MKX – 3rd Porsche Cayenne; my heart was with the lovely new Cayenne, but the buzz was that the Touareg was the same basic vehicle, but for a lot less, and I can't argue with that logic)
The announcements made, we then had to drive each category winner (if we hadn't already), and vote for the overall 2011 Canadian Car (and SUV/CUV) of the Year. Those results, along with awards for Best Design and Best New Technology, will be announced at the Canadian International Auto Show in Toronto next February.
It sucks having to wait that long, but at least it proves there's an actual reason for Toronto to exist!
Copyright 2010 Jim Bray
TechnoFile.com