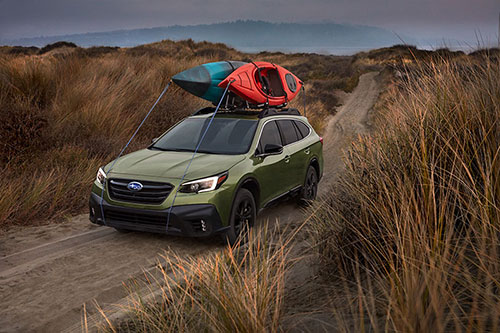 Award-winning Subarus bring Big Brother to some otherwise nice vehicles
By Jim Bray
February 20, 2020
Subaru, the Japanese car company, has won two Automobile Journalists Association of Canada "Best Car in Canada" awards, for its new Legacy and Outback, and on the whole they're very nice vehicles.
Though neither won the Best Car in Canada award for 2020 (that went to Mazda's terrific 3 sedan/hatchback), the Legacy took its category as Best Large Car in Canada for 2020, while the Outback was named Best Mid-Size Utility Vehicle in Canada for 2020. That's pretty good!
Click on the image to open a slideshow.
"AJAC's Canadian Car of the Year category award winners are those vehicles deemed by our members to be the best suited to the realities of driving in Canada," said Stephanie Wallcraft, President of AJAC. "AJAC members comprise the largest collective group of automotive journalism expertise in the country, and they take pride in providing assessments that are objective, fair and based on real-world road-testing experience."
On the downside, they let me in…
Winners were chosen from 51 entries, including last year's category winners (which compete again to see if the new iron on the block can knock them off). AJAC journalists from Vancouver to Halifax drove the vehicles during a six-month evaluation period in the same conditions experienced by Canadian drivers every day. In other words, we drive 'em for about a week each, in the same areas and conditions we review all cars.
There's also a TestFest in late October to help winnow the choices down even more, as well as giving writers a chance to drive some of the vehicles they many not have seen on their home turf. Which, living as I do here in flyover country, is plenty of them, alas.
And now, on top of their AJAC honours, I'm personally awarding the company – at least as represented by those two models (because, to be honest, they're the only Subarus I've driven recently) – my first ever "George Orwell Award for Proactively Combatting Thought Crime."
How's that for a tribute?
I admit to not having been a huge fan of Subaru product over the years, because they seemed as if they were playing catchup in the technology department compared to much of the competition, but the company has really turned that around lately, and both the Legacy and the Outback are very nice vehicles inside and out, and offer all the stuff one would expect in an up to date vehicle.
And then they went all Big Brother.
I'm talking about obtrusive nannies, a topic I address regularly in this column because I find some of them particularly annoying. Lane keeping assists are particularly vile because they aren't smart enough to tell if you're swerving uncontrollably or just having a bit of fun apexing a curve, while some blind spot monitors get all a-flutter when you're merely turning left at a dual turn intersection and there's someone else turning in the lane beside you.
To this mix, Subaru has now brought an entirely new level of obtrusiveness. It's called DriverFocus, is available on the Premier trim level – and it has actually won at least one award. The system uses facial recognition software and a camera pointed at the driver's face to put a 1984 Telescreen in your vehicle.
Subaru says it's meant to monitor fatigue or lack of attention and they also say they don't share your data – but would you admit it if you did? "When the driver begins to show signs of losing focus, the system sends out a helpful alert, like an automated co-driver," they say on their Canadian website. I realize that lack of concentration – whether via fatigue or that damn phone in your hand – is a huge issue, but give me a break!
In practice, the car watches you drive and if you pan your head to the side – or only a bit off centre – and keep it there longer than the car thinks you should, you hear a sound, and get a visual readout on the instrument panel telling you to put your eyes back on the road.
Never mind the irony of the warning on the instrument panel making you keep your eyes off the road even longer if you're going to read it, since you're still not looking at the road if you're reading it. Sure, you could ignore the audible warning, but there are so many little warning beeps and sounds that emanate from the vehicle that you really need to check the panel to see which one it is. And sometimes I didn't see anything on the display to tell me why the car had beeped at me. It's nuts!
I thought initially that the system only worked if you looked to your right, toward the centre stack or to where most right-handed people would have their device in their hand. Because of that, I had grand plans in my "pre-writing" mind to accuse Subaru of wanting to kill left-handed people – a sinister plot I intended to milk for humour.
But no! After a couple of tries I got the car to whine at me regardless of where my head was pointing, as long as it was off centre.
You can fool it, too! I'd drive along with my eyes straight ahead but my head cocked a bit off centre, just to freak the car out. And it worked every time. Hey, fair's fair! And aren't I mature?
The system is sensitive enough that it'll complain even if you spend too much time on the big, and mostly great, LCD screen on the centre stack. This is ironic because, while I love the screen and its interface for the most part, it's slow and sometimes you have to dig down a couple of menus to accomplish the task at hand – even to setting the seat heaters. And by that time, you're being scolded.
Subaru says it's like having an automated co-driver, but to me it's more like a virtual nag. And I have a real one of those already (sorry, dear!).
The DriverFocus (link takes you to a YouTube video of the system) thingy can store preferences for up to five drivers, "including the position of the seats and side mirrors, climate control settings and gauge readouts on the multi-function display." I don't know about you, but I have a 2005 sport wagon that'll do the mirrors and seats via memory buttons, and I don't give a hoot about the rest, so this wrinkle on it leaves me a tad cold.
How about if we just raise driving standards so you actually have to know your way around a driver's seat before you get a license? At least until the car will take over the entire job of getting you from A to B and back again.
Fortunately, you can turn the system off, but you have to pay for it anyway because it comes standard with certain extra cost trim levels; fortunately, there's other nice stuff there that you may want (leather, toys, different engine, etc.), that could help take the sting out of the stingker.
Other than that, this is a nice pair of vehicles, though it turns out this wagon-loving writer preferred the sedan to the Outback's wagon-like demeanour. It's easy to see why, too: Subaru's sample Outback came with the base 2.5 litre direct-injection four-cylinder BOXER engine as opposed to the much more interesting 2.4 litre direct-injection, turbocharged BOXER engine that's available on the higher trim levels and which was also installed on Subaru's review Legacy.
Now, I'm confident the base engine and its 182 hp @ 5800 rpm and 176 lb.-ft. of torque @ 4400 rpm is perfectly adequate for the real-world driving (it's competitive with other vehicles in this niche), but the turbo's 260 hp and 277 lb.-ft. of torque is not only a lot more fun, it can be argued to be a safety feature for those times when you want to pass some slowpoke ahead (you can get back into your lane more quickly if you can accelerate more quickly).
Engines aside, both of Subaru's samples came with the company's Lineartronic CVT (Continuously Variable Transmission) and despite my aversion of such transmissions, this is one of the best I've tried. It not only comes with paddle shifters that give you a bit more control over the "shifting" process, it also pretends that it's a real, shifty eight-speed automatic and it does it quite well. There's still some whine and some of what's been referred to as elastic band feel, but I've driven a LOT worse.
Naturally both vehicles also come with Subaru's famous symmetrical full-time all-wheel drive which, as with Audi's quattro, sends torque to all four wheels all the time. This is great when the roads get wet, icy, or snowy, but it's also confidence-inspiring in regular driving because it's very stable. Vehicles like this tend to stick to the road, rain or shine, like baby's butt extrusions to a Hudson's Bay blanket.
The nice driving experience is enhanced further by Subaru's use of a fully independent suspension – struts up front and a double wishbone rear – which is soft enough to be comfortable but still taut enough for more enthusiastic drivers. There's also active torque vectoring, auto vehicle hold, and much, much more.
I really liked the interiors of the Subarus as well. Sure, they were higher end trim levels in that they had all the toys, but they're also modern and thought out well – Orwell notwithstanding – and the large, 11.6-inch tablet-style infotainment system ("with high-resolution touch screen display") is a winner. I'd like to see it react a lot faster, though, and maybe be a little more user friendly so you can get your eyes back on the road before the car starts its own version of Two Minutes of Hate aimed at you.
But it's a big step forward and, depending which version you order, it can include GPS navigation, AM/FM/MP3/WMA audio system with Apple CarPlay and Android Auto, USB, auxiliary audio input, and controls on the steering wheel. And the upgraded Harman Kardon audio system is very nice.
The seats are comfortable, the trunk and/or hatch plenty roomy, and I'm quite sure the vehicles would be quite good to live with once you've given them a lobotomy. In fact, I'm quite comfortable saying that these are the nicest Subarus I've had the chance to drive (again, Orwell notwithstanding).
The Outback, which Paul Hogan proclaimed many years ago to be the world's first "Sport Utility Wagon" starts at a pretty reasonable $30,695 CAD for the base "Convenience" model and ranges up to $43,795 for the Premier XT. That's pretty competitive when you consider vehicles such as the "not quite as off-roady" Volkswagen Golf Alltrack start at around $31,000.
Ditto for the Legacy, whose $26,395 starting price for the "Convenience" version ($39,095 for the Premier GT) is right in the ballpark for all-wheel drive sedans – of which there aren't many in this niche. Mazda now has one in its 3 lineup, however, the all-wheel drive version starting at $27,875.
Both of these Subarus are very compelling vehicles and will probably serve their loyal owners for many years. And that's how it should be.
Just make sure you wear a mask so the vehicle can't identify you in court later.
Copyright 2020 Jim Bray
TechnoFile.com
Jim Bray is a member of the Automobile Journalists Association of Canada. His columns are available through the TechnoFile Syndicate.